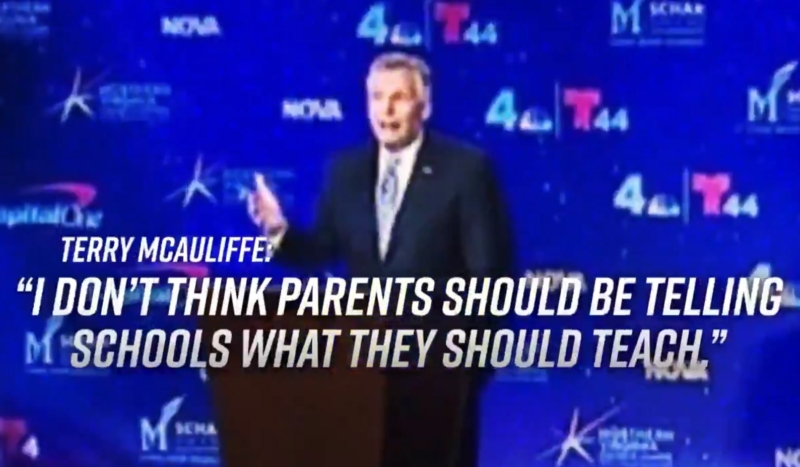 CV NEWS FEED // Virginia Democratic gubernatorial candidate Terry McAuliffe came out quite bluntly against parents having a say in what public schools teach their children, while his Republican opponent Glenn Youngkin championed parents' rights.
The two candidates' positions came to the fore this week at a formal debate. "I don't think parents should be telling schools what they should teach," McAuliffe said, adding that, if elected governor, he would not "let parents come into schools, and actually take books out, and make their own decision."
McAuliffe made the remarks after Republican gubernatorial candidate Glenn Youngkin spoke favorably of American parents playing a larger role in their children's education during the past two years, and criticized the education system for failing to be fully accountable to the public it ought to serve.
"[W]e must demand that they include parents in this dialogue," Youngkin said:
What we've seen over the course of this last 20 months is our school systems refusing to engage with parents. In fact in Fairfax County this past week, we watched parents so upset because there was such sexually explicit material in the library they had never seen, it was shocking. And in fact, you vetoed the bill that would have informed parents that they were there. You believe school systems should tell children what to do. I believe parents should be in charge of their kids' education.
Parents' rights has become a nationally explosive issue in the past year, with teachers unions and public education officials losing the support of many amid unpopular school lockdowns, masking mandates, and "virtual learning" curricula. 
CatholicVote President Brian Burch announced a rally to be held Saturday, October 2 at 2 p.m. at the Loudoun County Board of Supervisors Building in Leesburg, VA. The Virginia Families First rally will feature speeches by CatholicVote President Brian Burch and Ken Cuccinelli, former Attorney General of Virginia.
With more people working from home and more children learning virtually, many parents have also become more aware of controversial progressive educational materials such as Critical Race Theory and gender ideology — another mark against the status quo of America's education system in the eyes of critics.
In addition, teachers unions have been embroiled in a number of scandals involving what appears to be backroom dealing with health officials. While parents clamored for schools to reopen, teachers unions went out of their way to keep them closed — even going so far as to meet with and pressure officials at the Centers for Disease Control and Prevention (CDC) to alter public health guidelines.
In this context, McAuliffe's dismissal of the role of parents in their children's education struck many as a gaffe at best, a defense of the unpopular status quo at worst.
"Excuse me???" tweeted Kate Scopelliti from Virginia. "We definitely don't want you to serve another term as the governor of Virginia!"
"Vote out the school boards and for God's sake, don't vote for McAwful!" tweeted another account. And another: "The Government doesn't own your children and the Government doesn't decide what's best for your children, you do. Vote [Glenn Youngkin] to take your children and your life back."
Shortly after the debate, Youngkin's campaign produced a political ad that leaned into the issue further. The ad featured mothers confronting the Fairfax school board with graphic content which the school system made available to children.
"I decided to check the titles at my child's school," said one mother. "Both of these books include pedophilia." Another woman confronted the board with a book that "graphically describes engaging in fellatio with male minors."
Readers can view Youngkin's ad below.