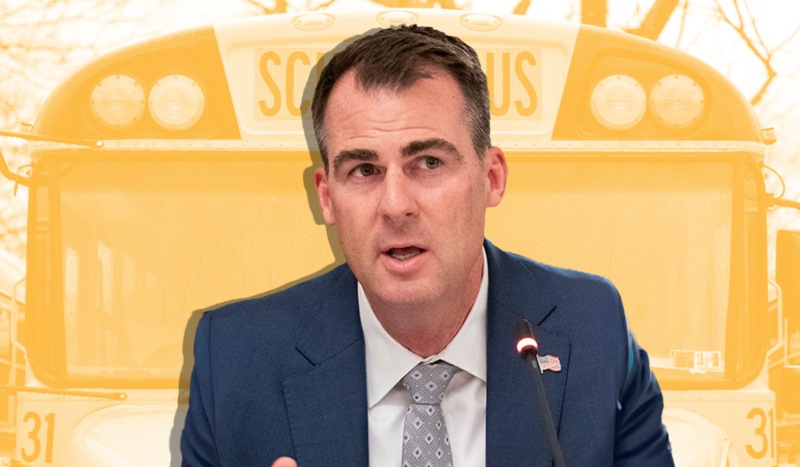 CV NEWS FEED // Republican Oklahoma Gov. Kevin Stitt reaffirmed his support for school choice and religious freedom after criticizing his state's attorney general for suing the virtual charter school board over its acceptance of a Catholic school.
Oklahoma Attorney General Gentner Drummond, also a Republican, sued the Oklahoma Statewide Virtual Charter School Board last week claiming that their approval of St. Isidore of Seville Catholic Virtual School violated the "religious liberty of Oklahoma taxpayers."
In June the online school named for the patron saint of the internet made history as the first religiously affiliated charter school in the nation. Charter schools are privately run but funded with taxpayer dollars.
In the press release announcing the lawsuit, Drummond's office accused the school of "religious indoctrination."
"The board members who approved this contract have violated the religious liberty of every Oklahoman by forcing us to fund the teachings of a specific religious sect with our tax dollars," the attorney general said.
He alleged that "Oklahomans are being compelled to fund Catholicism" and said the approval of the school opens the door to funding "radical Muslim teachings like Sharia law."
Drummond said that he is "prepared to litigate this issue to the United States Supreme Court if that's what is required to protect our Constitutional rights."
However, Stitt strongly disagreed with Drummond's definition of "religious liberty." Instead, Stitt came out in supporting St. Isidore and the rights of parents to choose the school for their children.
"Nobody is forcing kids to go to any religious charter school," Stitt told The Daily Signal Monday. "A charter school is just another option. And if a parent chooses that that's the best option for their kids, why is the government standing in their way?"
The governor slammed "radical groups" intent on "suing and coming after religious freedoms and education freedom because they want to try to lock kids into a ZIP code school, even if it's not the best outcome for them."
When St. Isadore was approved by the board several months ago, Stitt applauded the decision. He called it "a win for religious liberty and education freedom in our great state" in a June 5 statement:
I am encouraged by these efforts to give parents more options when it comes to their child's education.
Oklahomans support religious liberty for all and support an increasingly innovative educational system that expands choice. Today, with the nation watching, our state showed that we will not stand for religious discrimination."
However, as CatholicVote then reported, Drummond made his opposition known at the time.
"It's extremely disappointing that board members violated their oath in order to fund religious schools with our tax dollars," he said. "In doing so, these members have exposed themselves and the state to potential legal action that could be costly."
Stitt was elected governor of Oklahoma in 2018 and re-elected last year. In addition to his school choice advocacy, he has established himself among the nation's governors as a leading critic of the "transgender" movement.
In May, he signed a bill protecting children from so-called "gender-affirming care." In August, the governor issued an executive order adopting the "Women's Bill of Rights," backed by swimmer-turned-activist Riley Gaines.
Drummond was elected to his first term as Oklahoma attorney general last November. In the Republican primary, he narrowly unseated incumbent John O'Connor, who was endorsed by Stitt.
In 2021, Stitt had appointed O'Connor as attorney general after his predecessor resigned following a sex scandal.
A former banker, Drummond hails from a wealthy ranching family in the state. Since 2014, he has lived in the McBirney Mansion, a historic 15,900 square-foot property he owns.