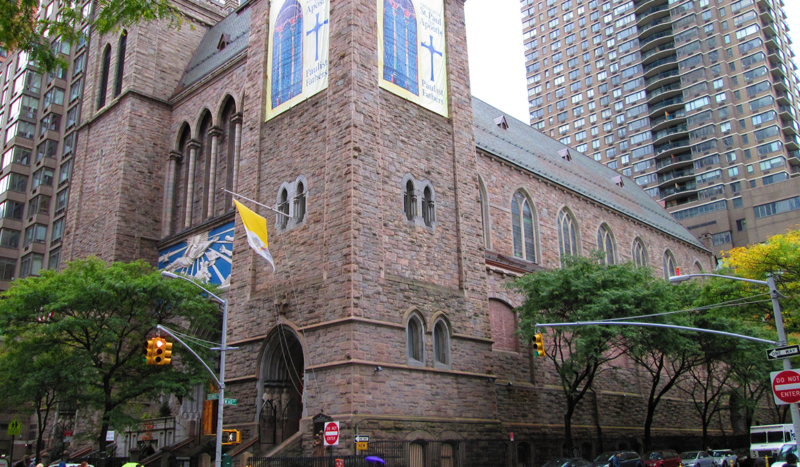 CV NEWS FEED // Thursday's "Pride Mass" that was originally scheduled to be celebrated at Stonewall National Monument by St. Paul The Apostle Parish in New York City, instead took place inside the church building.
The parish planned to host the Mass outdoors at the Stonewall National Monument in Greenwich Village, which is dedicated to a 1969 uprising. This monument, which is located approximately four miles from the church, was next to an array of gay and "transgender" pride flags and a monument of two homosexual couples called "Gay Liberation."
In an email to its parishioners on Wednesday, St. Paul the Apostle announced the Mass would be moved, citing security concerns raised by the National Park Service. Park officials told the Church that the monument "will not be open to the public tomorrow due to concerns over security of events in the area."
"Because of this, we will not have access to the park to celebrate our annual Pride Mass scheduled for tomorrow," the email said. 
With this change, the Mass proceeded inside the main church, beginning Thursday evening at 6:30 pm.
June is designated by the Catholic Church as the month of the Sacred Heart of Jesus. Catholics in the U.S. have been encouraged to orient their prayers toward the Sacred Heart for conversion of souls.
Theologians and canon law experts questioned the implications of celebrating a Mass with political aims, especially when these aims contradict Church teaching on sexual morality.
"Out at St. Paul," the controversial parish's ministry to the "Gay, Lesbian, Bi, Trans, and Queer community," sponsored the mass. The ministry is comprised of "mostly gay men," according to Paul Snatchko, a Paulist Fathers representative. The Paulist Fathers operate the parish.
An advertisement on the group's Facebook page said: "Afterwards, the group will head to a nearby bar for fellowship over drinks! Everyone is welcome, regardless of how they identify or where they are on their faith journey."
Back in May, the "very liberal" church displayed an art exhibit featuring a piece entitled "God is Trans." As CatholicVote reported:
The controversial series of three paintings at St. Paul the Apostle on the Upper West Side of Manhattan was first brought to the attention of the greater Catholic community on Sunday, May 7. The paintings had already been in the church for an unspecified amount of time.

The "queer" art was located on the walls adjacent to the altar, right behind where the priest would consecrate the Eucharist.
Following public backlash, the exhibit was taken down.

St. Paul the Apostle has also conducted various pro-LGBT events with Fr. James Martin over the past few years. Martin celebrated Mass at the Parish on June 25, 2022, as "a capstone for Fordham University's Outreach Conference for LGBTQ Catholic Ministry." In November 2019, he spoke at an event hosted by "Out at St. Paul."