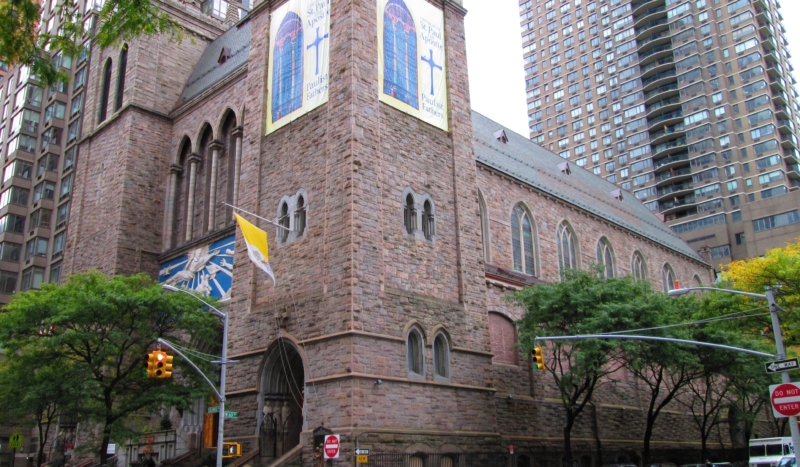 CV NEWS FEED // After a "very liberal" church in Manhattan displayed an art exhibit proclaiming "God is Trans," the Archdiocese of New York expressed "concerns" and is now looking into the matter.
"The Church of St. Paul the Apostle in Manhattan surprised parishioners when it displayed the three-painting work by artist Adah Unachukwu, which depicts the spiritual journey of an LGBTQ+ person," Newsweek reported Monday.
The display "is described as a queer spiritual journey in three steps: Sacrifice, Identity and Communion," the New York Post reported Sunday:
According to the exhibit, Sacrifice represents the need to "shed an old life." Identity is described as "the most impactful part" of the display, asking the question, 'What does holiness look like?'

Communion places "God and the mortal on the same plane."
Parishioners praised the exhibit. One 80-year-old woman who attends the parish said that it is "very liberal," and that is "why I love this church." Another parishioner, 79, said the paintings and the parish were both "wonderful."
"This is a place of welcome," he commented.
A spokesperson told Newsweek that the Archdiocese of New York "was unaware of the exhibit until alerted by the media and is now looking into it," the publication reported.
"We had no knowledge of it beforehand," the spokesperson said. "If media reports are accurate, then we would have concerns. We are investigating and looking to speak with the pastor of the parish to get more information."
The Church of Saint Paul the Apostle is highly controversial, especially for its "LGBTQ Ministry," called "Out at St. Paul." The group is known for mixing sacred seasons and symbols with the profane to advance the LGBTQ movement.
Out at St. Paul once posted a traditional painting of the Three Wise Men asleep together along with the suggestive text "Queer Epiphany: Three Kings or Three Queens?"
The group has also posted an image of the radical "gay rights" activist and politician Harvey Milk depicted with a halo, along with the headline "Harvey Milk, Pray for Us."

Milk infamously had a sexual relationship with a 16-year-old runaway boy, who committed suicide after their encounter.