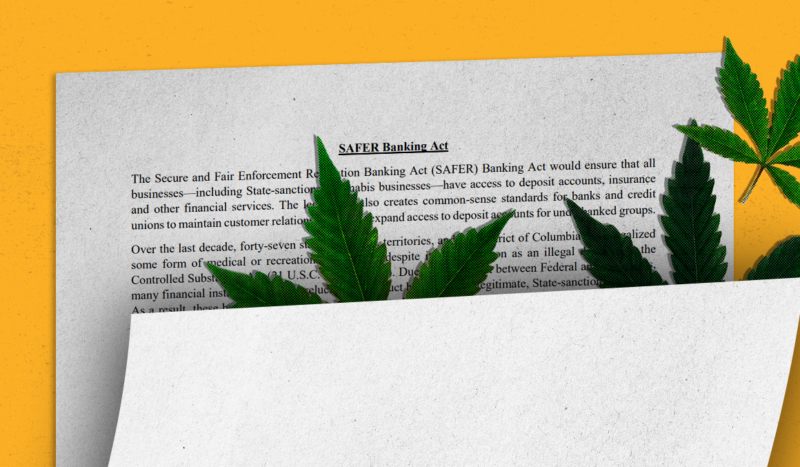 Conservatives in D.C. are sounding the alarm that a new bill in Congress innocuously titled the "SAFER Banking Act" is actually a backdoor method of legalizing recreational marijuana nationwide.
Recreational marijuana is currently legal or decriminalized in 23 states plus D.C., but remains illegal on the federal level. Federal laws against marijuana are generally not enforced against users, but regulations against drug trafficking and money laundering mean marijuana operations cannot use banks or claim tax deductions in the same way regular businesses do.
The SAFER Banking Act would eliminate these regulations, allowing drug traders to use banks and raise capital like any other company.
"Big pharma and venture capitalists are salivating at the chance to make billions peddling drugs on American teenagers and twenty-somethings, and they need the so-called 'SAFER Banking Act' to do it," said Tom McClusky, director of government affairs for CatholicVote.
CatholicVote has created a new action alert which allows citizens who oppose the bill to contact their senators in a few clicks.
The bill was introduced by Sen. Jeff Merkley, a Democrat from Oregon, and has several Republican co-sponsors, including Sens. Kevin Cramer, R-ND, Steve Daines, R-MT, Cynthia Lummis, R-WY, and Dan Sullivan, R-AK. Each of them, except Lummis, is from a state where recreational marijuana has been legalized or decriminalized.
"I cannot fathom why any Republican would support a bill that endangers children and empowers drug cartels," said McClusky.
The bill would allow drug cartels from China and Mexico to launder money from their other drugs like fentanyl through marijuana operations, according to the non-profit advocacy group Smart Approaches to Marijuana.
"Legalization only increases black market activity because drug dealers can get around the taxes and regulations, and their customers can't be punished," McClusky says.
The bill would also unleash a flood of cash into the drug industry.
After Canada legalized recreational marijuana nationwide in 2018, companies like cigarette-maker Altria and alcohol conglomerate Constellation Brands invested billions of dollars in the marijuana industry. Venture capitalists like John Stewart – the former CEO of the company behind the highly addictive opioid OxyContin – and celebrities like Snoop Dogg have poured money into marijuana operations in states where it has been legalized.
But The Wall Street Journal reported earlier this month that marijuana traders face profitability challenges due to federal laws and regulations.
"We've only had legal pot in the U.S. for 11 years, and already the track record is clear – it's devastating, especially to children and young adults," said McClusky. "This is not the stuff boomers grew up with. It's so much more potent and the effects can be irreversible."
The compound in marijuana that produces the euphoric and perception-altering effects is called THC, which binds to receptors in the brain. According to a recent piece in Tablet Magazine, the THC content in today's marijuana is about 20% – ten times what it was in the 1960s when the drug became popular. The article also detailed how synthetic marijuana can reach as much as 99% THC content – and is freely legal and available to children in states like California and Colorado.
Cannabis-induced psychosis is increasingly common, with one study reporting 40% of marijuana users experience it. It starts as a mild symptom, but repeated use can lead to a full psychotic break or even a permanent condition like schizophrenia or bipolar disorder.
"One out of every 20 daily users can expect to develop schizophrenia if they don't quit," psychotic disorders expert Dr. Christine Miller told Tablet.
The track record for public safety is also clear.
Marijuana use increased 245% among children under 18 between 2000 and 2020, and a study found that marijuana use among teenagers ages 12 to 17 increased 25% in states where it became legal.
Other studies have found legalization is associated with a 7% increase in car crash injuries and a 2% increase in car crash deaths.
In Colorado, a study found that 70% of marijuana dispensaries advised pregnant mothers they could use marijuana, and a study in California found 74% of marijuana dispensaries marketed products to children.
Smart Approaches to Marijuana says the SAFER Banking Act would be the second coming of Big Tobacco.
"SAFE Banking serves one purpose: to give addiction-for-profit industries like Big Tobacco, Big Alcohol, and Big Pharma a clear path for investing massive capital in the marijuana industry," the group says.
CatholicVote readers can write to their U.S. senators against the bill through CV's Quorum platform, which allows them to quickly send a pre-written letter or put a message in their own words.
The bill cleared a Senate committee by a vote of 14-9 last month and Senate Majority Leader Chuck Schumer has pledged to bring it to the floor.
"This bill needs 60 votes, and if enough people speak out, they won't get there," McClusky said. "These senators, especially the Republican co-sponsors, need to hear from us now."