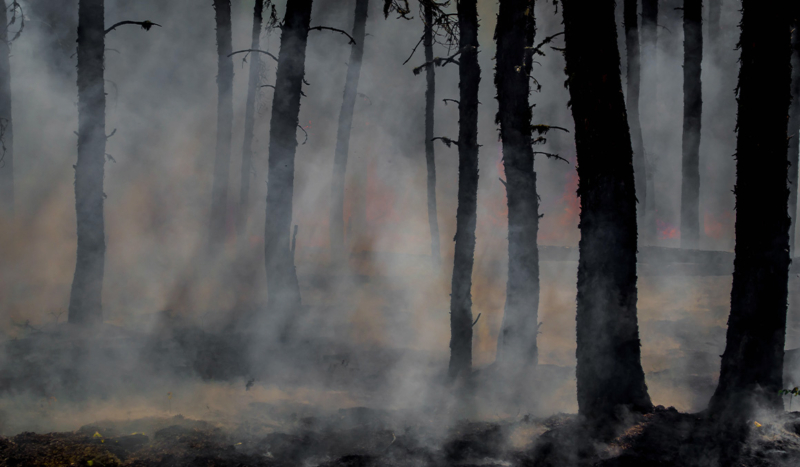 CV NEWS FEED // The government of Maui County, HI, is suing the Hawaiian Electric Company, citing the energy conglomerate's alleged "mismanagement" that may have caused the region's devastating wildfires.
As of August 25, at least 115 people have perished due to the series of fires, the deadliest to strike the United States in over a century. Additional hundreds remain missing.
The blaze destroyed the vast majority of Lahaina, a beachside community on the island of Maui with a population of over 12,000, and caused property damage upwards of $5 billion.
Before the fires, Hawaiian Electric served 95% of Hawaii, holding a near-monopoly on the state's power. In the weeks since the disaster, the publicly traded company has seen its stock price plummet to a 13-year low.
As The New York Times reported Thursday, Maui County holds that the 132-year-old company failed
to respond to ominous weather reports on the day of the fires, Aug. 8, when red-flag fire danger warnings were issued because of hurricane-fueled winds, and of failing to perform basic maintenance in the years beforehand.

"Defendants knew of the extreme fire danger that the high wind gusts posed to their overhead electrical infrastructure, particularly during red flag conditions," the lawsuit said. It said power company officials had chosen "not to de-energize their power lines," even though they knew that power poles and power lines were falling and coming into contact with dry vegetation.
KUOW, a Seattle-based National Public Radio (NPR) member station, added:
The county says the utility should have had a plan to cut off electrical power when conditions get dangerous.

"The practice of deenergizing power lines during fire weather conditions is common in the Western United States," the lawsuit states. It notes that large utilities in wildfire-prone California have implemented "Public Safety Power Shutoff" plans to prevent fires during high-risk conditions.

"Defendants never created a PSPS plan," the suit states.
Evidence that Hawaiian Electric "knew about their risky infrastructure and the dangerously dry Maui vegetation for several years" surfaced over a week ago. Still, as CatholicVote then reported, "they did little-to-nothing to fix it and instead shifted their focus to 'green' energy."
According to an August 17 report by the Wall Street Journal,
mounting evidence suggests the utility's equipment was involved.

One video taken by a resident shows a downed power line igniting dry grass along a road near Lahaina. A firm that monitors grid sensors reported dozens of electrical disruptions in the hours before the fire began, including one that coincided in time with video footage of a flash of light from power lines.
However, as The Daily Wire noted, local officials in Maui 
are also facing scrutiny for their actions during and after the fire.

Maui Emergency Management Agency Chief Herman Andaya chose not to use the island's emergency sirens to alert residents to the deadly fire, saying the emergency sirens are usually used for tsunami warnings, which tell Hawaiians to seek higher ground, but that would've been toward the fire. Andaya then resigned one day after explaining his decision, citing "health reasons."
In the immediate aftermath of the tragedy, Democratic Hawaii Gov. Josh Green was quick to blame "global warming" for the fires. These claims were swiftly rebuked by numerous environmental experts, including a specialist in fire ecology who said that "blaming this on weather and climate is misleading."
Instead, the experts held that a primary underlying cause of the devastation lay in Maui's fire-prone and largely poorly-managed vegetation – which, again, was ignored by Hawaiian Electric.
Victims of the fire are also suing Hawaiian Electric in a separate civil lawsuit that was announced on August 16. Their complaint holds that the company's "negligent and reckless operation of its overhead electrical infrastructure necessarily caused the Lahaina Fire, which destroyed real and personal property belonging to Plaintiffs." 

Mikal Watts, an attorney for the plaintiffs, told NBC News that the power giant was "not just responsible and they weren't just negligent. They were grossly negligent by making conscious decisions to delay grid modernization projects that would have prevented this very tragedy."