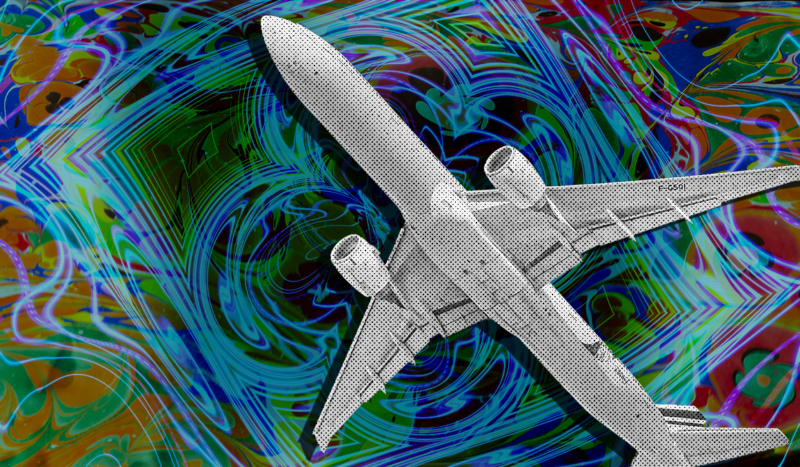 CV NEWS FEED // An off-duty pilot admitted he had taken psychedelic mushrooms before apparently attempting to crash a Sunday commercial flight on which he was a passenger.
According to an affidavit obtained by The New York Post, Alaska Airlines pilot Joseph Emerson told police that he was having a "nervous breakdown" during the attempted hijacking. 
He claimed that he was under the influence of psychedelic mushrooms (colloquially known as "magic mushrooms" or "shrooms") and had gone without sleep for 40 hours. He added that he thought he was in a dream at the time.
"I didn't feel okay," Emerson said per the affidavit. "It seemed like the pilots weren't paying attention to what was going on. They didn't… it didn't seem right."
"I pulled both emergency shut-off handles because I thought I was dreaming and I just wanna wake up," he continued.
The affidavit also stated that Emerson told a flight attendant during the ordeal to "cuff" him "right now or it's going to be bad."
The accused perpetrator had told the flight attendant at the time that he had "messed everything up" and admitted that "he tried to kill everybody."
At the time of the incident, Emerson was aboard Horizon Air Flight 2059. The flight was intended to transport 80 passengers from Paine Field Airport in the Seattle metropolitan area to San Francisco International Airport. Horizon Air is a subsidiary of Alaska Airlines, which serves the Pacific Northwest.
On the flight, Emerson was seated in the jump seat behind the cockpit, where off-duty pilots and other airline personnel not involved in the operation of the aircraft usually sit.
According to federal authorities quoted by The Daily Wire, Emerson "attempted to grab and pull two red fire handles that would have activated the plane's emergency fire suppression system and cut off fuel to its engines" when the plane was flying above northern Oregon.
"After a brief physical struggle with the pilots, Emerson exited the cockpit," the authorities added.
The flight was diverted to Portland International Airport where it landed safely. However, before landing, Emerson again attempted to hijack the plane.
The Daily Wire reported that then, "a flight attendant had to stop Emerson from attempting to grab another emergency exit handle after other attendants had already placed Emerson in wrist restraints and seated him in the rear of the aircraft."
None of the passengers or four crew members were injured as a result of the bizarre incident.
Emerson is a resident of Pleasant Hill, CA in the San Francisco Bay Area. He is reportedly married with two children.
The Federal Bureau of Investigation (FBI) stated that it "can assure the traveling public there is no continuing threat related to this incident." The Federal Aviation Administration (FAA) noted it is "engaged with Alaska and Horizon airlines" and "supporting law enforcement investigations."

Emerson now faces 83 counts of attempted murder, 83 counts of reckless endangerment, and a federal charge related to disobeying airline employee directives. Eighty-three is the total number of people who were on the aircraft other than Emerson himself. Some of the passengers were reported to be infants.
Crimes that occur midflight almost always fall under federal jurisdiction. 
The disgraced pilot is being held in custody in the Portland area. According to the airline's statement, on the same day of the flight "Emerson was removed from service indefinitely and relieved from all duties at Alaska Airlines."
Alaska Airlines added in their statement that they are "deeply disturbed." They suggested they had no responsibility for their former employee's actions:
Following well-established, FAA-mandated practices to authorize a jump-seat passenger, our Gate Agent confirmed that Emerson was an off-duty pilot for Alaska Airlines. He was approved to join the flight as a passenger and was seated in the flight deck jump seat. All Gate Agents and Flight Attendants are trained to identify signs and symptoms of impairment.

At no time during the check-in or boarding process did our Gate Agents or flight crew observe any signs of impairment that would have led them to prevent Emerson from flying on Flight 2059.