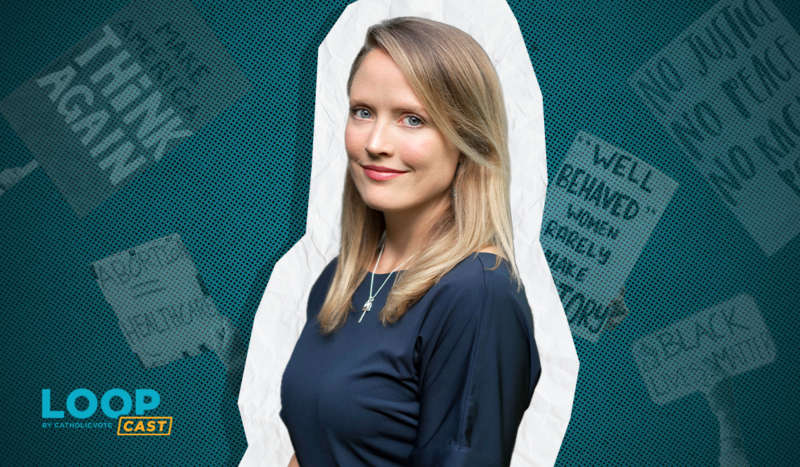 CV NEWS FEED // The following was taken from an exclusive LOOPCast interview with "Woke-Proof Your Life" author Teresa Mull, conducted by LOOPCast co-host and the LOOP's Associate Editor Erika Ahern.
CatholicVote readers can use a special discount code to receive 30% off "Woke-Proof Your Life." Simply enter code: "LOOP30" at checkout. Available for purchase here,
___________________________________________________
Erika: Welcome to LOOPCast today. My guest is Teresa Mull, author of "How to Woke-Proof Your Life."
I want to start off with let's define our terms in the title. When you say "Woke-Proof Your Life," what do you mean by woke?
Teresa: Yes, I'm talking about the radical sociopolitical ideology that is really poisonous and seems to be infiltrating every aspect of our life. I provide the definition in the book for wokeness as being a sociopolitical ideology that is characterized by the manipulation of noble goals for the control and destruction of society. Wokeness is essentially a form of evil.
There's nothing new about it. All we see with wokeness is some updated terminology, and it's basically political correctness on steroids. It's really taken off in the last few years, but it's really same-old same-old stuff.
Erika: So we grew up with this idea of political correctness – not offending anyone, acceptance, tolerance. Can you push it a little further? What are some examples of "PC" has gone on steroids?
Teresa: We just saw the Supreme Court rule against affirmative action, which we know from polling that the majority of Americans were in favor of giving preferential treatment to a certain group of people just because of their race. Now, we see that happening with the DEI initiative in diversity, equity and inclusion, which is the same thing.
But we see that taking place in the workplace and not even with minorities as far as your racial background goes. We see that with things that are as big as your sexual identity or what you identify as, as a person. It's gone from being what you actually are and what your ethnic background is, to what you identify as and what your sexual proclivities are.
We've seen gay marriage over the years take hold in our society and just be kind of a part of modern-day life. But now we've gone from that to a radical transgender ideology and encouraging people not just to carry out their homosexual desires, but to alter their own bodies, take hormones, and have surgeries if they don't feel that they're satisfied with the sex that God gave them. 
Erika: You even think 10 years ago if you said something like a boy can turn into a girl, it would sound so strange. Now it's almost de rigueur, even in some of our educational institutions. So for me, I think a lot of the things that you're describing seem so out of left field and so bizarre and unbelievable.
When I see a title like "Woke-Proof Your Life," I wonder how would that be hard? Why do I need to read a book about that? These things are so crazy it won't even touch my life. So why would anyone even need to woke-proof their life if it's so easy to identify?
Teresa: Well, this is being forced upon us. There was an attitude for a long time prevailing among many libertarian laissez-faire conservatives and traditionalists who kind of said, "just so long as you don't bother me about it, I don't care what you do in the privacy of your own home.". 
But we can't. I would argue we should never have to take that action because, of course, we are called to care about our neighbors and to take care of them.
But we are now being forced to fund these radical initiatives. If we see them being taught in our public schools, our taxpayer dollars are going toward these sorts of evils and I have a big list in the book of woke corporations. It's very long, and it's daunting.
It can seem like everything you buy is from a woke corporation – and a lot of these corporations are umbrella corporations that own so many products that you might not even realize – and you've been buying them for years. You rely on them. You love these products and services. But then you know, they're woke.
So wokeness is really a poison that's been leeching on so many aspects of our life. And even if you are not actively promoting woke ideology, you are probably supporting it more than you realize or more than you certainly want to be.
And that is why people need to woke-proof their lives, because it is sneaky and it is trying to seep in everywhere, but we need to stop it before it makes any more progress.
Erika: So let's turn to some of those practical ways that people can "woke-proof their lives" and stop supporting these kinds of corporations and movements with both their money and offering their children up to them. I think you recently wrote, and I'll just quote, "keep in mind that to exist wokeness relies on people leading predominantly online lives."
So what are some ways that our online life makes us susceptible to the woke monster? And what are some practical ways that we can start to wean ourselves off of that?
Teresa: I am of the mind that wokeness kind of lives and dies online, because, as we mentioned before, political correctness and evil certainly has been around online for forever. But it's really taken off in the last three years since COVID. We weren't talking before about whether a biological male should be playing on the girls' lacrosse team, or whether a man is able to chest feed or give birth to a child, or what is a woman.
We weren't having these conversations until relatively recently and I say that a lot of that has to do with screens. And we know that excessive screen use is a problem that has really skyrocketed since COVID. We were all locked down. We weren't allowed to go out and do the things that we typically enjoy and spend time with one another.
We relied on our cell phones, our televisions, and our computers for entertainment, news and information. And I have a lot of really scary statistics in the book about how much time the average American spends on screen per day – it's really shocking, like 10 hours or something like that.
Most of us spend our time in front of a screen and when you look at what's coming through those screens, a lot of it is woke propaganda. And most social media is as well, I would say, until Elon Musk's strange takeover of Twitter… or "X."
Erika: I miss the bird.
Teresa: It was a cute little bird. Most social media and mainstream media is owned and controlled by radicalists who are pushing these woke ideologies. So whenever you pick up your phone, you allow all of this information to come into your life, and certainly if you're a child who is unable to determine whether it's true – whether you're being propagandized – it's really dangerous.
And even if you are aware that this is what woke messaging is – that it's not good or not true – it still has a way of seeping into your psyche and into your soul. And it can affect the way you view things, the way you think about things, and the way you use language. I've caught myself using expressions that I wouldn't have used had I not learned it from the media.
That is why I advise people to not allow so many woke forces to come into your mind, your eyes, your ears, your heart, and into your home.
Make sure that you're using your technology as a resource and not a recourse. You're not just picking it up every time you have a spare moment and just letting whatever in the wild world of the Internet is out there to come and influence you. And certainly the same thing with your child. You need to guard them so that they're not absorbing these poisons.
Erika: You know, for me, in the last few years since COVID, that means having to really carve out moments of the day where the phone's just not present. For example, there are no screens in the dining room during dinner, there are no screens in the living room when we're getting ready, putting the children to bed, things like that.
Woke-proofing your life is actually about taking measures like that. You may think, "Why should I have to leave the phone out of my back pocket?" Well, it's because we're addicted. And that's how you break an addiction – it's just not available to you at certain times.
I love that kind of practicality that you talk about in the book.
You also have a whole chapter devoted to picking up your family and moving, which sounds way more radical than a lot of people have even thought about to handle the woke problem – that I'm going to change jobs, change locations, maybe leave my family, where I grew up. Can you talk to us about taking that drastic measure for your family, what it speaks to, how you would advise people to discern if that's the point that they're at?
Teresa: Yeah, I certainly want this to be approachable for people in all sorts of situations. So I understand that not everybody can just pick up and move. We have certain obligations and even certain sentimental or emotional reasons for staying in a place. But I think a lot of people – and we have seen this, statistically speaking – are dissatisfied with the very local liberal, radical places where they live and they realize that they are helping to fund it with their tax dollars.
And it's just so exhausting to be around that, and to not want to walk your kid down a city street because you see so much woke messaging and all these forces that are just assaulting you. I make the analogy of a dog barking in a neighborhood and then another dog barks with another dog. Then you're basically in the middle of a kennel getting barked at by all these woke things, and that's not a healthy way to live.
Some people are better equipped to combat these forces than others. But I think a lot of people just want to go somewhere that's more peaceful and that is more conducive to living a centered life that's full of peace and purpose.
For instance, we know that if you want to quit smoking if you start hanging out in a group of people who don't smoke, you're less likely to smoke yourself. If you want to get healthier and you hang out with a friend who eats healthily, you're more likely to be healthier yourself. So it's the same thing with woke-proofing your life.
If you want to live a more traditional lifestyle and encourage those values, if you surround yourself with other people who are doing that and encourage you then you're more likely. And it's just a more pleasant way to do so. I encourage people to pray about it. If you feel the tug I got you, you want to pack up and move and shake the dust, so to speak, from a liberal place.
Obviously, ask the Holy Spirit for guidance and then I mention people in the book who did just that. They were looking for somewhere to live and I have a list in there of the most conservative states, most conservative cities. So you can consider those. I encourage people to live closer to their families so that they can have that support network if that's possible.
If you're generally living somewhere, try to form a community, and so many people work remotely now, maybe you can try a trial period, which is what the one couple in the book did. They rented for a while in Indiana because they wanted to see the city. They got very involved in the church. They visited a couple local parishes, got to know the priest and the parishioners there. And you can read the local newspaper, see what they're voting on, see what the initiatives are. Go to a municipality meeting, see what they're spending their taxes on, Talk to the people who live in the town, in the city, where you're going to live or in the neighborhood.
There are all sorts of alternatives. You don't have to do the most radical thing and move. I think the more you do, the better, but there are incremental steps to be taken.
Erika: So for those who aren't in a place where moving states or even across lines is a possibility at this point, what are some other, smaller ways that you give us to cultivate authentic community? And in understanding that part of the woke ideology's attraction – I think for a lot of lost young people – is that it promises a community, like a trans community or the LGBT community.
But all of those communities, like you discuss in the book, are based on this sort of self-identification and self-identity and aren't actually authentic communities. What do you look for in an authentic human community, and what are some ways besides moving that we can join or cultivate those communities?
Teresa: I encourage people to look first and foremost among their church community. And I talked to several people in the book who did that, and that was the defining factor in where they moved or decided to live. Ultimately, within a church community, you automatically have the most important things in common with those people because you believe the same things, you have the same principles, the same values, and you're encouraging each other and the same sort of lifestyle. So I would start with my church and from there, the beauty of joining or developing hobbies and volunteering and things like that is that it takes us out of having to talk about sociopolitical topics all the time.
I encourage people to develop an interest, at least just one thing that gets you away from your screen. Find something that gets you using your talents and that causes you to appreciate nature or some sort of beauty that God the Creator has granted to us that maybe we haven't been paying attention to or utilizing because we're still on the scoreboard in the chaos of the world.
So anything that gets us away from the woke madness, I would say is positive. I joined my local sportsman's club a few years ago where we just go, we hang out, we shoot sporting plays, and we just have a great time. We talk about different wild game recipes, or the weather, or just simple, wholesome things that make us realize how much we have in common and how much we are able to enjoy one another whenever we're not talking about and focusing on our differences.
So I encourage people to look for clubs, start your own if you have to, and if that seems like too much or you're intimidated by that, certainly just start small. You know, maybe start a book club with a couple of your friends from college or get to know your neighbors, a few chats every now and then. Whenever you're out in your driveway, maybe invite them over to the backyard for a cookout someday.
Just these simple, old-fashioned things cause us to be more sociable, more neighborly, and to think of one another as friends who are helping get to heaven rather than people that we can use for our own gain.
Erika: It's a really beautiful way of putting it, that contrast between loving and using each other.
One of the things we talk a lot about at CatholicVote, just in the office, is about moving to places and responding to wokeness and some of the objections I think to the whole moving or going back to being more old-fashioned is that, well, it sounds so much like circling the wagons mentality, very defensive.
How would you respond to people who say, "Well, this is all good, but you're sort of running away from real life in the real world?"
Teresa: No, I don't want people to think that woke-proofing is about sticking your head in the sand and hiding from the world. Or there are certainly people for whom going off the grid and homesteading and getting away, kind of like a monk might, some people certainly will thrive that way.
And our call to do that in the world, there is obviously a place for that. But to me, woke-proofing is more like – I use the analogy in the book – waterproofing yourself for your life. Waterproofing as if you're going out into the storm – that is the world. You're putting on this sort of armor of wisdom, truth, and peace of soul and your relationship with Christ and your community, friends and family who are supporting you.
And you have all of these things that you're building up in your own life so that whenever you go out into the chaotic, crazy world, it doesn't make it dark. Just like waterproof boots keep you from getting wet and cold.
You're like, "All right, I'm ready. I can go out into this world. It's not going to affect me, and this poison is not going to hurt me. It's not going to hurt my family because I have built out this life that is immune to all this."
Erika: I love that, too, because you make it sound fun and that you can woke-proof your life by shooting clay pigeons, or by joining a roller skating rink or going and watching bluegrass without scrolling through your phone. It's a healthy life.
And I think that for me, reading the book, that was the biggest takeaway: that these are the kind of people I want to hang out with because they're sincere, but they clearly know how to enjoy themselves and they're not dependent on TikTok trends and Instagram and this sort of online existence, which really isn't real life.
Teresa: I think it really is as simple as that. And I totally agree with you. I work from home and I've worked from home for many years, and I find that I spend three or four hours in the morning working from home and with my coworkers through the computer, and then I'll go take a walk.
I go to the post office. I'll stop at the coffee shop and I interact with people and I can feel my energy almost get like an adrenaline rush.
Obviously not everybody's the best person, but there are so many studies – and I have them in the book – about how much social interaction we get and loneliness. There is this loneliness epidemic that we're seeing as more dangerous than smoking cigarettes, especially for older people.
And these are ways that God is pointing us. He tells us through scripture and tradition, certainly, how we are to be living. But then He also backs it up by science that the more you interact, the happier you are, the healthier you are, the better your immune system is. All of these things.
By contrast, we know that social media leads to increased depression, anxiety, stress, suicide, all of these negative things. So it's very clear that we are called to hang out with one another in person to talk to each other. My favorite study in the book is about the power of tiny interactions. And I love that, just chatting with the mailman, you know?
These things add up and they matter.
They really do. And whenever you're on your phone, you're not looking at the person. Whenever you go to the self-checkout thing, you're not having that little chit-chat, that small talk with other people. And that's really damaging. And I think that's led to kind of enable wokeness to permeate our society. Because if you don't have that human connection, you're lonely. Certainly God is out of the picture in many people's lives and decreasing our faith in religion. Then people are empty. They're lonely, they're purposeless, and they're looking for validation and for attention. Then they seek that online through different identities, through tattoos and piercings, through eating and drinking too much through drugs. All of these things that we know are so bad for us. So if we just got out and hung out with one another, then I think that would make a world of difference.
And that is something that I try to remember whenever I get disgusted by wokeness, I think a lot of these people are lost. A lot of these people are clinging to wokeness because they're sad, because they didn't have the advantage of growing up in a loving Catholic family, or they didn't have the opportunity to have a classical education. But that changed their hearts and souls. So keeping that in mind is something that I think we need to do so that we are compassionate whenever we come back or whenever we take part in the culture war.
Erika: That's beautiful. It's a great way to end on that encouragement. So thank you so much, Teresa, for joining us today. This has been a great conversation. I encourage everyone to check out "Woke-Proof Your Life," make sure that you get it, and get a couple of copies that you can share around as well. It's a great discussion starter.