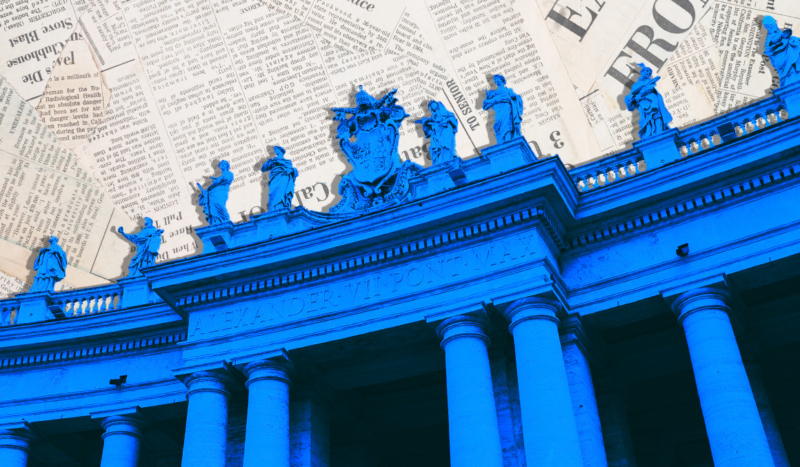 CV NEWS FEED // Left-wing Catholic news outlets such as the National Catholic Reporter and the Jesuit-run America Magazine have been gathering their efforts and funding to ensure they control the narratives surrounding the upcoming synod of bishops.
Joe Ferullo, the recently appointed publisher of the Reporter published an article boasting of the publication's plans to cover the synod. The October meeting "will consider, among other issues, priestly celibacy, the role of women in the church, and the status of LGBTQ Catholics," Ferullo wrote:
"frightened" describes well the reaction by some in the U.S. hierarchy. Words like "schism" seem to get tossed around freely by conservative leaders who insist the synodality process will erode long-held Catholic traditions.
Several Church authorities from leading cardinals to Pope Francis himself have denied that the synod will focus on the controversial issues Ferullo mentioned, much less make doctrinal decisions about them.
Arguing that "[conservative] voices can have an outsized global influence, given the outsized support they receive," Ferullo announced that the Reporter will send four full-time writers and editors to Rome for the synod and will assign one permanent commentator in Washington DC.
The Reporter will also broadcast "a weekly podcast from Rome, examining and interpreting what's going on inside the meeting hall, and looking at issues that still lie ahead." Finally, Ferullo promised,
our social media feeds — including Facebook, Instagram, Threads and X (formerly Twitter) — will give readers our most up-to-the-minute information and analysis. a weekly podcast from Rome, examining and interpreting what's going on inside the meeting hall, and looking at issues that still lie ahead."
"It is an enormous undertaking for NCR, equal to the importance of this event," wrote Ferullo.
An expert on internet marketing consulted by CV explained that "if you currently see an oversized presence of both the National Catholic Reporter and America when you Google search for the word 'synod,' is because both organizations are spending money in Google ads to associated everything synod to their brands."
Brian Burch, President of CatholicVote, said NCR and America are indicating their desire for a synod that will usher in political and ideological changes in Church teaching.
"Pope Francis himself said that the synodal discussions should not be driven by ideology, but these outlets have been doing precisely that from the beginning, thus rejecting the pope's request for a genuine, Catholic discernment," said Burch:
But we will make sure that during the synodal process, we will be able to provide to our followers and readers with accurate, reliable information about what will actually be happening. The synod should be focused on synodality, and not the pet ideological projects of left-wing Catholics.