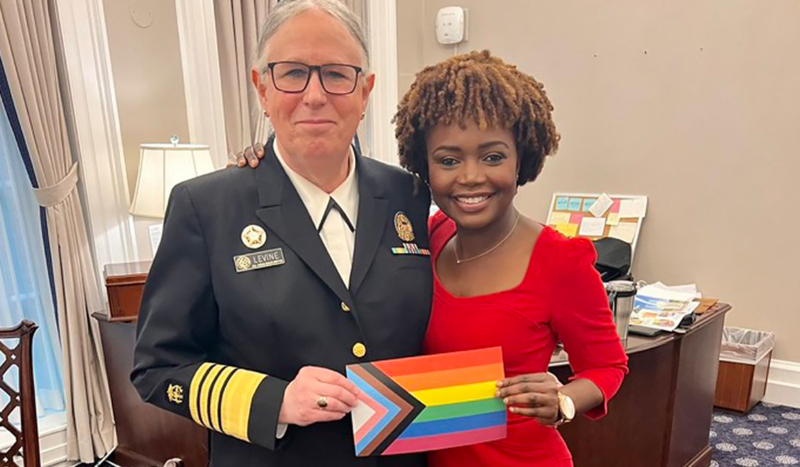 CV NEWS FEED // Assistant Secretary for Health Rachel Levine helped Planned Parenthood become the second-largest provider of cross-sex hormones in the United States, according to emails obtained by the Daily Caller News Foundation.
Levine, a man who claims to be a woman, ran a group called the Transgender Health Working Group in 2017 while he worked as acting secretary of health for Pennsylvania. This group included the Children's Hospital of Philadelphia (CHOP) gender clinic, among others.
Through the cooperation of members of the working group, Planned Parenthood employees participated in transgender treatment training sessions, including at the Mazzoni Center, a clinic in Philadelphia that, according to its website, "provides quality health and wellness services in an LGBTQ-focused environment."
Critics argue that "transgender" surgeries and treatments are cash cows for surgeons and medical providers, because patients often require "care" for a lifetime after the first, permanently life-altering interventions.
Levine worked for the state of Pennsylvania from 2015 through 2021, first as the physician general and then as the secretary of health, during which time the state's spending on "transgender" medical "care" rose nearly 5,000%, according to records obtained by the PA Family Institute.
Levine also helped block Pennsylvania House Bill 1933, which would have ended taxpayer funding for cross-sex medical treatments for minors. He had the support of the American Society of Plastic Surgeons. Plastic surgeons were the highest-paid specialty in the United States as of 2021.
In 2021, journalist Abigail Shrier reported she was contacted by a former Planned Parenthood employee who revealed that patients, primarily young women, were being put on life-altering, often irreversible treatments with little to no counseling or support. A gender "counselor," who was a male-to-female "transgender" person with no credentials or prior experience, would forward his "notes to an actual licensed mental health professional somewhere off-site, and rubber stamp approve the patients to begin their transition," according to the former employee. 
There were no doctors at the clinic, and the clinic's manager, who decided which treatments the girls would receive, was a former Wendy's manager with no prior medical experience. According to Shrier, when the employee took the girls' medical histories, she noted that "a lot of them have serious emotional issues, a lot of them had a history of abuse."
The former employee recalled often observing "self-harm scars" and even fresh wounds on the young girls' bodies, but said she was instructed to merely treat the patients' "self-diagnosed dysphoria." She also said she didn't remember any of the girls ever reading the pages of informed consent documentation they were required to sign. Girls often came in with groups of friends, she recalled, suggesting peer influence was a factor. Planned Parenthood, however, never denied hormone therapy to any young woman who requested it.

Currently, Planned Parenthood in Pennsylvania says it does not treat patients younger than 18 years of age, but will "reassess offering HT (hormone therapy) in the future" to younger patients.