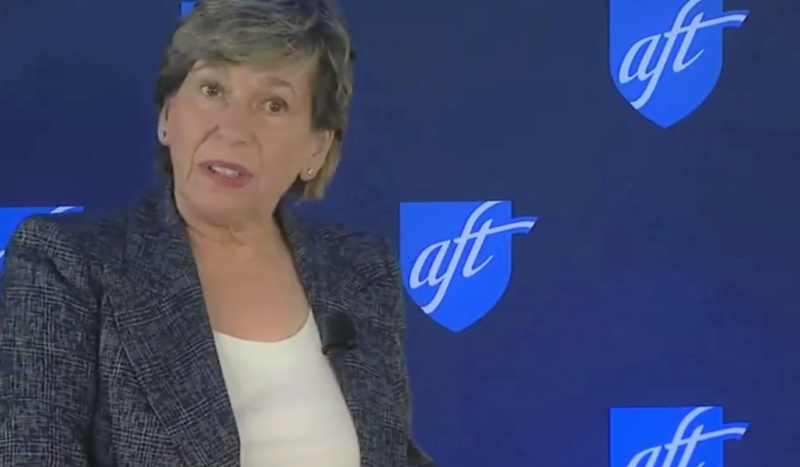 CV NEWS FEED // The American Federation of Teachers (AFT) has drawn criticism for stumping for a Democrat-backed change in tax law known as the SALT (State And Local Taxes) deduction, which would disproportionately lower taxes for the rich.
"Great schools are paid for by state & property taxes," said AFT President Randi Weingarten. "What happens is the code used to incentivize states & localities to invest in themselves, making sure the middle class wasn't double taxed. That's why you had the SALT deduction back to 1913."
"SALT is a way of delivering for the middle class," Weingarten added.
It puts the incentive system back in place to invest in localities, in sewer systems, in fire systems, in schools. That's why we want the Senate to follow the House's lead in including [SALT] in [Biden's Build Back Better bill].
While the teachers union is presenting the Build Back Better Act's inclusion of SALT as a boon for underdogs, however, a number of analysts have called it out as a classic instance of tax cuts for the rich.
"Liberal legislators in high-tax states like New York, New Jersey, and California seem determined to make sure that their own high-income constituents pay for as little of their big spending plan as possible," wrote Heritage senior policy analyst Preston Brashers.
Brashers cited findings by the Committee for a Responsible Federal Budget, which show that "raising the SALT deduction cap—a benefit almost exclusively for the wealthy—is the single most expensive provision" in the Democrat-backed Build Back Better bill:
Because of the increased SALT cap, taxpayers making $500,000 to $1,000,000 would receive an overall tax cut under the bill of 1.8% in 2023 and 2.5% in 2025. Meanwhile, government scorekeepers estimate that taxpayers earning between $50,000 and $75,000 would face overall tax increases of 0.4% in 2023 and 0.3% in 2025.
…The Wharton School of the University of Pennsylvania estimates the increased SALT cap would reduce the federal taxes of the bottom 80% of taxpayers by about $16 in 2022. It would, on average, provide taxpayers in the top 1% a tax cut of nearly $16,000.
A number of school choice advocates responded to AFT and Weingarten's push for SALT by pointing out the personal wealth of Weingarten herself, as well as that of the mega-rich who support teachers unions.
Public education critic and school choice activist Corey DeAngelis responded to Weingarten by sharing a headline: "AFT head Randi Weingarten makes over $560,000 per year, 9 times average teacher salary, records show."
"Democrats are DEMANDING their precious tax cuts for the rich!" wrote Jon Schweppe of the American Principles Project.
"The shamelessness is amazing," wrote journalist Mark Hemingway.