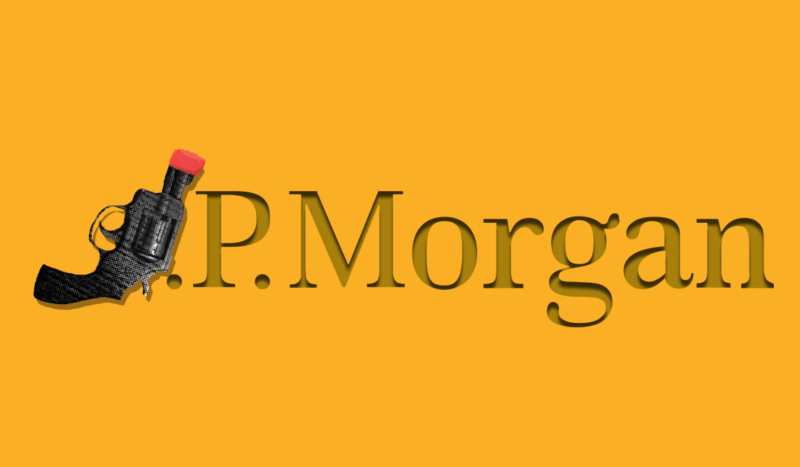 CV NEWS FEED // An investigation launched by Sen. Ted Cruz, R-TX, found that banking conglomerate JPMorgan Chase pressured Intuit to ban gun companies from using its payment processing software.
In a Monday letter to Intuit CEO Sasan K. Goodarzi, Cruz wrote he "became aware of these discriminatory policies when Dawson Precision, a Texas company that manufactures small firearm parts," told his office "that Intuit had, without warning, cancelled its subscription to QuickBooks," the tech giant's flagship service.
"Intuit later said that it cancelled Dawson Precision's account because, as a firearm manufacturer, it was in violation of Intuit's acceptable use policy," Cruz wrote.
However, it "turns out that Intuit's firearm policies may not have been entirely of its own making," the senator explained:
When my staff approached Intuit about this issue, your company explained that its banking partners, JPMorgan and Bank of America, demanded that Intuit create and enforce bank policies regarding firearm sellers and manufacturers. 

After my staff met with those banks, Intuit clarified that Bank of America required it to prohibit gun manufacturers from using QuickBooks payroll services while JPMorgan required Intuit to restrict gun sellers from using QuickBooks payment processing Services. 

JPMorgan acknowledged that it indeed was the source of Intuit's payment processing services policy restricting firearm sellers. Bank of America, however, denied that it had ever given Intuit any instructions relating to firearm manufacturers or sellers. Intuit insisted that Bank of America did.
"Woke big banks are increasingly weaponizing their power to cut off law-abiding businesses from accessing banking services," Cruz said in a statement to The Daily Signal on the same day as the letter:
The American people and small businesses must be protected from this discriminatory overreach. We cannot allow giant corporations to get away with punishing customers who do not fall in line with the Left's political whims and leanings.
Tyler O'Neil of The Daily Signal reported that Intuit "had adopted [its] acceptable use policy previously listing 'guns and firearm manufacturing' as one of the business types prohibited from using payroll services." He added that "Intuit also listed 'firearms and weapons sales' as a business type prohibited from using payment processing services."
However, as O'Neil noted, "Intuit removed its prohibitions on payroll and payment processing for gun manufacturers and firearm sellers" on August 1 "following Cruz's investigation of the company."
Cruz wrote noted that timing in his letter as well:
As a result of my staff's investigation, Intuit did the right thing regarding its payroll and payment services. I encourage other companies to follow your company's lead and take note that banning customers from using their products due to political differences is not good business.
Intuit is based in Mountain View, CA, which is in Silicon Valley. In addition to QuickBooks, some of its other well-known services include TurboTax, Mint, Credit Karma, and Mailchimp.
Mailchimp, a popular email marketing platform, has made headlines in recent years for instances of apparent discrimination based on political beliefs.
In 2021, the Intuit service banned the Virginia Citizens Defense League (VCDL), a non-profit organization that supports Second Amendment rights.
"It just came out of the blue," VCDL founder and President Philip Van Cleave said at the time. "They said we just think it's too big of a risk, and we're just canceling your account. The timing was suspicious too, just a few days before our lobby day."
Later that same year, Mailchimp suspended the popular conservative Christian satire website The Babylon Bee for allegedly violating its "Standard Terms of Use and Acceptable Use Policy."
This is also not the first time JPMorgan has been in the news for alleged political discrimination.
As CatholicVote reported in May, a coalition of Republican statewide elected officials called out the megabank's CEO, Jamie Dimon, over "an apparent pattern of political bias in numerous key policy and operational decisions."
Again, from CatholicVote's May reporting:
The attorneys general referenced JPMorgan's "Equal Opportunity, Anti-Discrimination and Anti-Harassment Statement," which claims "no form of discrimination … is tolerated" within the organization, as evidence that the bank broke its own rules. 

"Chase has not extended its openness and inclusivity to everyone," the letter stated, adding that "last year Chase de-banked a preeminent religious liberty organization," the National Committee for Religious Freedom (NCRF). The financial officers acknowledged that fact as well in their March letter.

The NRCF, as described by FOX Business, "is a nonpartisan, multi-faith nonprofit founded by former U.S. Ambassador-at-Large for International Religious Freedom Sam Brownback." Brownback also served as the Republican governor of Kansas from 2011 to 2018 and was a U.S. senator for nearly a decade-and-a-half prior.