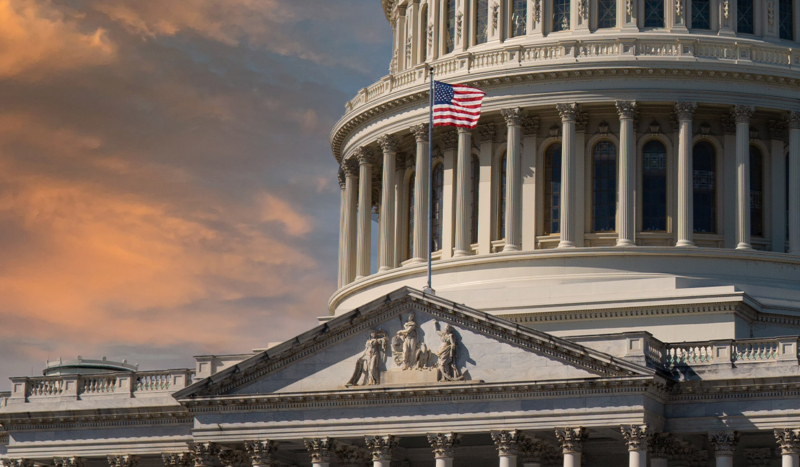 CV NEWS FEED // The House of Representatives on Thursday voted to pass the so-called Respect for Marriage Act, sending the legislation to President Joe Biden's desk to be signed into law.
There are 130 Catholics serving in the House of Representatives, of which 74 are Democrats and 56 are Republicans. CatholicVote Communications Director Joshua Mercer noted after the vote that out of the 130 Catholics, 89 voted to redefine marriage, while only 40 Catholics voted no. (One member, Rep. Kevin Brady, a Catholic Republican from Texas, did not vote.)
"There are 74 Catholic Democrats in the House of Representatives and they all voted to redefine marriage and expose religious organizations to years of lawfare from harassing lawsuits," Mercer said:
Sadly, 15 of the 56 Catholic Republicans in the House (27% of them) complied with this Democrat-sponsored legislation. We are thankful for the 40 Catholic Republicans in the House who stood their ground and voted no on this dangerous legislation.
CatholicVote strongly opposed the legislation, warning members of Congress that it would result in terrible consequences for the religious freedom of Catholic individuals and institutions.
"The act purports to defend same-sex and interracial marriages, yet neither institution is under attack, and the act adds zero new protections for same-sex marriages that the Supreme Court's decision in Obergefell v. Hodges didn't already provide," wrote CatholicVote President Brian Burch for Newsweek shortly before the House vote:
The legislation's real effect, in addition to repealing the 1996 Defense of Marriage Act, will be to expose people of faith to a host of potential lawsuits from left-wing activists seeking to silence their voices. That seems to be the point.
Below readers can find how all Catholic members of Congress voted on this legislation. For members of Congress who are not Catholic, their votes can be found by clicking here.
| | | | | |
| --- | --- | --- | --- | --- |
| Representative | Party | State | District | Voted for RFMA |
| | | | | |
| Tom O'Halleran | Democratic | Arizona | 1st | Yes |
| Ann Kirkpatrick | Democratic | Arizona | 2nd | Yes |
| Raúl Grijalva | Democratic | Arizona | 3rd | Yes |
| Paul Gosar | Republican | Arizona | 4th | No |
| David Schweikert | Republican | Arizona | 6th | No |
| Ruben Gallego | Democratic | Arizona | 7th | Yes |
| Greg Stanton | Democratic | Arizona | 9th | Yes |
| French Hill | Republican | Arkansas | 2nd | No |
| Mike Thompson | Democratic | California | 5th | Yes |
| Jerry McNerney | Democratic | California | 9th | Yes |
| Mark DeSaulnier | Democratic | California | 11th | Yes |
| Nancy Pelosi | Democratic | California | 12th | Yes |
| Jackie Speier | Democratic | California | 14th | Yes |
| Jim Costa | Democratic | California | 16th | Yes |
| Anna Eshoo | Democratic | California | 18th | Yes |
| Jimmy Panetta | Democratic | California | 20th | Yes |
| David Valadao | Republican | California | 21st | Yes |
| Connie Conway | Republican | California | 22nd | No |
| Salud Carbajal | Democratic | California | 24th | Yes |
| Pete Aguilar | Democratic | California | 31st | Yes |
| Grace Napolitano | Democratic | California | 32nd | Yes |
| Ted Lieu | Democratic | California | 33rd | Yes |
| Jimmy Gomez | Democratic | California | 34th | Yes |
| Norma Torres | Democratic | California | 35th | Yes |
| Linda Sánchez | Democratic | California | 38th | Yes |
| Lucille Roybal-Allard | Democratic | California | 40th | Yes |
| Nanette Barragán | Democratic | California | 44th | Yes |
| Lou Correa | Democratic | California | 46th | Yes |
| Juan Vargas | Democratic | California | 51st | Yes |
| John B. Larson | Democratic | Connecticut | 1st | Yes |
| Joe Courtney | Democratic | Connecticut | 2nd | Yes |
| Rosa DeLauro | Democratic | Connecticut | 3rd | Yes |
| Neal Dunn | Republican | Florida | 2nd | No |
| John Rutherford | Republican | Florida | 4th | No |
| Darren Soto | Democratic | Florida | 9th | Yes |
| Mario Díaz-Balart | Republican | Florida | 25th | No |
| Carlos A. Giménez | Republican | Florida | 26th | Yes |
| Marie Newman | Democratic | Illinois | 3rd | Yes |
| Jesús "Chuy" García | Democratic | Illinois | 4th | Yes |
| Rodney Davis | Republican | Illinois | 13th | Yes |
| Cheri Bustos | Democratic | Illinois | 17th | Yes |
| Darin LaHood | Republican | Illinois | 18th | No |
| Frank J. Mrvan | Democratic | Indiana | 1st | Yes |
| Greg Pence | Republican | Indiana | 6th | No |
| Mariannette Miller-Meeks | Republican | Iowa | 2nd | Yes |
| Cindy Axne | Democratic | Iowa | 3rd | Yes |
| Jake LaTurner | Republican | Kansas | 2nd | No |
| Steve Scalise | Republican | Louisiana | 1st | No |
| Garret Graves | Republican | Louisiana | 6th | No |
| Andy Harris | Republican | Maryland | 1st | No |
| Anthony Brown | Democratic | Maryland | 4th | Yes |
| Richard Neal | Democratic | Massachusetts | 1st | Yes |
| Jim McGovern | Democratic | Massachusetts | 2nd | Yes |
| Lori Trahan | Democratic | Massachusetts | 3rd | Yes |
| Stephen F. Lynch | Democratic | Massachusetts | 8th | Yes |
| Bill Keating | Democratic | Massachusetts | 9th | Yes |
| Dan Kildee | Democratic | Michigan | 5th | Yes |
| Lisa McClain | Republican | Michigan | 10th | No |
| Debbie Dingell | Democratic | Michigan | 12th | Yes |
| Betty McCollum | Democratic | Minnesota | 4th | Yes |
| Tom Emmer | Republican | Minnesota | 6th | Yes |
| Michelle Fischbach | Republican | Minnesota | 7th | No |
| Pete Stauber | Republican | Minnesota | 8th | No |
| Steven Palazzo | Republican | Mississippi | 4th | No |
| Ann Wagner | Republican | Missouri | 2nd | Yes |
| Blaine Luetkemeyer | Republican | Missouri | 3rd | No |
| Matt Rosendale | Republican | Montana | at-large | No |
| Mike Flood | Republican | Nebraska | 1st | No |
| Susie Lee | Democratic | Nevada | 3rd | Yes |
| Jeff Van Drew | Republican | New Jersey | 2nd | No |
| Chris Smith | Republican | New Jersey | 4th | No |
| Frank Pallone | Democratic | New Jersey | 6th | Yes |
| Albio Sires | Democratic | New Jersey | 8th | Yes |
| Bill Pascrell | Democratic | New Jersey | 9th | Yes |
| Mikie Sherrill | Democratic | New Jersey | 11th | Yes |
| Teresa Leger Fernandez | Democratic | New Mexico | 3rd | Yes |
| Andrew Garbarino | Republican | New York | 2nd | Yes |
| Thomas Suozzi | Democratic | New York | 3rd | Yes |
| Kathleen Rice | Democratic | New York | 4th | Yes |
| Nydia Velázquez | Democratic | New York | 7th | Yes |
| Adriano Espaillat | Democratic | New York | 13th | Yes |
| Alexandria Ocasio-Cortez | Democratic | New York | 14th | Yes |
| Sean Patrick Maloney | Democratic | New York | 18th | Yes |
| Paul Tonko | Democratic | New York | 20th | Yes |
| Elise Stefanik | Republican | New York | 21st | Yes |
| John Katko | Republican | New York | 24th | Yes |
| Joseph Morelle | Democratic | New York | 25th | Yes |
| Brian Higgins | Democratic | New York | 26th | Yes |
| Greg Murphy | Republican | North Carolina | 3rd | No |
| Virginia Foxx | Republican | North Carolina | 5th | No |
| Patrick McHenry | Republican | North Carolina | 10th | No |
| Steve Chabot | Republican | Ohio | 1st | No |
| Brad Wenstrup | Republican | Ohio | 2nd | No |
| Bob Latta | Republican | Ohio | 5th | No |
| Marcy Kaptur | Democratic | Ohio | 9th | Yes |
| Tim Ryan | Democratic | Ohio | 13th | Yes |
| David Joyce | Republican | Ohio | 14th | Yes |
| Anthony Gonzalez | Republican | Ohio | 16th | Yes |
| Stephanie Bice | Republican | Oklahoma | 5th | No |
| Cliff Bentz | Republican | Oregon | 2nd | No |
| Peter DeFazio | Democratic | Oregon | 4th | Yes |
| Brian Fitzpatrick | Republican | Pennsylvania | 1st | Yes |
| Brendan Boyle | Democratic | Pennsylvania | 2nd | Yes |
| Madeleine Dean | Democratic | Pennsylvania | 4th | Yes |
| Mary Gay Scanlon | Democratic | Pennsylvania | 5th | Yes |
| Matt Cartwright | Democratic | Pennsylvania | 8th | Yes |
| Dan Meuser | Republican | Pennsylvania | 9th | No |
| John Joyce | Republican | Pennsylvania | 13th | No |
| Mike Kelly | Republican | Pennsylvania | 16th | No |
| Conor Lamb | Democratic | Pennsylvania | 17th | Yes |
| Mike Doyle | Democratic | Pennsylvania | 18th | Yes |
| James Langevin | Democratic | Rhode Island | 2nd | Yes |
| Chuck Fleischmann | Republican | Tennessee | 3rd | No |
| Pat Fallon | Republican | Texas | 4th | No |
| Kevin Brady | Republican | Texas | 8th | NV* |
| Michael McCaul | Republican | Texas | 10th | No |
| Vicente Gonzalez | Democratic | Texas | 15th | Yes |
| Veronica Escobar | Democratic | Texas | 16th | Yes |
| Joaquin Castro | Democratic | Texas | 20th | Yes |
| Tony Gonzales | Republican | Texas | 23rd | Yes |
| Henry Cuellar | Democratic | Texas | 28th | Yes |
| Sylvia Garcia | Democratic | Texas | 29th | Yes |
| Mayra Flores | Republican | Texas | 34th | No |
| Peter Welch | Democratic | Vermont | at-large | Yes |
| Ben Cline | Republican | Virginia | 6th | No |
| Gerry Connolly | Democratic | Virginia | 11th | Yes |
| Alex Mooney | Republican | West Virginia | 2nd | No |
| Bryan Steil | Republican | Wisconsin | 1st | Yes |
| Scott L. Fitzgerald | Republican | Wisconsin | 5th | No |
| Mike Gallagher | Republican | Wisconsin | 8th | Yes |