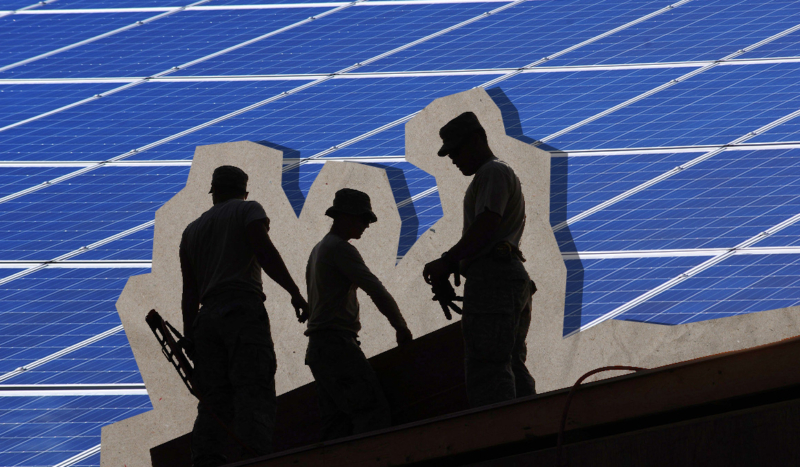 CV NEWS FEED // A bipartisan group of House lawmakers wrote a letter urging the Biden administration to respect a law banning the importation of solar panels made in China by "forced labor."
The Friday letter was addressed to Troy Miller, the Acting Commissioner of U.S. Customs and Border Protection (CBP) under Biden's Department of Homeland Security (DHS).
FOX News reported that the bipartisan coalition of congressmen led by Rep. Carol Miller, R-WV, urged the CBP chief
to ensure full enforcement of the 2021 Uyghur Forced Labor Prevention Act (UFLPA), especially as it pertains to the billion-dollar solar industry, citing information showing his agency may be falling short of the law's requirements.
"In the name of climate change, the Biden Administration is surrendering the United States to the [Chinese Communist Party (CCP)]," Rep. Miller told FOX:
By allowing solar panels manufactured with Chinese polysilicon to avoid detection, they are encouraging Uyghur forced labor, distorting the market, and killing American jobs.

I am calling on Customs and Border Patrol to strongly enforce the Uyghur Forced Labor Prevention Act and stop products that were made by forced labor into the United States. We have the moral obligation to have a strategic decoupling from China and their inhumane labor practices.
In addition to Miller, the letter was signed by seven more Republicans: Reps. Blake Moore, R-UT, Greg Steube, R-FL, Brad Wenstrup, R-OH, Jodey Arrington, R-TX, Michelle Steel, R-CA, Claudia Tenney, R-NY, and Beth Van Duyne, R-TX; and two Democrats: Reps Bill Pascrell, D-NJ, and Terri Sewell, D-AL.
All of the ten signatories serve on the House Ways and Means Committee.
"Any companies that continue to skirt U.S. law designed to prevent economic benefits from these crimes must be stopped and held accountable," the congressmen wrote:
In this regard, we are concerned that statements by an executive at JA Solar, a solar company located in the [People's Republic of China (PRC)] with supply chain ties to Xinjiang, recently stated publicly that its shipments are treated differently depending on which U.S. port the products enter.

This is unacceptable, particularly if it suggests that some ports are not providing appropriate scrutiny to fully implement the UFLPA. We cannot give JA Solar or any company a free pass to import goods tainted with forced labor into the U.S.
China produces more than 80% of the world's solar panels.
>> SOLAR PANELS PRODUCE MASSIVE EMISSIONS, DATA SAYS <<
In early August, environmental journalist Michael Shellenberger sounded the alarm over the connection between Chinese-made solar panels and the CCP's ongoing genocide of the Uyghur ethnic group.
As CatholicVote then noted, "Shellenberger [referenced] a report by The New York Times that connected the production of solar panels in China to the 'forced labor' of minority groups in Chinese-occupied East Turkestan (what the [CCP] calls China's Xinjiang province)."
"Notably, East Turkestan is also the location of the ongoing genocide of the Uyghurs and other Muslim Turkic minorities by the [CCP]," CatholicVote continued.
"People say that what reduced the cost of solar panels was tech innovation, but it wasn't," Shellenberger wrote at the time. "It was Chinese government subsidies, coal, and forced labor. This issue should transcend politics. It's immoral to import products made in such horrific conditions."
"Some say, 'Well, iPhones are made in bad conditions, too,'" the journalist pointed out:
But there's a huge difference. The workers who make iPhones aren't compelled to work there and have seen conditions [and] salaries improve. Not so with the forced solar labor in the Uyghur region.