CatholicVote is committed to holding self-professed Catholic leaders and institutions to Church teaching. That's what our Catholic Accountability Project is all about.
You deserve to know exactly where our Catholics leaders stand – both the heroes who are standing up for the truth and the "zeroes" who cause grave scandal by their words and actions.
But we also ask that you pray for all Catholics in the public square, heroes and zeroes alike.
---
HEROES
Posthumous Valor Awards
We usually laud the heroes currently slaying the dragons of our time, but this month America lost two heroes of the pro-life movement: Vicki Thorn, foundress of Project Rachel, and Deirdre McQuade, longtime pro-life advocate and former employee of the U.S. Conference of Catholic Bishops. Only Heaven knows the number of lives transformed and souls saved because of their heroic work. You can read their incredible stories below. Well done, good and faithful servants.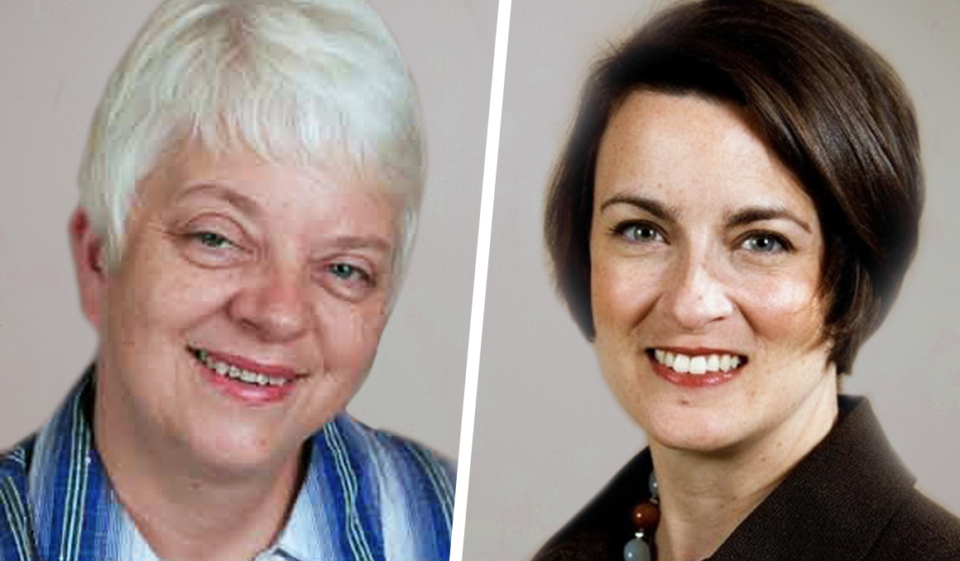 HERO 1: Lauren Handy
On April 5, pro-life activist Lauren Handy alerted reporters that she had acquired the bodies of 115 aborted children from a medical waste company driver outside a D.C. abortion clinic. Handy and fellow activist Terrisa Bukovinac of Progressive Anti-Abortion Uprising (PAAU) called Father Bill Kuchinsky, who gave 110 of the children a Christian burial. Five of the babies, however, appeared to have been killed illegally as they were close to full term, so the activists handed their remains over to the D.C. police – who still refuse to investigate their deaths. Ms. Handy suffered arrest, defamation, and death threats, and was kicked out of her home. Her future remains uncertain, as she is under federal indictment and faces up to 28 years in prison.
HERO 2: Gov. Ron DeSantis, FL
Gov. Ron DeSantis, R-FL, continued his heroic efforts to keep Florida safe for families, conscience, and freedom. In April, Florida became a sanctuary for many more unborn children when he signed into law a bill banning abortions after 15 weeks. DeSantis stated, "This will represent the most significant protections for life that have been enacted in this state in a generation."
HERO 3: Bishop Robert McManus of Worcester
When the Jesuit-run Nativity School of Worcester, MA, flew gay pride and BLM flags outside its buildings, Bishop Robert McManus sent a cease-and-desist request. "Is the school committing itself to ideologies which are contrary to Catholic teaching? If so, is it still a Catholic school?" he asked. A diocesan spokesman confirmed that if the school persists in flying the flags, it risks losing its "Catholic" designation. God bless the bishop for his courage in speaking out.
---
ZEROES
ZERO 1: Sec. of Health and Human Services Xavier Becerra
Claiming his second "zero" award in a row, Sec. Becerra testified in early April before the House Budget committee that he is 100% supportive of sex-changes for children. In mid-April, Becerra confirmed that his department will publish new rules mandating health plan coverage for surgical abortions, puberty blockers, sex-change surgeries on minor dependents, and "gender-affirming" plastic surgeries.
And speaking of "zero," he's also making sure there are zero conscience exemptions for practicing Catholic physicians, employers, and healthcare providers.
ZERO 2: Rep. Conor Lamb, D-PA
Congressman Conor Lamb publicly bragged during a Pennsylvania Senate Democratic debate that Congress had voted down the Hyde amendment, which prohibits the use of taxpayer dollars for most abortions. He has also expressed his support for late-term abortions and claimed that the term "pro-life" is merely political and "not [a term] that you learn in Catholic school or anywhere else in the Church." As he pursues reelection in November, he is doubling down on his legacy as another self-described Catholic who has betrayed the principles of the Church.
ZERO 3: Gov. Gavin Newsom, CA
This April, the governor of California continued in his mission to make the state not only the abortion capital of the country (with over 137,000 abortions annually, it already leads the pack in child murder) but also an "abortion sanctuary" that subverts the pro-life policies of other states. After sharply criticizing a new Texas law that allows private citizens to sue abortion providers, Newsom turned around and applied that same policy to gun control laws in California. He explained to the New York Times this month that "the Supreme Court made a terrible decision in letting the Texas law stand … but the reality at the end of the day is that if this court is going to sanction putting women's lives at risk, we will take advantage of that door being open to save people's lives by advancing our efforts on gun safety." 
The "Catholic" governor thus displayed zero respect for Catholic teaching and for his own moral integrity.
SUBZERO: Georgetown Law
The nationally-acclaimed law school "in the Jesuit tradition" is hosting Mohammed El-Kurd, a Palestinian activist who has built his platform on the hope that all Israeli settlers die "in the most tortuous and slow ways." Georgetown Law dean of students Mitch Bailin responded to student concerns by citing free speech: "We allow a huge amount of latitude even where speech is deeply offensive to some members of the community." He then equated El-Kurd's calls for the murder of Jews to other recent speakers who argued that "gay marriage" is immoral. 
While Bailin backtracked the comparison when challenged, it is also noteworthy that he participated in a sit-in calling for the suspension of Ilya Shapiro for a tweet criticizing the Biden administration's use of a racial criterion in his search for a Supreme Court nominee (Shapiro's suspension is now in its 13th week).
That's a whole lot of zero logic for a legal scholar and head of one of the nation's most prestigious law schools.