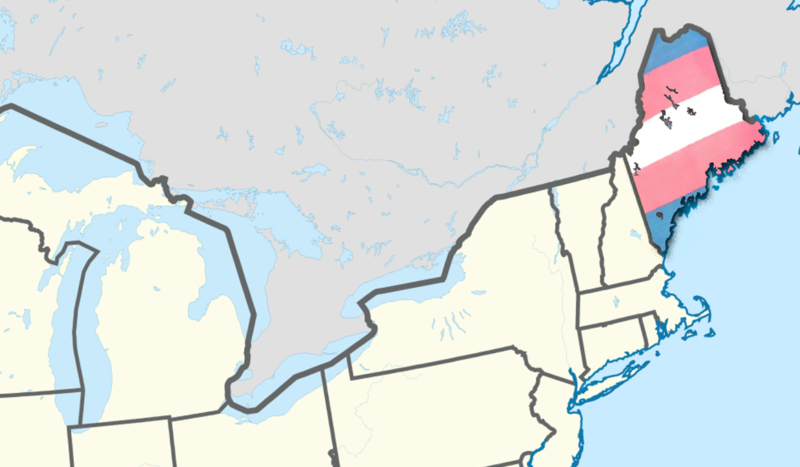 CV NEWS FEED // While over a dozen states have enacted laws forbidding doctors to subject children to sexual surgeries, several other states have taken the exact opposite approach and are becoming "sanctuary states" for practitioners of "trans medicine" to target minors.
California, Colorado, Illinois, Maryland, Minnesota, New Mexico, and – as of this week – Vermont and Washington have passed legislation explicitly permitting "transgender" surgeries and other treatments on children. Maine and Oregon currently stand to become the next two states to pass legislation that would "shield" so-called "transgender" procedures on children by means such as "legal protections, health care coverage, and access."
Vermont on Wednesday became the latest state to "shield" the practice of subjecting minors to so-called "gender-affirming care," packaging the measure into pro-abortion legislation. Republican Gov. Phil Scott signed a series of two bills that protect Vermont doctors who prescribe puberty-blockers and cross-sex hormones to children or perform sexual surgeries on children residing in states where it is illegal to do so.   
The sweeping, comprehensive bills also "shield" the use of abortion-inducing drugs such as mifepristone "regardless of the medication's current FDA approval status." In addition, one of the bills targets pregnancy resource centers by marking them as "subject to Vermont's existing false and misleading advertising statutes."
On Tuesday, Washington Democratic Gov. Jay Inslee signed another law that addressed doctors subjecting minors to sexual surgeries and treatments. The same law also addressed performing abortions on underage girls. Senate Bill 5599 specifically targets runaway minors whom doctors or state actors identify as "trans." The Washington Times states that the bill "allows youth shelters and host homes to conceal from parents the whereabouts of their missing children" if administrators determine the minors are "trans," which the new law deems to be a "protected health service."
Before Vermont and Washington, Minnesota was the most recent of these so-called "sanctuary states." On April 27, Democratic Gov. Tim Walz signed a bill that, as reported by The Hill, prevents child-protection laws passed in other states from interfering with sexual surgeries and prescriptions in Minnesota. Namely, as clarified by Minnesota Public Radio, the legislation blocks "state courts or officials from complying with child removal requests, extraditions, arrests or subpoenas related" to a minor being subjected to "gender-affirming health care."
For example, if someone brings a minor from neighboring Iowa over state lines for a sexual procedure in Minnesota, the new law seeks to protect the adult from legal action – despite the procedures being banned in Iowa.
State Rep. Peggy Scott, R-MN, opposed the law saying it "makes Minnesota a sanctuary state for so-called gender-affirming care, while simultaneously infringing on the fundamental right of parenting."
Previously, in March, Gov. Walz issued an executive order preventing regulation of "gender-affirming care" in the state.
Now Maine and Oregon seek to follow Minnesota's lead.
Maine's legislature is currently considering LD 1735, or "An Act To Safeguard Gender-Affirming Health Care." The text of the bill clearly states that if enacted, it would prevent a clerk of court from issuing a subpoena "based on a violation of another state's laws that interfere with a person's right to allow a child to receive gender-affirming health care or gender-affirming mental health care."
Maine resident and educational freedom advocate Shawn McBreairty is organizing an online panel discussion against the bill, which he terms "an attempt to corrupt, mutilate, victimize, and destroy children."
McBreairty claims that the bill, proposed by Democratic State Rep. Laurie Osher, "puts minors in the driver's seat to chemical castration, physical mutilation and mental and physical health issues like we've never seen." He adds that "parents and police have no rights in this process."
Rep. Osher revealed that she proposed the bill on the advice of the far-left activist group LGBTQ+ Victory Fund.
Meanwhile, Oregon is considering HB 2002B, which like the Vermont bill, encompasses both so-called "gender-affirming care" and abortion.
The bill would clear the way for "a child of any age without parental knowledge to receive an abortion."
In addition, the bill would force Oregon taxpayers to pay for these procedures on minors residing outside of Oregon.
The bill's official legislative summary contains language almost identical to the Maine legislature's in that it prohibits a "clerk of court from issuing [a] subpoena if foreign subpoena relates to reproductive health care or gender-affirming treatment."
If passed and enacted, it would "declare that Oregon law governs certain actions arising out of reproductive health care or gender-affirming treatment provided or received in this state," therefore making the state a so-called "trans sanctuary" for doctors.