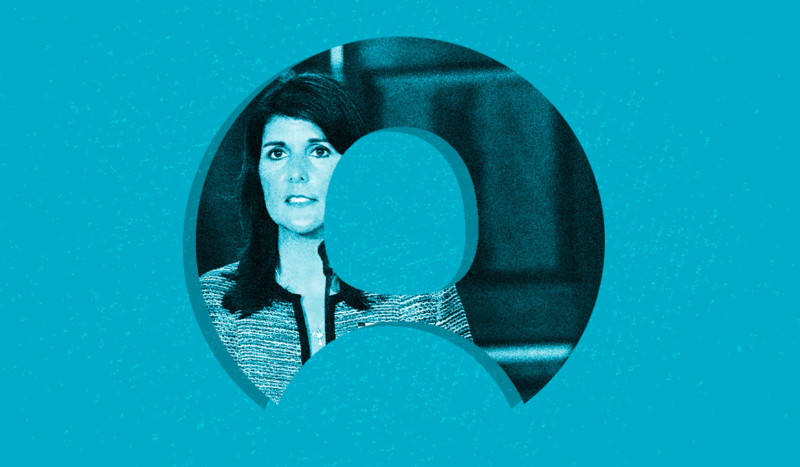 CV NEWS FEED // Critics across the political spectrum slammed Republican presidential candidate Nikki Haley after she implied that if elected she would prevent social media users from remaining anonymous.
In internet culture, the forced revealing of the personal information – including the name – of an anonymous online user is widely referred to as "doxxing."
During a Tuesday appearance on FOX News, Haley said that "Russia, China, Iran, and North Korea" are pushing "misinformation" on social media.
"When I get into the office the first thing we have to do is… social media companies, they have to show America their algorithms," she said. "Every person on social media should be verified by their name."
She went on to call the existence of anonymous social media accounts "a national security threat."
Later, she claimed that her proposed policy would "[get] rid of the Russian bots, the Iranian bots, and the Chinese bots."
Critics on both sides of the political aisle swiftly rebuked Haley over her stance.
A few of Haley's rivals for the Republican nomination chimed in to highlight their vast differences on the issue.
Florida Gov. Ron DeSantis took to X (formerly Twitter) to slam Haley's proposal as "dangerous and unconstitutional."
"You know who were anonymous writers back in the day?" he wrote:
Alexander Hamilton, John Jay, and James Madison when they wrote the Federalist Papers.

They were not "national security threats," nor are the many conservative Americans across the country who exercise their Constitutional right to voice their opinions without fear of being harassed or canceled by the school they go to or the company they work for.
DeSantis noted that Haley's suggested course of action is "similar to what China recently did."
"It will be dead on arrival in my administration," he added.
Businessman Vivek Ramaswamy agreed with DeSantis, also citing the founding fathers who wrote the Federalist Papers under pseudonyms.
"Here's what they would say to [Haley] if they were alive," he added. "Get your heels off my neck [and] go back to England."
X owner Elon Musk commented on another of Ramaswamy's posts in which the outsider candidate called Haley's rhetoric "disgusting."
"Super messed up," Musk wrote on his platform. "She can stop pretending to run for president now."
Musk is considered by most observers to be a political moderate. After purchasing X, he notably changed the platform to make it more friendly toward users who verified that they were real people. However, he has stopped well short of forcing X users to identify themselves by their legal name. 
"I am no lawyer but isn't this blatantly unconstitutional?" asked DeSantis Rapid Response Director Christina Pushaw. "Free speech includes anonymous speech."
Technology lawyer Preston Byrne answered Pushaw's question, writing: "This is unconstitutional. The First Amendment protects anonymous speech."
Left-leaning journalist Yashar Ali called Haley's proposal "outrageous and dangerous."
"It's the kind of change that a fascist demands but she's doing it under the guise of civility and getting rid of bots," he wrote.
Ali also explained that the policy would likely not even accomplish Haley's goal of eliminating "Iranian, Chinese, and Russian bots." Furthermore, he added that it could also silence survivors of sexual abuse.
"I'm left to wonder if Nikki Haley, like many politicians, is thin skinned and can't stand that people can criticize her online and not reveal who they are," Ali concluded. "Shame on her for this anti-Democratic proposal."
Following widespread backlash, Haley tried to walk back her initial comments while at the same time standing by her proposal for "social media companies to verify everybody."
"I don't mind anonymous American people having free speech," she said in a later interview with CNBC. "What I don't like is anonymous Russians and Chinese and Iranians having free speech."
Conservative Catholic writer John Hasson responded that she was "incoherently attempt[ing] damage control."
"She repeats her plan to register all social media users by name," he wrote on X. "Then says 'I don't mind Americans having anonymous free speech.'"
"[If] you force U.S. users to register their names, that makes 'anonymous free speech' IMPOSSIBLE," Hasson stressed.
Haley served as Governor of South Carolina from 2011 to 2017, when she resigned to become the U.S. Ambassador to the United Nations (UN) in the Trump administration. She held this position for slightly less than two years.
The majority of Republican primary polls show her with support in the high single digits. She is polling in a distant third place behind both Trump and DeSantis. According to most polls, she is a few percentage points ahead of Ramaswamy, the consensus fourth-place candidate.
Haley has differentiated herself from the other candidates – namely Trump, DeSantis, and Ramaswamy – by taking both a more interventionist or "hawkish" stance on foreign policy and a more "moderate" stance on key social issues.
For example, she blasted Sen. Tommy Tuberville's, R-AL, pro-life campaign to rid the military of taxpayer-funded abortion during a September CNN interview.
"We don't need to be using military families as political pawns," she said, suggesting that the senator's holds on Department of Defense (DoD) promotions are a disservice to veterans.