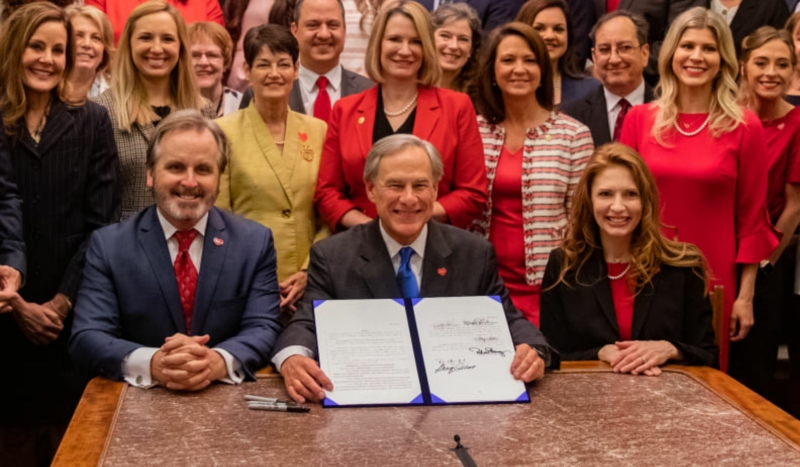 CV NEWS FEED // Gov. Greg Abbott, R-TX, signed into law legislation protecting unborn children as soon as a heartbeat can be detected. The law sets the cutoff for legal abortions at about six weeks after conception.
While Texas is often considered a conservative state, passing pro-life legislation in the Lone Star State has proven difficult. Pro-life leaders said that makes the passage of the new Heartbeat Law an even more profound victory.
"The Texas Heartbeat Act is the strongest Pro-Life bill passed by the Legislature since Roe v. Wade and will save thousands of lives," said Rebecca Parma of Texas Right to Life. "This is a historic day and now is the time to build on our momentum."
The Texas Heartbeat Act includes provisions for citizens to take legal action against abortionists and others who aid or abet in the crime of aborting preborn children with heartbeats. The law does not allow criminals who impregnate women through rape to sue against criminal abortions, and also does not allow suits directly against mothers who procure abortions.
While aspects of the law are innovative, the legislation also represents what commentators on both sides of the abortion issue recognize as a recent surge of pro-life action — and success — throughout the country.
"There is a groundswell of pro-life activity happening in state legislatures across the nation," Susan B. Anthony List State Policy Director Sue Liebel said in a statement Wednesday:
Since January, 536 pro-life bills have been introduced with more than 60 signed into law – a strong rebuke of the deeply unpopular abortion agenda being pursued by the Biden-Harris administration and their allies in the abortion lobby.
The Susan B. Anthony List also pointed out that Texas is not alone in its decision to protect the unborn, but "joins South Carolina, Georgia, Missouri, Louisiana, Tennessee, Ohio, Alabama, Arkansas, Iowa, Kentucky, Mississippi, and North Dakota in limiting abortions as early as a fetal heartbeat can be detected."
"Our Creator endowed us with the right to life, and yet millions of children lose their right to life every year because of abortion," said Gov. Abbott at the signing ceremony Wednesday:
In Texas, we work to save those lives. And that's exactly what the Texas legislature did this session. They worked together on a bipartisan basis to pass a bill, that I'm about to sign, that ensures that the life of every unborn child who has a heartbeat will be saved from the ravages of abortion.
Readers can watch Gov. Abbott sign the bill in the video below.