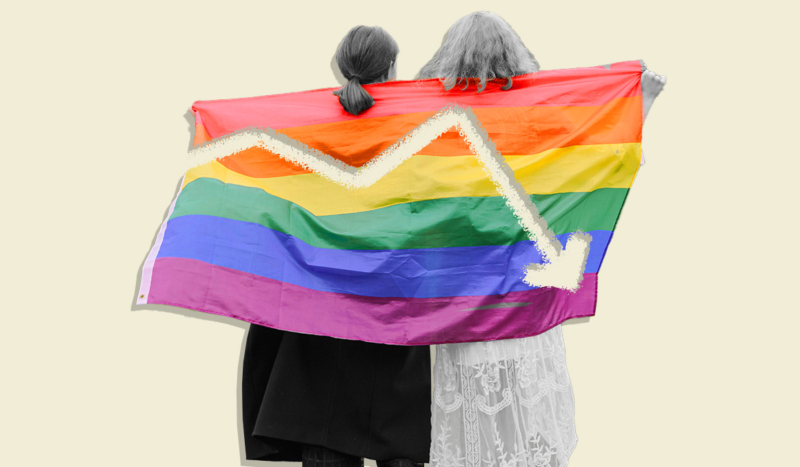 CV NEWS FEED // A new study shows that support for same-sex "marriage" among Americans in Generation Z ("Gen Z") has fallen by 11% in just two years.
According to the study conducted by The American Enterprise Institute's (AEI) Survey Center on American Life, 69% of Gen Z Americans support recognizing "marriages" between two men or two women in 2023.
By contrast, AEI's 2021 study found that a whopping 80% of Gen Z supported same-sex "marriage."
"Gen Z used to be much more in favor of it than older generations, now they are not," observed writer Rob Henderson.
"At one time, the issue of same-sex marriage sharply divided Americans by age, with younger adults expressing the most intense support and older Americans far more opposed," wrote the researchers behind the surprising survey. "There is some indication that this generational gap is contracting, with Gen Z adults expressing lower support for same-sex marriage than they once did."
"Although younger Americans continue to express stronger support for same-sex marriage than do older adults, the age gap has shrunk," the researchers added. "Today, Gen Z adults are not much more supportive of same-sex marriage than are baby boomers."
Furthermore, the researchers noted that "there is no evidence of a similar drop among any other generation."
Of the four age cohorts in the study, Gen Z was the only one whose support for same-sex "marriage" declined from 2021.
Among both preceding generations, Millennials and Generation X ("Gen X"), support grew one percentage point. According to AEI, 72% percent of millennials and 64% of Gen X supported "gay marriage" in 2021 compared to 73% and 65% respectively this year.
Baby boomers saw the biggest increase in support – two points – from 59% in 2021 and 61% in 2023.
Pew Research Center defines Gen Z as consisting of people born after the end of 1996. Pew has not yet identified a specific end birth year for the age cohort. However, most observers agree that it is sometime in the early 2010s. 
Pew defines Millennials as being born between 1981 and 1996, Gen X as being born between 1965 and 1980, and baby boomers as being born between 1946 and 1964.