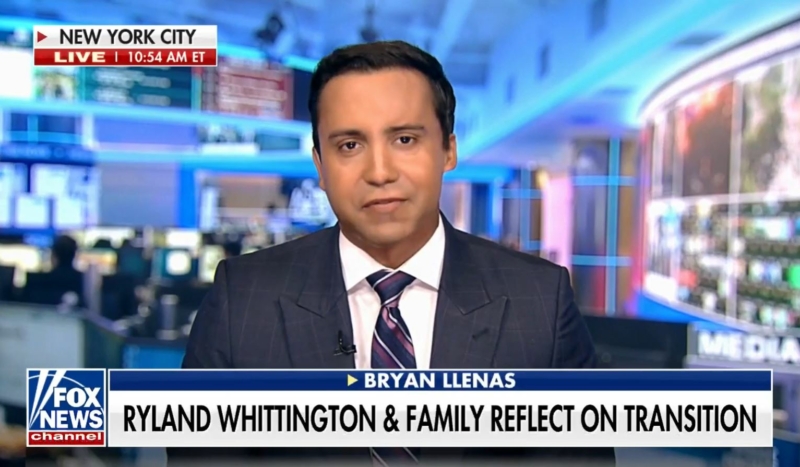 CV NEWS FEED // Fox News's Dana Perino aired a pro-LGBTQ segment Friday that praised a California family for "transitioning" their daughter after deciding she was "transgender" before she could even speak.
"Before Ryland could even speak, he managed to tell his parents that he is a boy," said Fox's Bryan Llenas at the beginning of his segment on the Wittington family. "And unlike some trans kids, when Ryland came out at age five a few years later, he had the full support of his parents."
"What extraordinary courage displayed by Ryland, his sister … father Jeff, and mom Hillary," Llenas said at the conclusion of his report:
I want to thank the Wittington family for speaking to us. It's not easy, particularly at a time when transgender issues have been politicized. People are afraid of what they do not understand. …This family hopes their story will lead to more understanding, more acceptance, and ultimately more love.
Parents Jeff and Hillary said they initially resisted believing that their little girl was male. It seems supposed experts in "gender theory" persuaded them. "We were confused like most people are," Hillary said. "We thought that gender and sexuality were the same thing. It took us a while to figure out that those two things are different and that children actually do recognize their gender identity very young."
Bryan Llenas, a self-professed Catholic, suggested that the Wittingtons' radical decision to "transition" their toddler was in line with "conservative" Christian thinking. "But they listened to Ryland, and to Hillary's conservative faith," said Llenas.
Llenas also suggested that parents drive their own children to self-harm and suicide if they refuse to affirm "trans kids" and begin transitioning them.
Jeff, the girl's father, mentioned meeting another father in a support group who said he had resisted his own child's "transgenderism" but later regretted doing so. "That pushback led that child to turn to self-harm as a teenager," Llenas said, "which 60% of trans and non-binary kids engage in, according to the Trevor Project. More than 50% consider suicide."
"I'm stunned that Fox News ran a segment celebrating a girl whose parents 'transitioned' her into a boy when she was 5 because she apparently told them she was a boy 'before [she] could talk," tweeted conservative commentator Allie Beth Stuckey. "Absolutely maddening & heartbreaking."
Stuckey also noted the presence in the segment of radical California State Senator, who stood in the background of one shot of the Wittington family during a press conference. "Scott Wiener," Stuckey pointed out, "just suggested requiring Drag Queen 101 for K-12" and "wrote the bill preventing pedophiles from registering as sex offenders if their victim was 10 or > yrs younger & the bill lessening the penalty for knowingly exposing someone to HIV."
Fox News reporter Bryan Llenas, though he professes to be "Catholic," is "married" to a man.
"I just can't imagine what Fox News is thinking," said CatholicVote Communications Director Joshua Mercer on Friday. "It's not like their employee, Bryan Llenas, is just presenting a little nuance to mainstream American thinking. What he presented in this segment wasn't just a little liberal. It was the most radical and controversial aspect of Leftism there is: the idea of sexualizing and medically experimenting on very young children."
"This also flies in the face of common parental sense," Mercer added. "None of us, and I doubt even the Wittington family, would like the idea of giving a child a cigarette. Why? Because it could damage the child's little body. Well then how about we also don't permanently alter their bodies and their developing brains by giving them sex-changes?"
"If Bryan Llenas and Dana Perino want to be a radical Leftists, sure," Mercer said. "But in that case, why on earth is Fox paying them to promote radical Leftism on their channels? Anyone at Fox News who gave the green light to this segment should be fired. It's child abuse."