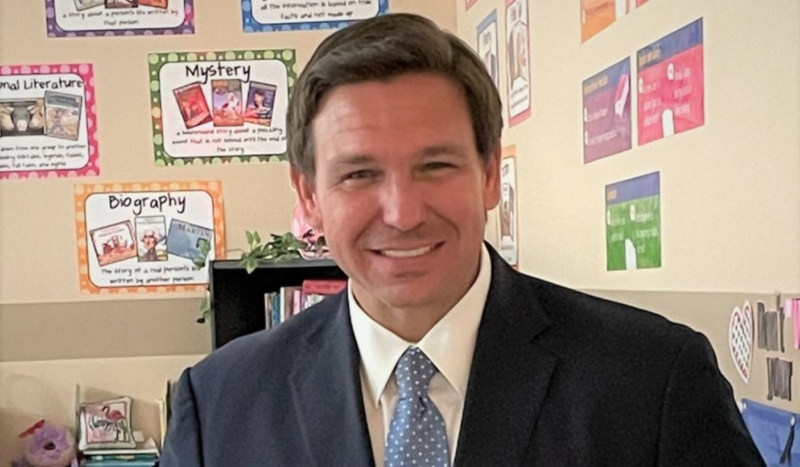 CV NEWS FEED // Gov. Ron DeSantis, R-FL, signed a school choice bill Tuesday, allowing families to use public education tax dollars to send children to private schools, to homeschool, or to employ private tutors.
Wealthy parents "can make whatever decisions they want" and "have the world as their oyster," DeSantis said at a televised signing ceremony held at a private Catholic school. But low-income "working families … may not have the luxury of being able to get their kid in the school of their choice without our assistance," the governor said.

"The law takes effect July 1 and combines three existing voucher programs, two that provide vouchers for students with disabilities and a third that assists low-income families, into one program," reports NBC Miami:
It also raises the income threshold to be eligible for vouchers from 260% of the federal poverty level to 375%, or from $68,900 for a family of four to $99,375.

It also expands how the money can be spent beyond tuition, such as transportation, instructional materials, fees for national standard achievement tests and private tutoring.

The current law only allows students enrolled in public school to apply for vouchers. The new law will allow children who have been home schooled to also apply.
Student advocates applauded DeSantis for the bill.
"This bipartisan legislation, a major priority of Governor DeSantis, will be a lifesaver for families looking for other options for their children's K-12 grade educational experiences," the American Federation for Children stated in a release:
Students with learning disabilities will have more options in getting an individualized educational plan to meet their unique needs. And families who may be economically disadvantaged awaiting a scholarship, beginning this fall, will have the chance to enroll their child in a school of their choice. 
American Federation for Children National Director of Research Corey DeAngelis congratulated DeSantis for "funding students instead of systems," and called the bill "the largest expansion of school choice in Florida's history."
"This is truly a historic and sweeping action to empower more families and ensure more of Florida's students can succeed," said former Gov. Jeb Bush in a statement on behalf of the Foundation for Florida's Future.
The foundation's statement went on to explain the benefits of the bill:
House Bill 7045 helps Florida families by:

-Ensuring private school and home education students are eligible for both income-based and special needs scholarships.

-Prioritizing scholarships for low-income public school students, public school students with special needs and rising kindergarteners as well as students in foster, adopted and military families.

-Providing automatic eligibility to military families and siblings of special needs scholarship students.

-Ensuring low-income students have the tools they need to succeed by allowing scholarship funds to pay the costs for digital devices and internet access.