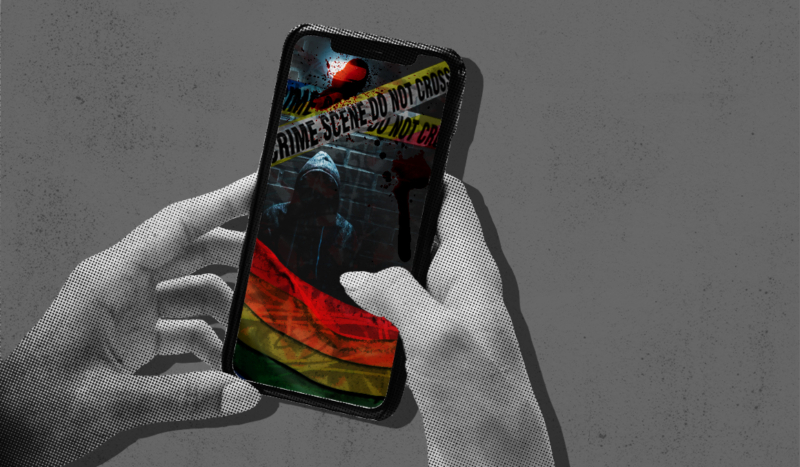 CV NEWS FEED // The Federal Bureau of Investigation (FBI) is finally investigating a satanic pedophilic gang that has long blackmailed and extorted minors to harm themselves and post videos of themselves online.
The FBI's primary reason for investigating the group came only when the agency alleged that one of the gang members is a "white supremacist." Notably, the individual in question has in the past used several anti-white slurs.
"A Satan-worshipping cult of pedophiles is blackmailing girls into cutting themselves," wrote The Daily Wire investigative reporter Luke Rosiak. "But the FBI didn't seem interested in that so much as the fact that one of its members once used the n-word."
"For years, the group known both as 764 and Harm Nation has tortured what is believed to be hundreds or thousands of girls," Rosiak continued. "But the FBI didn't put its cybercrimes or violence-against-children investigators on it."
"Instead," he indicated, "[the FBI's] interest appears to have [been] piqued mainly by the fact that the group — most of whose victims are white teens — was once racist to a black girl."
At the time The Daily Wire released its report on Thursday, little information about the gang was readily available online.
One of the few instances of the satanic pedophiles making headlines came in September.
Then, Maria Papadopoulos of Boston 25 News (WFXT, a FOX affiliate) reported that per an FBI warning, "764" was "deliberately targeting minors on online messaging platforms to extort them into recording or live-streaming acts of self-harm and producing child sex abuse material."
"These groups use threats, blackmail, and manipulation to control the victims into recording or live-streaming self-harm, sexually explicit acts, and/or suicide," the FBI then said in a statement Papadopoulos quoted. "The footage is then circulated among members to extort victims further and exert control over them."
The FBI characterized "764" as mutiple "violent online groups [that] are using many names" and "continuously evolve and form subgroups under different monikers."
"They operate on publicly available platforms, such as social media sites or mobile applications," the Bureau went on. "To gain access to a majority of these groups, prospective members are required to live-stream or upload videos depicting their minor victims harming animals or committing self-harm, suicide, murder, or other acts of violence."
According to the FBI in September, "The key motivators of these groups are to gain notoriety and rise in status within their groups."
The Bureau said that the primary targets of "764" were children between the ages of 8 and 17, "especially LGBTQ+ youth, racial minorities, and those who struggle with a variety of mental health issues, such as depression and suicidal ideation."
Rosiak's later findings showed that most of the pedophilic group's victims were white. In addition, the FBI's September statement contained no mention of the gang's satanic nature.
Rosiak pointed out that the FBI's domestic terrorism unit is currently investigating the group for "white-supremacy racially motivated violent extremism" (RMVE), "even though the [group's] sole known arrest by the FBI is a Hispanic man who called the judge a 'cracker' in court, according to court records and interviews."
This "764" member was publicly identified as Angel Almeida of Queens, NY. Per the DOJ, he was indicted in January on federal charges of 
sexual exploitation and attempted exploitation of a minor, coercion and enticement and attempted coercion and enticement of a minor, possession of child pornography, and possessing a firearm and ammunition as a felon.
"The defendant was an outspoken member of '764,' a neo-Nazi network," wrote the prosecution in Almeida's case.
However, Rosiak reported that Almeida's behavior in court showed that he is likely far from being a "white supremacist."
"In court, Almeida repeatedly made anti-white comments, telling the judge, 'I'm not talking to this b****-a** cracker, man. None of these snow vultures,'" Rosiak reported, citing court records. "Yet authorities contend that — as if allegedly decapitating animals and wanting to rape girls wasn't bad enough — the Hispanic lunatic was a Nazi white supremacist."
Furthermore, Rosiak noted that the leader of "764" "is a 19-year-old Russian called Yuri who calls himself a 'femboy,' a term associated with left-wing queer culture."
The journalist cited evidence accumulated by Cooper Fay, who he described as "a Florida man who works professionally in private armed security [and] has made a personal mission out of investigating child abusers." Fay's research was instrumental in finally exposing "764" after they had long flown under the radar.
Rosiak continued:
The evidence Fay gathered showed numerous girls being tortured, with psychopaths using whatever leverage they could to inflict pain. Almost all of the victims were white, but two were black, and they made one write the n-word on a piece of paper.

"I showed them multiple images of white girls cutting themselves. The girl that slit her throat was white. But they were very focused on the one girl who was black who they had write 'Yuri rapes n-words,'" he said. Fay explained to the agents that opportunistic predators "will use whatever is a sensitive issue for someone."

"They were very focused on the neo-Nazi elements of this group, and white supremacist elements of this group," he said. Fay said that it was first and foremost a child abuse group, and that if it had an ideology, it was Satanism. He pointed out that it had Hispanic members. The FBI agent replied, according to Fay, that it had "seen a trend recently of Hispanic white supremacists," Fay said.
Rosiak added that the fact that the pedophile group's leader lived in Russia was "another element that might be politically attractive enough to a Democrat-captured FBI to garner attention even when other child-molester gangs were ignored."
The reporter summarized:
Critics say, at best, it's an example of the FBI misclassifying cases in order to tell Congress that right-wing domestic terrorism is the greatest threat to America. At worst, they say, it's an example of the heinous torture of girls by pedophiles not being a priority — unless there was an angle making it politically appealing to Democrats.