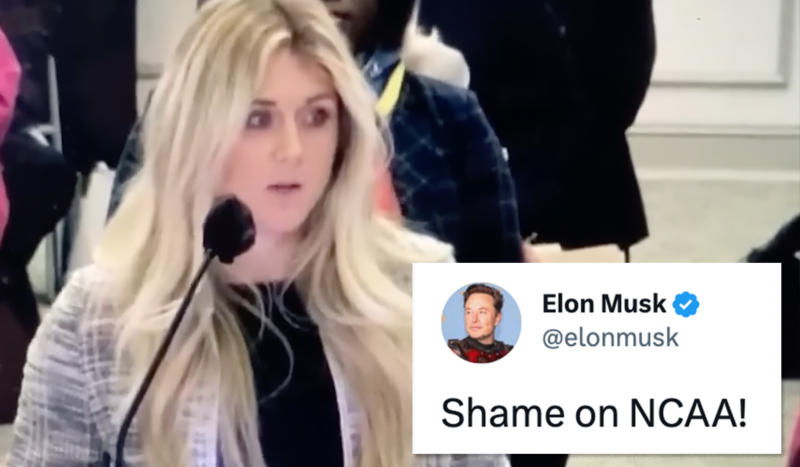 CV NEWS FEED // Billionaire Twitter CEO Elon Musk approvingly replied to CatholicVote on Twitter, adding his voice to a growing number of prominent people standing up to the LGBTQ agenda's targeting of women's sports.
CatholicVote had tweeted a video of an emotional speech given by former University of Kentucky women's swimming star Riley Gaines, which was originally posted a month and a half ago on the platform he owns.
Gaines gave the tearful address to the Virginia Education Subcommittee in late January in support of the state's "Fairness in Women's Sports" bill. It was initially tweeted out by the women's rights advocacy group Independent Women's Forum (IWF). As of March 28, 2023, the IWF's tweet of the clip has amassed over three and a half million views. 
In the viral speech, the graduated 12-time NCAA All-American and five-time SEC Champion, who is now a prominent activist for preserving and defending women's sports, recounted her experiences while competing against Lia Thomas, a male swimmer from the University of Pennsylvania who claims to be a woman.
Musk, the second-richest man in the world and a noted opponent of "wokeness," commented on CatholicVote's February 6 video of Gaines, entitled "'TRANS IDEOLOGY' How to Erase Women."
Musk's comment amassed over four thousand likes in the first hour alone. Musk, who has over 132 million followers, simply responded: "Shame on NCAA!"
In her speech, Gaines said that during the 200-yard freestyle finals of the NCAA Women's Division I Swimming and Diving Championships (held in Atlanta, GA, on March 17, 2022), she and Thomas tied. However, the NCAA ruled for only Thomas to win the first-place trophy for optics purposes. "I felt betrayed and belittled, reduced to a photo-op," remarked Gaines, who had taken part in competitive swimming since she was a young girl.
She went on to explain that female swimmers were also forced by the NCAA, without consenting or being warned, to change in the same room as Thomas, who is 6'4″ and at the time had fully intact male genitalia.