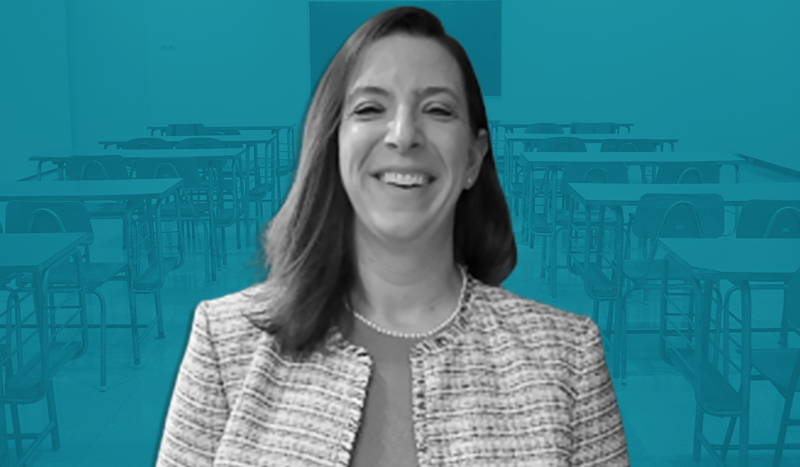 CV NEWS FEED // Department of Justice (DOJ) attorney Anne Donohue is running for a seat on the school board of Loudoun County Public Schools (LCPS). She is a Democrat and a staunch opponent of parents' rights. The election will take place on Tuesday, November 7.
"I'm running for School Board to protect kids, support teachers and staff, and make evidenced-based decisions focusing on the best interests of the students of Loudoun County," said Donohue in her April campaign announcement. "I will ensure that all students are mentally, emotionally, and physically safe in school." 
In addition, she highlighted her support for "equality, inclusiveness, and diversity," gun control, and opposing what she termed "censorship."
Donohue has been working as a government attorney since 2014 and also works as a law professor at George Washington University Law School. She is an activist with the Loudoun County chapter of the left-wing anti-gun group Moms Demand Action, as well as the local NAACP.
The Loudoun County Democratic Party endorsed Donohue and boosted her candidacy at several public events. The Democratic Party of Virginia contributed over $2,000 to her campaign.
On multiple occasions, the attorney and school board candidate has taken to social media to support the elections of other 2023 Democratic candidates. She campaigned alongside controversial Loudoun County Commonwealth Attorney Buta Biberaj, who has connections to groups funded by far-left billionaire George Soros.
Daily Wire investigative journalist Luke Rosiak noted that Donohue is touting her partisan affiliation in a manner that might be illegal given her current profession.
"While most federal employees shy away from any sort of political activity because of how it could erode credibility and violate the Hatch Act, Anne Donohue has run openly as a Democrat for the At-Large seat on Loudoun County's school board," Rosiak wrote Wednesday. 
The Hatch Act is a New Deal-era law that limits the political involvement of people receiving a paycheck from the federal government.
Rosiak further pointed out that Donohue has publicly denounced the parents' rights movement, calling pro-parent activists "extremists attacking our kids and public education."
Also according to Rosiak, Donohue spent her first six years at the DOJ working for "the National Security Division… where she wrote and supervised briefs and memoranda regarding the handling and use of information obtained pursuant to the Foreign Intelligence Surveillance Act (FISA)."
"During that time period, the DOJ used FISA to wrongfully target Republicans, including falsifying evidence and lying in order to wiretap Donald Trump's adviser, Carter Page," Rosiak noted:
In October 2021, Attorney General Merrick Garland — Donohue's boss — mobilized the department against parents at school board meetings, based upon a letter from the National School Boards Association referencing Loudoun County. Garland has refused to rescind the memo even after the school board association apologized and admitted the request was improper.
While elections to the LCPS board is nonpartisan, almost all of its members are known to be affiliated with one or the other major party, with the majority being Democrats.
Donohue is running for the school board's At-Large seat, meaning her race will be on the ballot across the county.
Her sole opponent, Michael Rivera, has been endorsed by the Loudoun County Republican Party. Rivera is a father of two who has served as a detective in the Loudoun County Sheriff's Office.
Rivera said that if elected next Tuesday his priorities on the school board will be "transparency, accountability and safety."
"While I had long assumed that the Loudoun County School Board had the best interests of my family and community in mind, I soon discovered that this was not the case," Rivera wrote on his campaign website. "Multiple scandals, a lack of transparency, and a lack of accountability motivated me to speak out against the board and advocate for positive change."
The affluent Loudoun County encompasses wealthy Northern Virginia suburbs of Washington, D.C. In the past few years, its school district has been at the forefront of the national fight for increased parental involvement in education.
LCPS made national headlines in 2021 when Rosiak reported on the district's coverup of the rape of a 15-year-old female student by a male classmate who was wearing a skirt at the time. 
The rape occurred in the girls' bathroom of a LCPS high school after the district embraced pro-LGBTQ policies.
Loudoun County is heavily Democratic and voted for President Joe Biden by a 25-point margin in 2020. In the 2021 Virginia gubernatorial election, now-Gov. Youngkin lost it by 11 points.