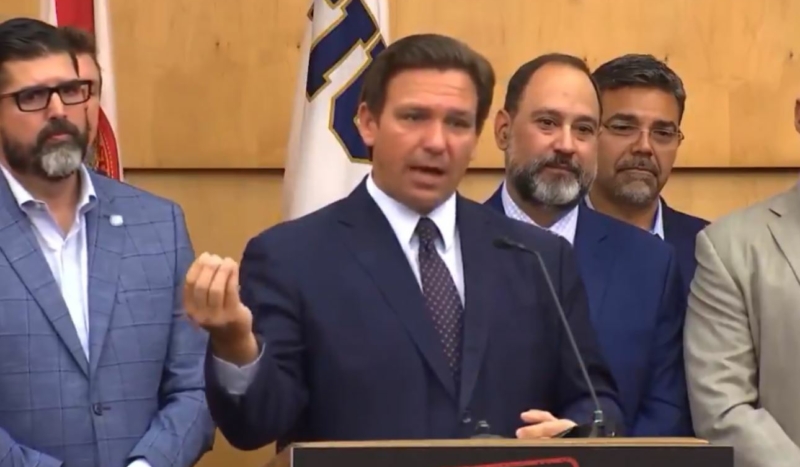 CV NEWS FEED // Gov. Ron DeSantis, R-FL, signed legislation Monday that will allow Florida residents to sue Big Tech platforms for unfair censorship.
The new legislation, set to take effect in July, will create new fines of up to $250,000 per day to be imposed on social media companies that "deplatform" political candidates.
It will also require social media companies to publish clear standards for users and to apply them equally — an effort to curb what DeSantis called Big Tech's tendency to use "vague" rules which they enforce in order to "discriminate" against those who don't conform to the progressive ideology that predominates in Silicon Valley.
With this bill, Florida showed itself to be "once again" a "trailblazer" on an issue that matters to millions of Americans, DeSantis said.
America's founding fathers were "smart" to take measures to protect against "concentrations of power" which always threaten to curtail ordinary people's freedoms, DeSantis said. Big Tech holds more monopolistic power today than the monopolies of the early 20th Century did, he added, and those monopolies "led to a lot of trust busting" legislation.
DeSantis said the bill is meant for "everyday Floridians."
"Florida's Big Tech Bill gives every Floridian the power to fight back against deplatforming and allows any person to sue Big Tech companies for up to $100,000 in damages," DeSantis tweeted. "Today, we level the playing field between celebrity and citizen on social media."
At the end of a Monday press briefing about the bill, a reporter asked DeSantis a pointed question which some saw as an attempted "gotcha" meant to frame the legislation as partisan politicking rather than a defense of ordinary Americans' free speech.
"You're a loyal supporter of former President Donald Trump," the reporter said. "Of course Donald Trump is now a resident in Florida. And he was deplatformed. Is this bill for him?"

"The bill is for everyday Floridians, which is what we said," DeSantis replied. "But I think that is another issue…. When you deplatform the President of the United States but you let Ayatollah Khomeini talk about killing Jews, that is wrong."
Readers can watch that exchange below.