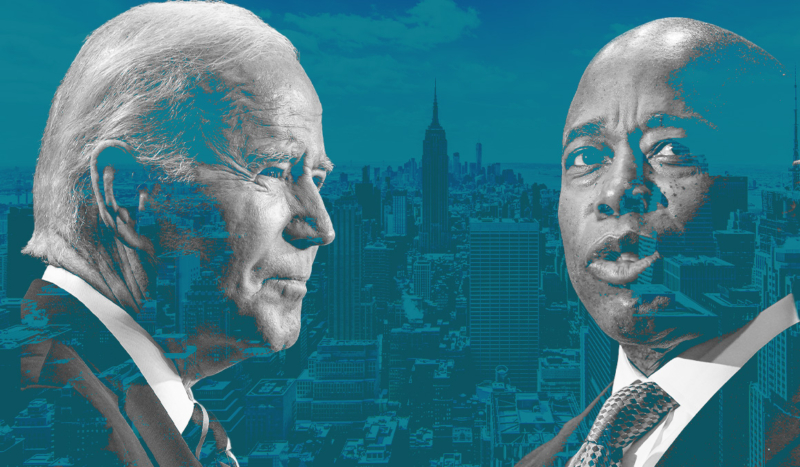 CV NEWS FEED // Democratic New York City Mayor Eric Adams blamed the Biden administration after cutting $4 billion from the city's budget amid its intensifying migrant crisis.
"DC has abandoned us, and they need to be paying their cost to this national problem," Adams said at a Monday night town hall in Brooklyn. "This is unfair what we're doing to migrant asylum seekers, and it's unfair what we're doing to everyday taxpayers."
"I tell people all the time when they stop me on the subway system, 'Don't yell at me, yell at DC,'" he added. "We deserve better as a city."
For the last few months, Adams has been particularly critical of the Biden administration's apparent refusal to address the skyrocketing number of illegal immigrants flocking to the Big Apple. The crisis in New York is a direct result of the ongoing crisis at the US-Mexico border, which began after President Joe Biden took office.
POLITICO reported that New York City "has been overwhelmed by more than 125,000 migrants since last year, including about half still in its care."
"The problem has meant funding tent facilities and paying for hotel stays across the five boroughs, crippling the city's finances," POLITICO continued.
The Daily Wire indicated that according to Adams, the Biden administration's inaction left "him with no choice but to strip money away from New Yorkers to deal with the illegal immigration crisis."
In addition, The Daily Wire noted that Adams' cuts
will freeze police hiring, dropping the number of NYPD officers to below 30,000, and will slash the city's Education Department budget by more than $1 billion over the next two years, affecting school programs and libraries.
Per POLITICO, the cuts will also get "rid of some public garbage cans."
The White House has claimed that it is working with Congress to provide financial relief to "local jurisdictions hosting recently arrived migrants."
"We will continue working to deliver support in every way we can," a Biden administration spokesperson told The Washington Examiner:
We have asked Congress for $1.4 billion in additional grant funding to support local communities and have ask for additional personnel to build upon the improvements DHS has made to processing work permits.
However, the Examiner reported that the migrant crisis in New York alone "is projected to cost the city $12 billion by 2025" if it continues at its current rate. The $1.4 billion figure allegedly requested by the Biden administration is less than an eighth of this total.
Adams supported liberal mass-immigration policies during his successful 2021 election campaign. "Yes, New York City will remain a sanctuary city under an Adams administration," he wrote on X (then known as Twitter) at the time.
During a town hall meeting in September, Adams appeared to abandon his former stance as it became evident that his city's illegal immigration problem was not going away.
"I don't see an ending to this," he remarked. "This issue will destroy New York City."
Later that month, Adams blasted Biden after the president reportedly refused to meet with him despite being in New York for a few days.
According to multiple sources, the two Democrats have not spoken to each other in about a year.

A few weeks ago, the Federal Bureau of Investigation (FBI) raided the Brooklyn home of a Democratic fundraiser who served as Director of Logistics on Adams' 2021 campaign. The Bureau is currently looking into allegations of conspiracy between Adams' campaign and the Turkish government.