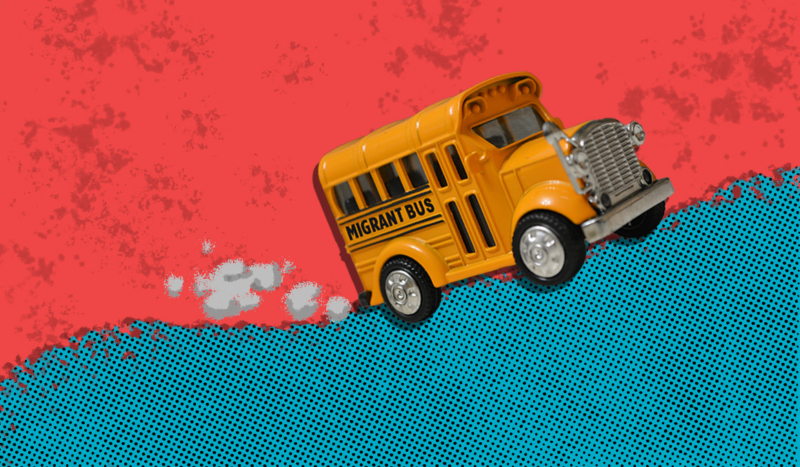 CV NEWS FEED // Oscar Leeser, the Democratic mayor of El Paso, TX chartered five buses to transport some of the migrants overwhelming his city to New York City, Chicago, and Denver.
Leeser said at a press conference Saturday that the border city "only has so many resources" and is at "a breaking point right now." 
El Paso is situated on the Rio Grande, which straddles the U.S.-Mexico border. Due to the ongoing border crisis overseen by the Biden administration, it has experienced a rise in migrants that has been described as "dramatic." 
Approximately 2,000 immigrants enter the city seeking asylum per day. According to Reuters, most of them hail from Venezuela.
Reuters described this group of migrants as "part of a larger swell of immigrants who traveled dangerous routes on buses and cargo trains to Mexican border towns near San Diego, California, and the Texas cities of El Paso and Eagle Pass."
The crisis at the border has drastically ramped up in the past month. As The Daily Wire reported:
In August, there were nearly 233,000 migrant encounters at the southern border, the highest August on record, Customs and Border Protection (CBP) said. That number marks a jump from under 184,000 encounters in July.

Last month's numbers are also a significant rise from August a year ago, when there were only 204,000 migrant encounters. September's numbers are already tens of thousands of encounters higher than last year as well.
Leeser himself is a legal immigrant from Mexico who moved to El Paso as a nine-year-old child. He joins several fellow Democrats who are now emphasizing border control.
Texas Democratic Rep. Henry Cuellar said Sunday that President Biden "is not doing enough" to quell the migrant crisis.
"We need to have repercussions at the border," he said. "You've got to deport people, and you've got to show images of people being deported."
In recent months, New York City Mayor Eric Adams, a Democrat, has been a particularly vocal critic of Biden's handling of the immigration crisis. Adams' city is receiving over 10,000 new migrants each month.
"Never in my life have I had a problem that I did not see an ending to. I don't see an ending to this," Adams said three weeks ago. "This issue will destroy New York City."
New York is one of the three to which Leeser is currently bussing migrants. Adams previously touted the city as a "sanctuary city" and has lambasted Republicans in border states for advocating stronger security.