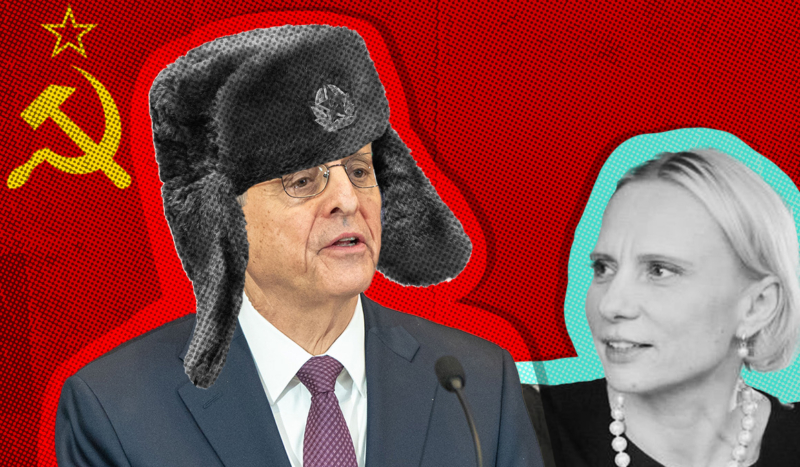 CV NEWS FEED // Rep. Victoria Spartz, R-IN, who was born and raised in the Soviet Union, called out Attorney General Merrick Garland over the Department of Justice's (DOJ) apparent targeting of political opponents.
"Attorney General, you had a very moving statement about your grandparents coming here from Belarus to live in the country without fear of persecution," Spartz said at a House Judiciary Committee hearing Wednesday.
"I grew up in [a] very similar country, Ukraine now," she continued. "And when I came here as a young person, I believed in the value as an American not to be afraid of my government."
"Are you aware that a lot of Americans are now afraid of being prosecuted by your department?" she asked Garland.
The attorney general tried to shift the discussion to what he called "constant attacks on the Department."
"It's not attacks," Spartz replied:
Let me give you an example.

You talk about January 6 people. Some people came on January 6. There probably were some people that came on January 6 here, you know, that had bad intent. 

But a lot of good Americans from my district came here because they are sick and tired of this government not serving them. They came with strollers and their kids, and there was a chaotic situation because the proper security wasn't provided.
"But these people came they were throwing the smoke bombs into the crowd with strollers with kids," she added. "People showed up, FBI agents, to people's houses."
The Federal Bureau of Investigation (FBI) operates under the jurisdiction of the Department of Justice (DOJ), which Garland heads.
The congresswoman said that in her town and central Indiana district, FBI phone numbers were posted "all over," accompanied by the words, "Please call."
"People are truly afraid," Spartz emphasized. "I just want to make sure if you're not aware that you are. This is a big problem when people are afraid of their own government."
"As someone who grew up in the Soviet Union, I'm disturbed by the fact that so many hardworking Americans—including my constituents—are afraid of political persecution by our own government," Spartz wrote on X (formerly known as Twitter). "Unfortunately, it does not seem like AG Garland is."
The Soviet-born congresswoman also hit Garland over what she observed to be the different ways the DOJ treats Americans with dissenting views on the one hand and Democratic politicians on the other.
"We're talking about [the] justice system," she said:
I don't question you're probably not a bad person. I don't know you. But what I'll tell you – you are in charge of the Department … I called on the FISA violations of the queries of millions of Americans … it's like KGB. But when I read [the Durham Report] … you have a nice playbook. First, let's have a special counsel, and then you don't have to answer any questions here.
Spartz went on to call the DOJ's investigations into Hillary Clinton and Hunter Biden "slow-walked."
"We were very quick on Donald Trump, but you were very slow-walked," she noted.
Spartz concluded her remarks by saying that the politicization of the DOJ serves to embolden the country's foreign adversaries. "That allows Russians to do propaganda and Chinese – it allows them to destabilize our country."
During the same hearing, Rep. Jeff Van Drew, R-NJ, directly confronted Garland about the FBI's infamous anti-Catholic Richmond memo from earlier this year.
"Do you agree that traditional Catholics are violent extremists?" Van Drew, a Catholic, asked Garland.
Garland deflected by saying that he did not know what "traditional" means.
"Catholics who go to church," the congressman clarified.
The attorney general became irate. "The idea that someone with my family background would discriminate against any religion is so outrageous, so absurd … I can't even answer your question," Garland shouted.