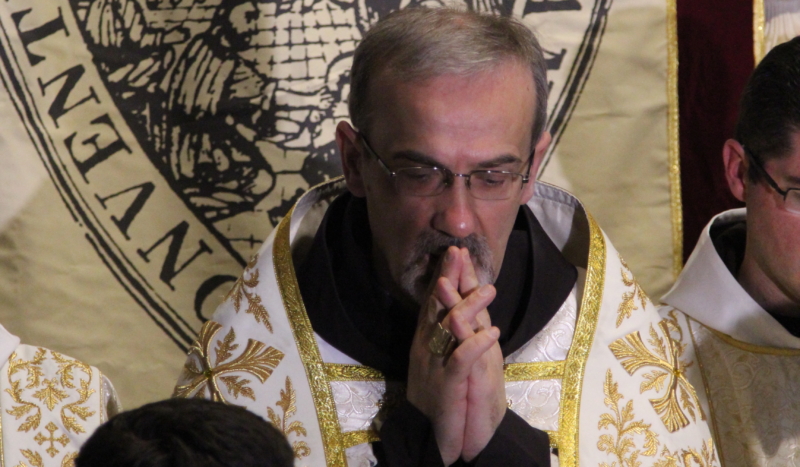 CV NEWS FEED // Cardinal Pierbattista Pizzaballa, Latin Patriarch of Jerusalem, said Monday that the small Christian community in the Gaza Strip has decided to remain in Gaza City, despite demands from Israel's military to leave the area.
During a video interview with journalists based in Rome, Cardinal Pizzaballa revealed that in and around Gaza City, "there are some 500 Catholics of the Latin rite, 400 Orthodox, and around 300 from other Christian denominations."
According to Pizzaballa, they are all accounted for and have found refuge in major Christian facilities, particularly at the YMCA.
"But unfortunately all these facilities are in the Northern part [of the Gaza strip]. They have the freedom to choose whether to stay or to leave, and so far they have chosen to stay," he said.
The cardinal said that some of the Christians have been wounded, but none killed. He also explained that, for now, remaining in public, identifiable Church facilities is safer than moving South, as requested by Israel's army.
"The vast majority of those moving South have no place to go, are moving in open, dangerous roads and face an even worst lack of essentials such as water, food or fuel," Cardinal Pizzaballa explained.
"Gaza has been completely shut down, I have a profound heartache for what happened on Saturday [Hamas' terrorist attack against Israeli civilians] as well as for the inevitability of what is happening right now," he continued.
The Latin Patriarch also explained that Christians in the Holy Land, especially in the West Bank, have also been affected by the consequences of the war.
"The effects are catastrophic, because their main source of income, tourism and pilgrimages have been completely paralyzed," he said "Christian towns have stopped every activity—even schools are currently shut down."
When asked about a possible mediation of the Holy See in the conflict, the Cardinal explained that "any mediation requires parties that are willing to talk, and unfortunately that is not the case for now."
He also said that there is a high risk of turning the war "into a West vs. East war of civilizations," and warned that all efforts should be made by the most important actors, like the US or China, to avoid a global conflict.
"The Middle East has always been the place where East and West have both met and clashed, we need to avoid a confrontation with terrible global consequences," he said.
The Israeli military confirmed that Hamas is holding 155 people hostage after its deadly attack on October 7. Among the hostages are eight Germans, five Americans, and two Mexicans.
Regarding the possibility of appealing to Hamas for the release of the hostages, Cardinal Pizzaballa said that "After Saturday, I don't know what Hamas has in its mind or its heart. I think all efforts to mediate have to be made, and we are ready to do anything, but I want to clarify that I have no connection or back channel with Hamas."
When asked if he would offer himself in exchange for the release of the children among the hostages, he said "absolutely," but added later that "the world is not waiting for me." After explaining that currently there is very little that he or the Vatican can do, he said that "we can certainly pray and fast." The day of prayer and fasting he convened, which will occur on October 17, was supported by Pope Francis during his Sunday Angelus, and has been supported by all Christian denominations in the Holy Land.