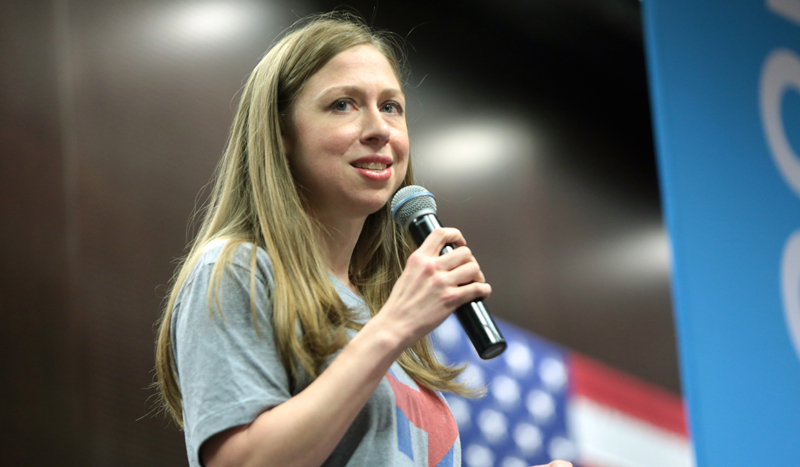 CV NEWS FEED // Chelsea Clinton this week defended a list of books marketed toward minors, claiming they are "vital" for children and that "attempted book bans" against the LGBTQ content are "harmful."
"Over 50% of the attempted book bans last year involved books with LGBTQ+ characters & themes," tweeted Clinton, who is the daughter of former President Bill Clinton and 2016 presidential candidate Hillary Clinton. "Books are a vital way that children, adolescents and adults learn about themselves and our world. Bans such as these are nothing but harmful."
Clinton also shared a write-up on the topic from NBC News, which prominently featured an image of the book "Gender Queer." Twitter users quickly pointed out that the book "features sexually explicit material," adding: "This book contains visual depictions of oral sex, masturbation and adult sexual contact with a minor."
"Gender Queer" is one of many books concerned parents have removed from "Pride Month" displays in library children's sections during CatholicVote's "Hide the Pride" campaign. The book is about a 14-year-old's sexual activities. The book includes explicit illustrations of the child engaging in sexual acts, and features a graphic scene in which the minor fantasizes about being molested by an adult man.
Clinton's comments are just the latest in a series of mounting defenses on the part of prominent Democratic and leftist activist figures as parents speak out against the LGBTQ movement's targeting of children.
As CatholicVote's Anthony Iafrate recently reported:
In an April 24 press release, the American Library Association (ALA) announced support for a list of the 13 "most challenged" books, all of them marketed to minors, all containing sexually explicit content, and a majority of them LGBTQ-themed.

The ALA's Communication and Marketing Office equated efforts to protect children from the books, such as CatholicVote's highly successful "Hide the Pride" campaign, to "censorship" and "book banning."

…Among the entrants on the list is Gender Queer, a pornographic graphic novel memoir by Maia Kobabe, a "nonbinary" activist whose "preferred pronouns" are "e," "em," and "eir." The book was among those removed from Florida school libraries earlier this year in an initiative supported by Republican Gov. Ron DeSantis. 
CatholicVote will relaunch "Hide the Pride" for a second annual campaign to protect children from sexually explicit content. 
As CatholicVote's Jessica Nardi reported last month:


"Hide the Pride" is a parent-led movement for Catholics to reclaim their libraries during "Pride Month," when these tax-payer funded spaces are overrun by sexually explicit LGBTQ books, images, and symbols geared towards children.

CatholicVote's "Hide the Pride" initiative returns this June, and this year we're working to ensure it's even bigger and better than before, with more resources for you!