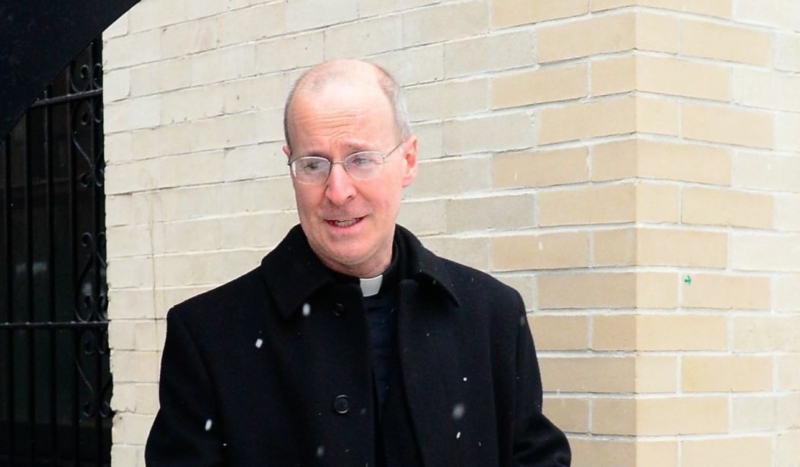 CV NEWS FEED // Fr. James Martin, SJ, went viral on Twitter Tuesday as pro-life Catholics took him to task for suggesting in a tweet that being pro-life today means being "white nationalist."
"Pro life should not mean being a white nationalist," the celebrity Jesuit tweeted, sharing an opinion piece by Leftist opinion columnist Moira Donegan of The Guardian.
In the piece, Donegan argued that "the white supremacist and anti-choice movements have always been closely linked. But more and more, they are becoming difficult to tell apart." Donegan, a frequent writer on the topic of abortion, recently lamented the possibility of Roe v. Wade being overturned by the Supreme Court, and decried the "suggestion that a fetus might have interests in its own right – interests that can be seen as equal or greater than the interests of the woman carrying it."
Martin's tweet generated an avalanche of responses from pro-life advocates insulted by the priest.
"This is a ridiculous claim, and it's shameful that a Catholic priest would share such a thing about the March for Life," wrote Jerry Dunleavy of the Washington Examiner.
"Ah ha! This explains why three of our five adoptions were of minority children," wrote Carl E. Olson of Ignatius Insight. "Not that it mattered to us (it didn't)."
"This is getting to be an annual thing: Jesuits smearing Pro-Life Catholics," wrote Twitter user Sidge. "Last year, they smeared kids from Covington Catholic in the most vile way. This year they're trying to link Pro-Lifers to white supremacists."
Many commenters pointed out that Martin, who is well-liked by corporate media, was wrong to use his platform to broadcast a "slander" against pro-lifers and fellow Catholics. Martin has indeed touted his own attendance at elite galas and dinner engagements with Hollywood figures such as director Martin Scorsese and actor Andrew Garfield. The priest has also been a regular TV guest of Stephen Colbert, who named him the "chaplain" of the Late Show.
Given Martin's high level of visibility, his tweet could indeed potentially inflict damage on the cause of defending preborn Americans in danger from the abortion industry, some argued.
Catholic journalist Mary Margaret Olohan of Daily Signal replied to Martin's suggestion that pro-life means "being White Nationalist" by writing: "It doesn't — even slightly. And he knows it. Which begs the question: why is limelight loving James Martin trying to link the pro-life movement with white supremacy?"
In the article Martin shared, Donegan cited little evidence for conflating the pro-life movement with "white supremacy." She mentioned one past staffer at a pro-life organization (a staffer who was fired), and the presence of a small group of controversial activsts who showed up, uninvited and isolated from other marchers, at the March for Life last week. In particular, a contingent of the so-called "Patriot Front" group mentioned by Donegan has been reported to be a disruption operation carried out by members of the Federal Bureau of Investigations.
Commentators on both sides of the political aisle denounced the piece for its broad accusations and lack of journalistic rigor. "What brave reporters," chided Kristan Hawkins of Students for Life America, "battling their way through thousands of young, diverse, joyful pro-lifers to locate a tiny minority of people who fit their narrative."
"The 'white nationalists' have more in common with pro-abortion forces and were, in fact, on the other side of the police line with the abortion protesters." added Kristen Day, president of Democrats for Life. "The abortionists are doing the white nationalist's dirty work by targeting black and brown women for abortion."
Brian Burch, president of CatholicVote, also addressed Martin's tweet: "Hardly needs to be said, but the target of this tweet is obviously not white nationalists — it's the pro life movement. Is he auditioning to be chaplain of Planned Parenthood?"
Burch said Martin's tweet was "a pathetic insult to the hundreds of thousands of pro-life young people who braved freezing cold to march. This is a new low for a priest well known for shameless slanders."