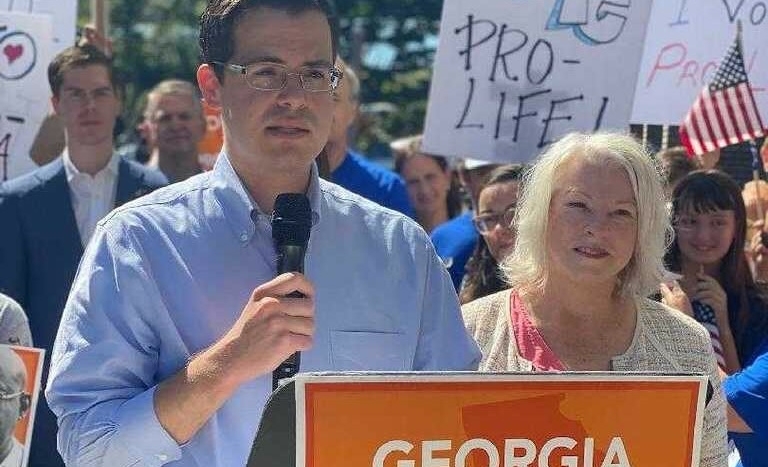 CV NEWS FEED // CatholicVote joined forces with leading pro-life organization the Susan B. Anthony List for a cross-country press tour this week, calling on key Democrat members of Congress to protect the Hyde Amendment and stop efforts to fund abortions with federal tax dollars.
The tour made stops outside the offices of politically vulnerable Democrats whom SBA List has labeled the Terrible 20 for refusing to support the Hyde Amendment, which prohibits direct federal taxpayer funding of abortion. The tour went through Raleigh, Atlanta, and Tucson.
The Hyde Amendment had been added to every relevant federal spending bill since 1976, receiving broad bipartisan support from Democrats like Joe Biden, until the most recent coronavirus relief package passed in March deliberately omitted it.
Representing CatholicVote on the tour was Tommy Valentine, who condemned the Terrible 20 for exploiting the coronavirus crisis to eliminate Hyde protections for the first time in decades.
"In our hour of crisis, they bowed to pro-abortion radicals who have been pushing an extreme unlimited abortion agenda," Valentine said.
Former Congresswoman Marilyn Musgrave, who is now vice president for government affairs for SBA List, spoke about the history of the Hyde Amendment, pointing to scientific research which shows the Hyde Amendment has saved an estimated 2.4 million babies from abortion because mothers who might have aborted if the government paid for it chose life instead.
SBA List and CatholicVote were joined in the three cities by state pro-life groups and local leaders, including state Rep. Erin Pare in Raleigh, Joshua Edmonds of the Georgia Life Alliance in Atlanta, and Cindy Dahlgren of the Center for Arizona Policy in Tucson. Dozens of local pro-life activists joined at each stop, emphasizing that the Terrible 20's support for taxpayer-funded abortion was radically out of step with their constituents.
"If they insist on forcing taxpayers to fund abortion on demand and support barbaric, late abortions without limits, they must and will face the consequences of their extremism at the ballot box," SBA List Vice President for Communications Mallory Quigley said.
SBA List has pro-life activists going door-to-door in multiple states ahead of the 2022 midterm elections.
CatholicVote is currently running digital ads against several pro-abortion Catholic members of Congress exposing their support for taxpayer-funded abortion, and is gearing up for its own on-the-ground efforts to reach Catholic voters in the 2022 elections.
Valentine pointed to the Clinton-era Democrat mantra that abortions should be "safe, legal, and rare," saying that taxpayer funding for abortion would make abortion less rare because it would be paid for by the government. He also said Democrats were seeking to make abortions less safe by repealing or challenging in court health and safety regulations on abortion clinics in states like Texas, Louisiana, and Virginia.
"Prove us wrong," Valentine said to the members of Congress. "Prove that you don't want to force people of faith or of no faith to pay for abortions."
In Atlanta, Congresswoman Lucy McBath's office sent out a security guard to demand that the group leave the property. SBA List communications director Mallory Quigley calmly explained that the crowd was composed of McBath's constituents who were there to exercise their free speech rights. The guard became increasingly irate and interrupted the press conference, shouting at participants that they had to leave.
The activists were undeterred and simply moved across the street to continue the rally. "We're here to tell the truth, and we're not going to stop telling the truth," Valentine said.
The members of the Terrible 20, who are up for re-election in competitive races next year, are:
Sen. Raphael Warnock (D-GA)
Sen. Mark Kelly (D-AZ)
Rep. Deborah Ross (NC-02)
Rep. Tom O'Halleran (AZ-01)
Rep. Stephanie Murphy (FL-07)
Rep. Lucy McBath (GA-06)
Rep. Carolyn Bordeaux (GA-07)
Rep. Cindy Axne (IA-03)
Rep. Sharice Davids (KS-03)
Rep. Jared Golden (ME-02)
Rep. Elissa Slotkin (MI-08)
Rep. Haley Stevens (MI-11)
Rep. Christopher Pappas (NH-01)
Rep. Tim Ryan (OH-13)
Rep. Susan Wild (PA-07)
Rep. Matt Cartwright (PA-08)
Rep. Connor Lamb (PA-17)
Rep. Vicente Gonzalez (TX-15)
Rep. Elaine Luria (VA-02)
  Rep. Peter DeFazio (OR-04)