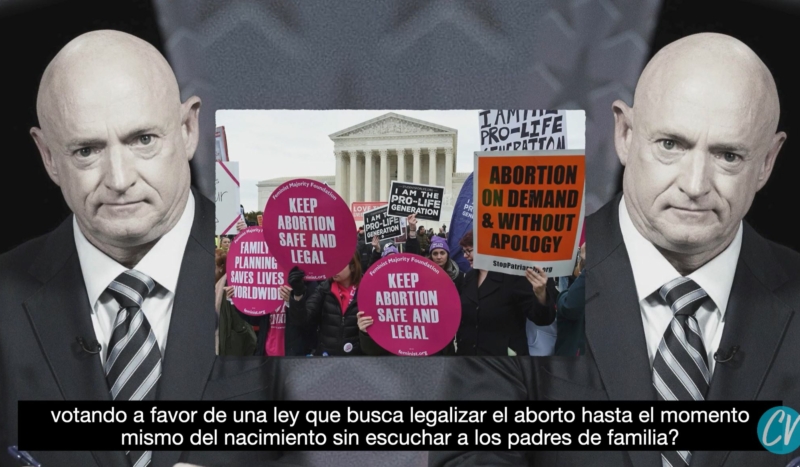 CV NEWS FEED // CatholicVote launched two Spanish-language ads targeting Catholic Senators Mark Kelly (D-AZ) and Catherine Cortez Masto (D-NV) on Wednesday. The ads call the senators out for failing to address issues of importance to Hispanic voters, while focusing on unpopular far-Left priorities such as the failed Women's Health Protection Act.
The ad campaign comes as polling shows Hispanic voters shifting more and more away from the political Left. Hispanics showed a marked rightward drift in 2020 elections, but many Democratic strategists believed at the time that it was a transitory phenomenon that would reverse itself in future elections.
Those same Democratic observers have become increasingly worried in recent months, however, as Hispanic voters not only continue to leave the Democratic Party, but are now doing so at an accelerating rate. A recent Wall Street Journal poll found that, just ahead of the 2022 midterms, Hispanics would prefer a Republican candidate over a Democratic one by nine percentage points.
CatholicVote's ads speak the language of many Hispanic voters in more ways than one.
"We need politicians who solve real problems: the increase in the cost of food, gasoline, the increase in crime and the lack of respect for parents in the schools," states one of the ads in Spanish. Despite issues like these being on voters' minds, the ad points out, Sen. Kelly focused instead on voting "in favor of a law that seeks to legalize abortion up to the moment of birth without listening to parents."
"Are you with us or with the millionaires who want unlimited abortion?" the video asks, and encourages voters to call Kelly's office to ask him themselves.
"Our campaign is designed to educate and mobilize Hispanic voters to hold key senators accountable for their misplaced priorities," said CatholicVote's Brian Burch:
As voters ask their elected officials to address skyrocketing gas prices, soaring crime and inflation, and the lingering consequences of excessive COVID mandates, senators in both Nevada and Arizona are instead pushing extreme abortion laws. The real priorities of Hispanic voters are being ignored.
CatholicVote President Brian Burch highlighted the fact that Sens. Mark Kelly and Catherine Cortez Masto "both hold themselves out publicly as Catholic," making their votes in favor of the Women's Health Protection Act "especially disturbing."
"The Church is clear that support for lethal violence against unborn children is incompatible with Church teaching," Burch said. "Hispanics revere the Virgin of Guadalupe because her image depicts her as pregnant with the Christ child. For this reason she has also been named the Patroness of the Americas and the Patroness of the Unborn."
The radical abortion bill that Kelly and Cortez Masto voted for "goes far beyond codifying Roe v. Wade into federal law," a CatholicVote press release pointed out Wednesday:
Some of the objectionable and unpopular provisions of the bill include nullifying all state laws restricting abortion – including painful late term abortions, requiring healthcare workers to perform abortions, gutting parental rights, and providing direct federal taxpayer funding for all abortions, for any reason.
The statement also pointed out that about half of Hispanic Americans "identify as Catholic, and voter turnout among Hispanics is expected to increase in Arizona and Nevada this year compared to the 2018 midterm election," while "2018 saw a record turnout among Hispanic voters across the country."
"The days of political pandering over immigration and 'evil Republicans' are over," said Burch, citing the most recent polls, which "confirm that Hispanic voters are disturbed by the extreme left-wing agenda being pushed by Democrats."
"It's not far-fetched to suggest that Hispanics may soon decide the outcome of many of our elections," Burch said. "And a majority of them are Catholic."
Readers can find both of CatholicVote's ads here: