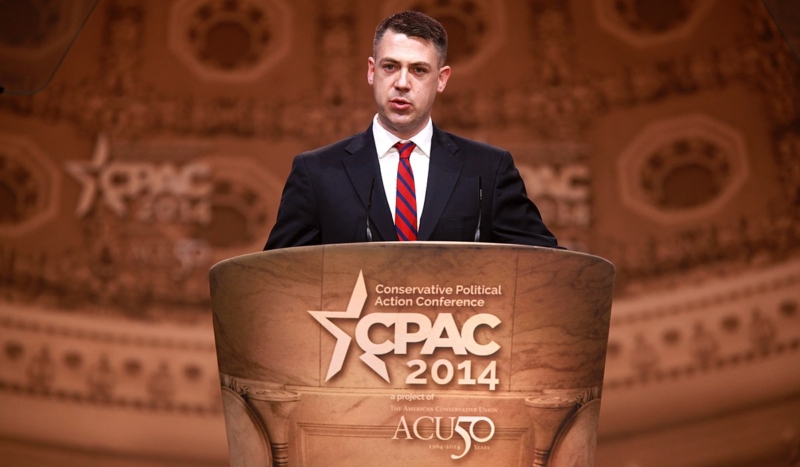 CV NEWS FEED // CatholicVote.org Candidate Fund on Wednesday endorsed Indiana Republican Rep. Jim Banks in his 2024 Senate bid, citing his track record as a "champion" of pro-life and pro-family policy and a stalwart defender of religious freedom.
"Congressman Banks knows there can not be a one-sided truce when defending the unborn and the family," said Brian Burch, President of CatholicVote.org Candidate Fund. "He has proven himself as a pro-life champion, a conservative warrior, and a believer in fiscal discipline at a time when Congress has abrogated their duty to rein in federal spending."
For his part, Banks has not been shy about emphasizing his support for the conservative positions most ardently opposed by the media establishment and radical Left. In a recent statement, he promised to be a "strong conservative voice" and a "conservative fighter" in the Senate.
"I expect that moderates might try to find a candidate of their own," Banks said, "but that's what Republican primaries are all about: you have choices."
The question of a "truce" with the radical Left is rapidly becoming a central theme of Banks' Senate run as establishment figures reportedly court former Indiana Governor Mitch Daniels for the seat.
"It's Mitch Daniels Day in D.C. tomorrow," reported POLITICO's Burgess Everett on Tuesday. "He's expected to meet w/ GOP senators about a possible Senate bid. He's expected to meet with McConnell, Daines, Young and Tim Scott."
Daniels found himself faced with a widespread backlash from Catholic commentators and their pro-life and pro-family allies in 2010 when he called for a "truce on the so-called social issues," as the National Review's John McCormack reported this week. "We're going to just have to agree to get along for a little while," Daniels said as he geared up for a presidential run, recommending that Republicans drop their opposition to the abortion lobby and radical LGBTQ activism in order to focus more on budgetary concerns and the war on terror.
"Daniels's remark immediately sparked a backlash from social conservatives, and 13 years later the 'truce' is again the subject of controversy as Daniels considers a 2024 run for Senate," McCormack reports. "Supporters of Jim Banks, the Indiana GOP congressman who formally declared his Senate candidacy this week, are hitting Daniels over it."
"Banks is pro-life and Daniels is pro-truce," one Banks ally told the National Review's Nate Hochman, who added: "When asked if, as president, he would reinstate the Reagan-era 'Mexico City Policy,' which prohibits government funding of abortions abroad, Daniels told the Weekly Standard: 'I don't know.'"
"If there were a WMD attack, death would come to straights and gays, pro-life and pro-choice," Daniels once said in an effort to stave off criticism from the right:
If the country goes broke, it would ruin the American dream for everyone. We are in this together. Whatever our honest disagreements on other questions, might we set them aside long enough to do some very difficult things without which we will be a different, lesser country?
Banks is now entering into his fourth term representing Indiana's 3rd Congressional district. Prior to holding that office he served in the Indiana Senate, taking a leave of absence from 2014 to 2015 due to his military deployment in Afghanistan.
While he served in Afghanistan, his wife Amanda temporarily occupied his seat, where she became one of only six senators to oppose then-Governor Mike Pence's "horrible compromise which gutted religious protections in the state," CatholicVote Director of Government Affairs Tom McClusky said this week.
Most recently, Banks served as head of the Republican Study Committee (RSC), the largest conservative caucus in the House of Representatives, where he led Congress in pushing back against Chinese aggression and "wokeness" in the military and schools. "He also made the RSC a powerhouse in protecting issues on life and family," McClusky said.
As chairman of the Republican Study Committee, Banks led multiple delegations to the southern border to hear directly from law enforcement on the ground about the consequences of the border crisis. Following these meetings, he hosted a roundtable with lawmakers and parents from Indiana and around the country who lost children to fentanyl to discuss the devastating impact of fentanyl flowing across the border.