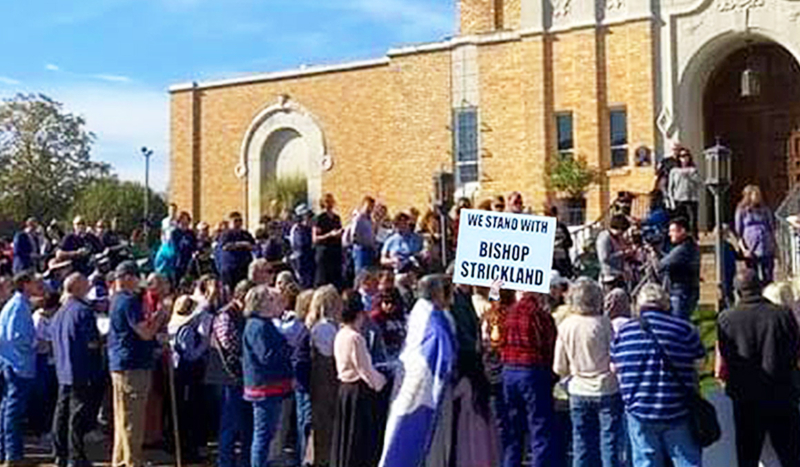 CV NEWS FEED // Hundreds of people participated in a rosary procession on Saturday in support of the recently-removed Bishop Joseph Strickland of Tyler, Texas.
The hour and a half procession on November 18 stretched about a half-mile long, beginning at the Cathedral of Immaculate Conception, moving toward the Tyler town square, and then returning to the church. Attendees carried signs in support of Bishop Strickland, sang hymns, and prayed the rosary.
The procession comes after Pope Francis removed Strickland from his role as bishop in the diocese of Tyler two weeks ago without issuing any official reason. Strickland has been the bishop of Tyler since 2012.
Strickland shared a response to the procession on X (formerly known as Twitter):
I'm humbled & grateful for these people of faith who gathered in prayer & honored Jesus Christ & our Catholic faith. They understand why I've been so outspoken, I'm not interested in opposing anyone but I MUST share the Truth that Jesus has revealed to us.
QUE VIVA CRISTO REY
"We're not here to protest, we are here to pray the rosary as faithful Catholics," said the event's organizer Justin Haggerty, Superior of Knights of the Republic, to local news outlet The Morning Telegraph.
An attendee of the rosary process reiterated the same thing to CatholicVote. "We didn't mean to do this to change anything. Pope Francis removed him. We don't want to make any resistance, we don't want to boycott anything," he said, requesting to remain anonymous. "We actually pray for our new appointed administrative bishop Joe Vásquez so he can be a Godly man we can honor. We all pray for his blessing, for his guidance, but we simply wanted to express our sorrow for the sudden loss of our shepherd in our Church, Joseph Strickland."
Steve Hicks, a Tyler resident who volunteered on one of the security teams at the event, described the event as feeling almost like a funeral procession.
"We're mourning," he told CatholicVote:
To me it feels like your father died, and the actual event felt more like a funeral procession. It was very prayerful… it was beautiful, it was mournful, it was reverent, and it was our way of telling Bishop Strickland you know, we love him.
A lifelong Catholic, Hicks said he has "never met a bishop that was so accessible, and available:
I know of numerous occasions in which people would just invite him to their house for an event or a blessing or meal, and he'd show up. No bodyguard, no entourage, just drive himself over and be there. If you wanted to talk to him, he'd reply to emails within an hour. I've never met a bishop like that. Very fatherly, full of light… 
And, you know, all he ever did was quote the catechism and ask questions that everybody would wish someone would ask.
"After our bishop was unjustly removed by Pope Francis, people were shocked and wounded, and they did not know how to respond," the anonymous source told CatholicVote.
"Everything changed so radically," he added. "Our bishop's photo was removed from the main public places, and they began to call the new bishop by name in the Mass. It all just happened all of a sudden."
He explained that the rosary procession was a way for the people of the diocese to express their emotional upset: "We were able to get together where our bishop's chair is located, mourning the loss of our good shepherd all of a sudden–even though we expected something might be happening, but not [so] suddenly."
Like Hicks, he also described the atmosphere of the procession as very peaceful:
Nobody yelled, nobody made any public negative comments, and everybody did it in honor of our Bishop Strickland, for the glory of God, so that God will continue to bless our diocese. And so that, even though our Bishop has been removed, still he is our spiritual Shepherd, that he would be continued to be honored and to be respected.
So everybody got together to pray the rosary invoking Our Lady to continue to bless [Bishop Strickland] and our diocese and all the faithful following him spiritually.
The participants prayed fifteen decades of the rosary, beginning with the Joyful, then to the Sorrowful, and ending with the Glorious. "We were fully reminded that the life of Jesus was completely reflected in the life of our Bishop Strickland," the source told CatholicVote. He remarked that a prayer service the night before had meditated on Isaiah 53, detailing the life of the suffering servant.
"And we knew that this life was really fulfilled, not only the life of Jesus Christ but His faithful servant Bishop Joseph Strickland, silently humiliated and executed," the source said. "But also we did not lose hope by reflecting the Glorious mystery that God will uplift his soul and him."
Hicks added that he prays for the pope and for the pope's intentions every day, and that "I look forward to meeting our new bishop, our interim bishop, and our future bishop, and working and supporting them."
"We were very proud that our bishop was able to follow the path of Christ so closely," the anonymous source said, adding that the diocese will continue to
safeguard the sacred place of Tyler, that God has blessed so much through Bishop Strickland but also through individual prayer and Sacraments. We will keep the legacy of Bishop Strickland in our united mind and heart, through our prayer [and] sacrifices, and we will safeguard the great blessings in Tyler among the people that gather together.