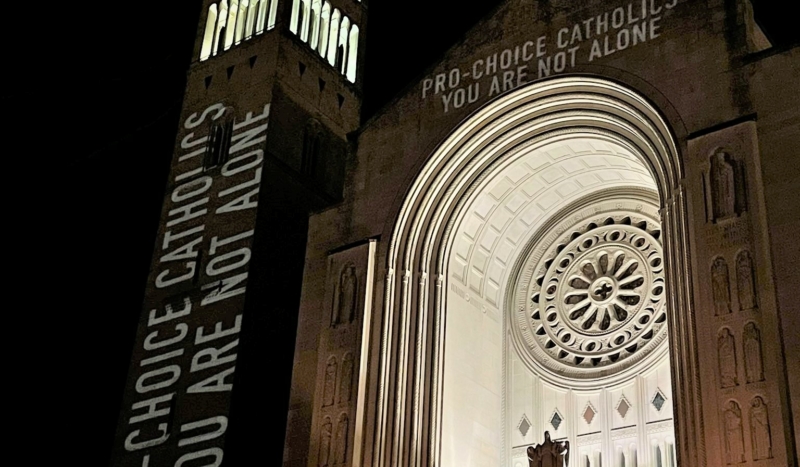 CV NEWS FEED // During a pro-life vigil Mass ahead of the March for Life, a group of self-proclaimed "Catholics for Choice" projected massive pro-abortion signs on the exterior of the Basilica of the National Shrine of the Immaculate Conception.
While faithful Catholics prayed for the unborn inside at the annual National Prayer Vigil for Life, the pro-abortion group remained outside the Mass. They came prepared with several pre-designed signs and a projector that would mark the sacred building with messages advocating more abortions.
"PRO-CHOICE CATHOLICS, YOU ARE NOT ALONE," read one projection. "1 IN 4 ABORTION PATIENTS IS CATHOLIC," read another. And a third: "STOP STIGMATIZING, START LISTENING."
"This is diabolical stuff right here," wrote Catholic journalist Alexandra DeSanctis Marr in response to the demonstration. "The Church has been the most vocal defender of human life in the womb for centuries, and it's pretty clear the devil doesn't like that one bit."
"The attempted desecration is enormous," wrote Archbishop Salvatore Cordileone, who also called the display "diabolical." The archbishop also prayed: "Mother Mary, pray for them, now and at the hour of death. Amen."
"At the Mass at the beginning of the Vigil, while Catholics for Choice was projecting its message, Archbishop William E. Lori of Baltimore, said in a homily, 'Abortion is a tragic choice with lasting consequences. What is needed in such a situation is a witness to love and to life… This evening, I would like to salute those who carry forth with such ministries,'" reported Aleteia:
"The Church does not give up on men and women who have chosen abortion," Lori said. "The Church seeks to bring light healing and hope. Thus witnessing to the beauty of life, one woman and one child at a time."
On social media, many others weighed in against the pro-abortion demonstration.
"The President of the United States is the most prominent Catholic in America," CatholicVote tweeted. "He must condemn this immediately. His implicit defiance of Catholic social teaching on life has fueled this division in our church that activists are now exploiting."