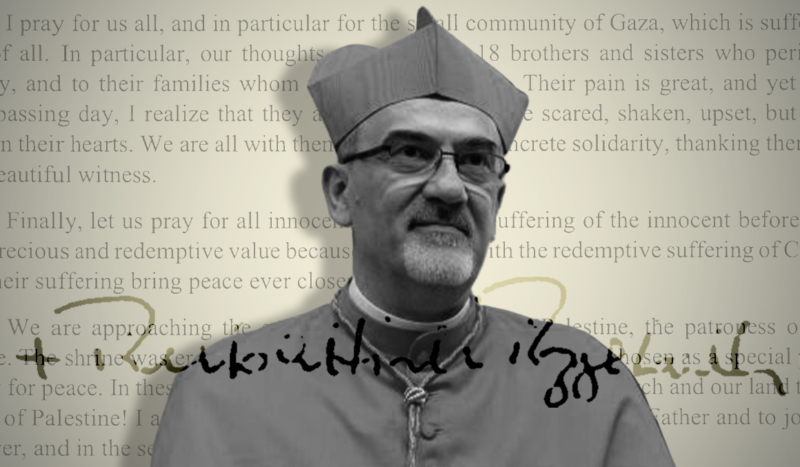 CV NEWS FEED // Cardinal Pierbattista Pizzaballa, the Latin patriarch of Jerusalem who oversees the Israeli and Palestinian Christian communities, published a letter to his diocese yesterday encouraging hope and calling for an end to the Israel-Hamas war.
Pizzaballa called the present moment "one of the most difficult and painful periods in our recent times and history."
He wrote, "For over two weeks now, we have been inundated with images of horrors, which have reawakened ancient traumas, opened new wounds, and made pain, frustration, and anger explode within all of us. Much seems to speak of death and endless hatred." 
 "My conscience and moral duty require me to state clearly that what happened on Oct. 7 in southern Israel is in no way permissible and we cannot but condemn it," he wrote.
The same conscience, however, with a great burden on my heart, leads me to state with equal clarity today that this new cycle of violence has brought to Gaza over 5,000 deaths, including many women and children, tens of thousands of wounded, neighborhoods razed to the ground, lack of medicine, lack of water and of basic necessities for over 2 million people…It is time to stop this war, this senseless violence. The continuous heavy bombardment that has been pounding Gaza for days will only cause more death and destruction and will only increase hatred and resentment. It will not solve any problem but rather create new ones.
"It is only by ending decades of occupation and its tragic consequences, as well as giving a clear and secure national perspective to the Palestinian people that a serious peace process can begin. Unless this problem is solved at its root, there will never be the stability we all hope for," Pizzaballa wrote. "The whole world views this Holy Land of ours as a place that is a constant cause of wars and divisions."
Since Hamas' attack on October 7, the Israeli military has confirmed that 155 people are currently being held hostage by Hamas.
Last week, Pizzaballa offered himself in exchange for hostages of Hamas. "Am I ready for an exchange? Anything, if that can lead to freedom and bring those children home, no problem. There is an absolute availability on my part," he said.
In Tuesday's letter, he thanked Pope Francis for calling a second day of prayer and fasting, to be observed on Friday, October 27. "It is perhaps the main thing we Christians can do at this time: pray, do penance, intercede," he said.
Pizzaballa announced that the diocese will reconsecrate the Church to Our Lady under the title of the Queen of Palestine. The shrine to the Queen of Palestine "was erected during another time of war, and was chosen as a special place to pray for peace," he wrote, "asking churches around the world to join the Holy Father and to join us in prayer, and in the search for justice and peace."
"I cannot live this extremely painful time without looking upward, without looking to Christ, without the faith that enlightens my view and yours on what we are experiencing, without turning our thoughts to God," Pizzaballa wrote, adding that at this time especially, everyone needs the Word of God "like the air we breathe."