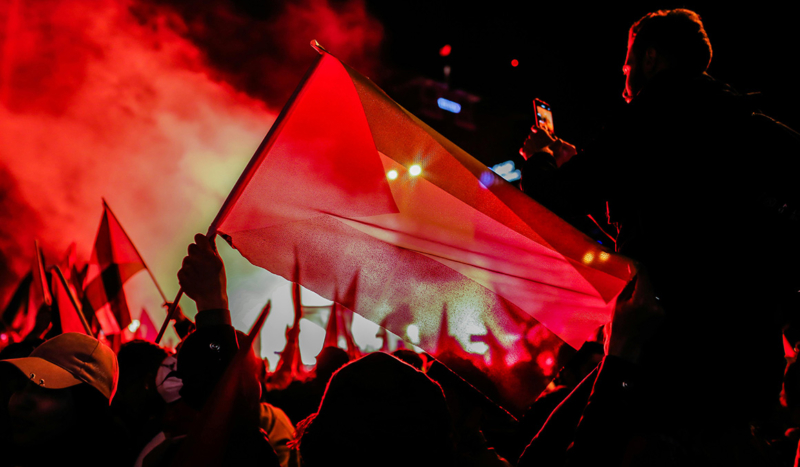 CV NEWS FEED // The United States Capitol Police (USCP) issued a statement denouncing the violent anti-Israel riot that happened Wednesday outside Democratic National Committee (DNC) headquarters in Washington, D.C.
"Last night approximately 200 people gathered in front of the [DNC] headquarters to protest the conflict in the Middle East," the USCP said in a Thursday press release. 
"We have handled hundreds of peaceful protests, but last night's group was not peaceful," the release continued. "The crowd failed to obey our lawful orders to move back from the DNC, where Members of Congress were in the building."
According to the USCP, the rioters "moved dumpsters in front of the exits, pepper sprayed [USCP] officers and attempted to pick up the bike rack."
"Six officers were treated for injuries, from minor cuts to being pepper sprayed to being punched," noted the federal law enforcement agency.
The USCP indicated that "24-year old Ruben Arthur Camacho of Woodbridge, NY, was arrested for Assault on a Police Officer after an officer witnessed Camacho slam another officer into a garage door and then punch the female officer in the face."
The Daily Signal's Jarrett Stepman wrote that the riot broke out after protesters 
gathered in front of the building, demanding a cease-fire in the conflict between Israel and Hamas. The protest turned violent as people from the crowd charged the door, and police got involved to break up the violence.
Rioters could be seen getting physical with and hurling expletives at law enforcement in multiple videos circulating online.
ABC News reported that according to Rep. Brad Sherman, D-CA, "Members of Congress were hearing from prospective candidates inside of the DNC when Capitol Police evacuated them from the building."
In total, about seven members of Congress were inside when they were evacuated from the building by "heavily armed and serious" [USCP] officers, Sherman said.

The forum was attended by Democratic leadership, including minority leader Hakeem Jeffries [D-NY], Whip Katherine Clark [D-MA] and Pete Aguilar [D-CA], but Sherman said Jefferies and Clark had left by the time protests started breaking out.

Rep. Sherman said members inside the room heard chants of "cease-fire now," and they thought it was going to be 10 or 15 minutes and then the protesters were going to leave.
Axios reported that one anonymous Democratic member of Congress said that the riot "scared" him or her "more than January 6."
"Someone sent out word for people to come [back] and police said it's not safe," the House Democrat added. "Police were wearing gas masks … this was not peaceful."
POLITICO noted that "House office buildings were placed on lockdown during the incident."
"I'm with my baby at my office and the Capitol offices just went into lockdown because of these clowns," Rep. Anna Paulina Luna, R-FL, wrote on X (formerly Twitter) during the ordeal. "Imagine being that unhinged. Nut jobs."
"Biden admin must use every law-enforcement tactic against these pro-Hamas insurrectionists that it has used in the January 6 cases," wrote Sen. Tom Cotton, R-AR. "Track them down, arrest them, convict them, and lock 'em up."
Stepman pointed out that Wednesday's riot was not the "first pro-Palestinian protest where Capitol Police had to intervene."
"In mid-October, officers arrested hundreds of protesters who were calling for a cease-fire in Gaza because they were occupying a congressional office building and wouldn't leave," he wrote.