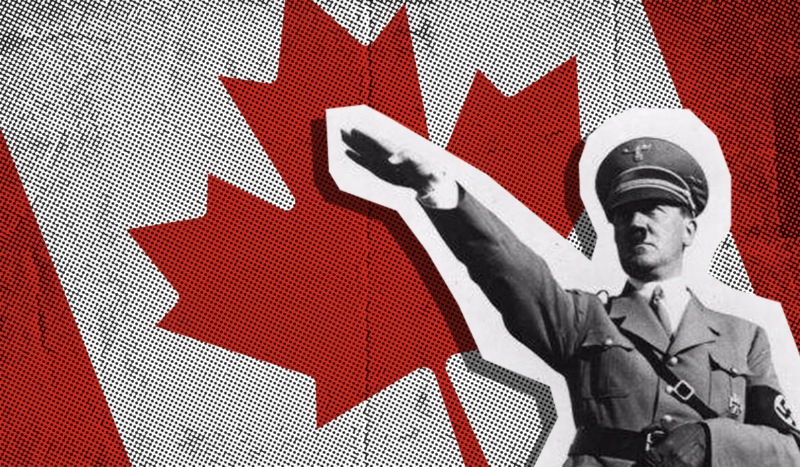 CV NEWS FEED // The Canadian Parliament and Prime Minister Justin Trudeau honored Yaroslav Hunka, a 98-year-old who served as a Nazi Schutzstaffel (SS) agent during World War II, with a standing ovation.
The shocking event occurred Friday during Ukrainian President Volodymyr Zelenskyy's latest visit to Canada.
"We have here in the Chamber today [a] Ukrainian-Canadian world veteran from the Second World War who fought [for] Ukrainian independence against the Russians," said Speaker of the House of Commons Anthony Rota as he introduced the Nazi soldier on the parliament floor.
Members of parliament stood and applauded for over 30 seconds.
Rota, who had reportedly invited Hunka, mentioned that he was "proud" that he lived in his electoral district. "He's a Ukrainian hero, a Canadian hero, and we thank him for all his service," the speaker said.
A second standing ovation and a period of extended applause followed these remarks.
Photographs show Canadian Prime Minister Justic Trudeau and his wife applauding the elderly Nazi collaborator. Trudeau and Rota are both members of the ruling Liberal Party of Canada.
News coverage by the Canadian Broadcasting Corporation (CBC) spun the honoring by calling the Nazi "a 98-year-old Ukrainian-Canadian who fought for Ukrainian independence against the Russians during the Second World War" – similar verbiage to that used by Rota.
At the time, both Russia and Ukraine were part of the Soviet Union (USSR), which was allied with the United States and Great Britain against Nazi Germany.
The CBC is funded by the Canadian government and is widely seen as supportive of the Trudeau regime. 
Groups supporting the civil rights of Jewish Canadians strongly condemned the incident, highlighting the true story of Hunka's past.
Michael Mostyn, the CEO of B'nai B'rith Canada, blasted the honoring as "beyond outrageous." Mostyn pointed out that Hunka "immigrated to Canada after serving in the 14th Waffen SS – a Nazi unit whose members swore allegiance to Adolf Hitler during WWII."
"We cannot allow the whitewashing of history," said Mostyn. "Canadian soldiers fought and died to free the world from the evils of Nazi brutality."
Friends of Simon Wiesenthal Center (FSWC), a Toronto-based human rights organization that educates Canadians about the evils of the Holocaust, says that it was "appalled" by the decision to honor a man who "served in a Nazi military unit during the Second World War implicated in the mass murder of Jews and others."
"There should be no confusion that this unit was responsible for the mass murder of innocent civilians with a level of brutality and malice that is unimaginable," the group stated:
An apology is owed to every Holocaust survivor and veteran of the Second World War who fought the Nazis, and an explanation must be provided as to how this individual entered the hallowed halls of Canadian Parliament and received recognition from the Speaker of the House and a standing ovation.
Following days of backlash, Rota issued an apology and accepted responsibility for honoring the SS agent.
"I have subsequently become aware of more information which causes me to regret my decision to [invite Hunka]," the speaker told FOX News. "I wish to make clear that no one, including fellow parliamentarians and the Ukraine delegation, was aware of my intention or of my remarks before I delivered them."
"I just want to make it clear," Rota said in an address to parliament Monday, "it was my decision and my decision alone."
"This was a constituent who wanted to … be here. And I recognized him," he said. "It was my decision and I apolozie profusely."
A video of Rota's apology posted to X (formerly known as Twitter) received significantly more replies than "likes." Many of these replies asked the speaker to resign.
"Nothing short of resignation is good enough," wrote one Canadian. "The fact that you won't, says all we need to know about Liberals."
"Resignations are the only acceptable form of apology," agreed another.
Member of Parliament Peter Julian also called on Rota to resign. "I don't believe you can continue in this role," he said on the parliament floor. "I believe a sacred trust has been broken."
Julian is a member of the far-left New Democratic Party (NDP), which usually allies with the Liberals on most policy matters.
This is not the first time in the last month the current Canadian government has been widely condemned for its actions.
In 2021, Trudeau and his party promoted the story that there were "mass graves" of indigenous children on the properties of Canadian Catholic schools. Excavations this year have proved that the story was most likely a hoax and potentially part of an anti-Catholic fear campaign.  
Trudeau is a self-professed Catholic.
"The revelation that the story was likely untrue all along comes only after anti-Catholic criminals committed hundreds of acts of hatred and vandalism against Catholic churches over the false accusation," CatholicVote reported September 1. "In addition, leading figures on the political and cultural left have made the unfounded story a central part of heated rhetoric against Catholics."
"Trudeau made Pope Francis apologize on behalf of the Catholic Church over these fake graves," wrote The Daily Signal's Mary Margaret Olohan after it surfaced that the story was likely fabricated. 
Olohan also noted that as a result of the narrative, "Around 56 Canadian Catholic Churches were vandalized and burned to the ground."