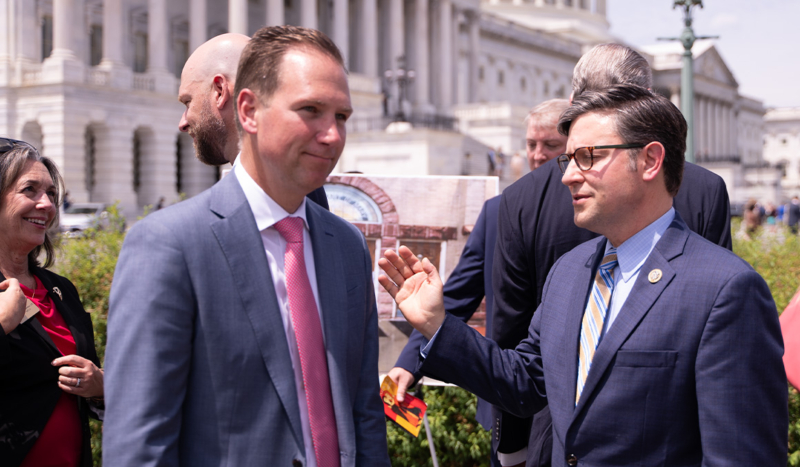 CV NEWS FEED // What does Rep. Mike Johnson's, R-LA, election as the nation's 56th Speaker of the House mean for American Catholics?
I sat down with CatholicVote President Brian Burch to discuss the implications of Johnson's rise from attorney, to congressman, to second in the presidential line of succession.
Burch told me that he in fact met the new speaker this summer. Johnson was "exceptionally humble and funny," Burch said, and "didn't drip with political grease" like many of the other politicians he has encountered.
---
Anthony Iafrate: A lot of people don't really know that much about Rep. Johnson beyond the fact that he is the most junior member of Congress to become speaker since 1883. Give us three words to describe him.
Brian Burch: Faithful, Christian, and American.
Mike Johnson is a committed Christian who has established a stellar record when it comes to the issues that Catholics care about, particularly on the issues of life, marriage, religious liberty, protecting children, and holding government accountable.
And while he may be a young member, it seems to me that longevity in Congress has not been a good predictor of the kinds of leadership we need.
We are especially encouraged by his record and our own dealings with Rep. Johnson in Congress.
He has worked collaboratively with us. He has listened to our concerns and he has courageously advanced them both with legislation and in the committees he sits on.
I think it's especially notable that he quoted [Catholic writer and philosopher] G.K. Chesterton in his opening address to Congress.
He was referencing our national motto, "In God We Trust," and how that came to be – especially how that motto was a rebuke of the communist Marxist effort to destroy any belief in God.
That same philosophy sadly is inspiring a lot of the left-wing policy agenda which seems to have taken hold inside the Democratic Party.
It's no secret that Speaker Johnson is in a difficult spot given the divisive nature of our politics and the the slim majority that Republicans hold in Congress. But for the first time in perhaps decades, we are confident that a true faithful Christian will no longer kick our issues to the curb.
I believe we have a speaker who will take the priorities of groups like CatholicVote more seriously than ever before.
Anthony: What are some other issues, important to Catholics, on which our new speaker has been active?
Brian: He has been behind some of the most significant legislation that impacts Catholic families, from border security to protecting free speech to legislation designed to protect children from the radical LGBT movement – including a ban on federal funds being used for things like Drag Queen Story Hour.
While these may be small steps, they represent the seriousness he brings to the kinds of issues that I know Catholics care about.
In addition, Johnson was an allied attorney with the Alliance Defending Freedom (ADF), a huge ally of CatholicVote's.
ADF is a leading public interest legal advocacy group that has won significant cases both in the lower federal courts and at the Supreme Court defending the rights of believers, especially on the issue of religious liberty.
Johnson's association with ADF is yet another validation of how seriously he takes these issues which Catholics prioritize.
Anthony: Another thing that jumps out to observers about Johnson is his focus on passing legislation. Of all the Republicans who ran for speaker, Johnson has had the greatest share of his bills become law. How do you foresee him approaching getting laws through as speaker?
Brian: The obvious priority and urgency will be around government spending and government funding.
There's a couple of looming deadlines including a continuing resolution (CR), which will extend government funding at current levels while debates around government appropriations bills – the normal way we fund the government – proceed.
There are approximately 12 or 13 different appropriations bills that are used to fund the government – from the military to all federal branches and agencies.
I think one of the big pushes on the part of those demanding fiscal responsibility is that we return to a process where these appropriations bills are given the time, attention, and votes they deserve rather than packaging them all into what's referred to as an "omnibus," or kicking the can down the road via continuing resolutions.
I think a big hope that many have is that this appropriations process will be reformed so we will actually see votes on key amendments, and there won't be any strong-arming around an appropriations process that's all-or-nothing and typically the net result is conservatives end up losing.
Let's not pretend this is going to be easy or that we're going to get everything we want. But we are hopeful that Johnson will be able to reform the process and breathe new life into an appropriations process where real debates need to happen, rather than strong-arming members to vote up or down on a massive omnibus catch-all bill that jettisons key amendments or provisions that deserve debate and attention.
Anthony: And this brings us to the one question on many peoples' minds right now. How can the new speaker unify this Republican conference who took three weeks to find the speaker that everyone could agree on? He's said he wants to "restore trust in Congress" and "promote individual members." How do you see him going about doing that?
Brian: I think the key is to let all voices be heard and to allow and promote real debate.
And most importantly, to defend what it is that Republicans were elected to do and what Republicans claim to stand for, which is, of course, fiscal responsibility, but also, pushing back against the radical progressive left, and the weaponization of our government by the Biden administration.
That's why Republicans were given the majority, and I think Republicans ought to be able to unite around that rather than making backroom deals with Democrats.
When the parties become indistinguishable it essentially becomes a uniparty system.
Do what you're elected to do, or get out of the way.
I think Republicans recognize that if they can be unified, they will represent a distinct choice for Americans, which will ultimately be not only good for the country but better politically as well.
Anthony: Among the conservative coalition there are still some purists who may be a little skeptical about Johnson. What do you say to these doubters and critics?
Brian: I think any politician has to be held accountable and I don't think it's helpful to prejudge Johnson until we give him a chance.
However, let's also recognize that he has to govern a conference that is still divided and has a very slim majority.
So, while I agree philosophically with their concerns, I also recognize that there's the practical reality of actually getting something done when you could barely even elect the speaker. The prospects of some significant reforms are probably fairly slim and this is going to be an incremental fight over time.
I think what Johnson represents is a breath of fresh air that opens up the possibilities for many goals that these fiscal hawks are seeking and we're going to have to provide both support and pressure in order to see that happen.
There's inevitably going to be disagreements about the kind of compromises that anyone in his position is going to be forced to make.
This is what we need right now, especially in a period when a lot of people on both sides are concerned about the government establishment – the people who have been in government forever – not doing what is required of them.
Speaker Johnson shows that no longer will social conservatives be sent to the back of the bus. We will be a part of the conversation.
We will be taken seriously and be given a chance to defend and to advance the kinds of policy changes that we believe are necessary.
We recognize that we won't get everything we want. But it starts with having a seat at the table again, which unfortunately has not been the case for years, if not decades.