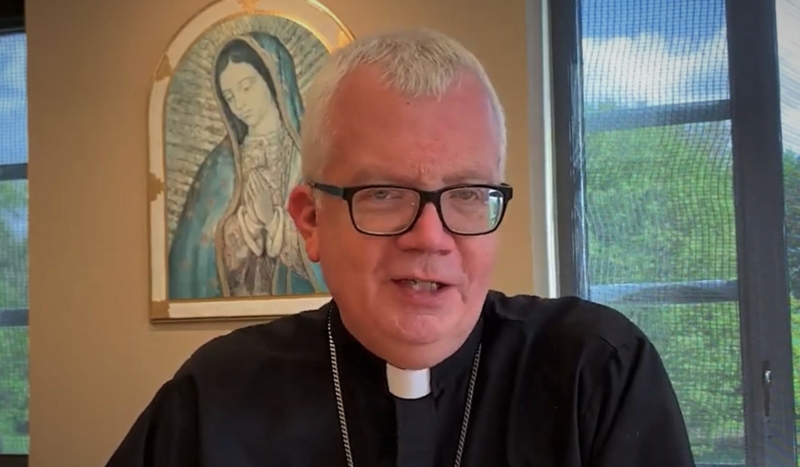 CV NEWS FEED // Bishop Donald Hying of the Diocese of Madison, WI, endorsed a recent letter from Archbishop Salvatore Cordileone of San Francisco calling on pro-abortion political leaders to stop presenting themselves for Communion.
"Those who reject the teaching of the Church on the sanctity of human life and those who do not seek to live in accordance with that teaching place themselves in contradiction to the communion of the Church, and so should not receive the sacrament of that communion, the Holy Eucharist," wrote Cordileone in his May 1 letter.
Hying called that letter a "timely reflection on the moral evil of abortion" and "the need to challenge political leaders who are pro-abortion — especially those who profess Catholicism…."
"I encourage you to read and pray over this pastoral letter," Hying wrote.
"We pray for those leaders who pursue government policies and laws which seek to further entrench abortion rights and other assaults on innocent human life," Hying continued, and he quoted a stern warning from St. John Paul II: "A nation that kills its own children has no future."
Bishop Thomas Olmsted of the Diocese of Phoenix, AZ, similarly praised Cordileone's letter, calling it "a powerful defense of the Church's teaching on the dignity of all human life, which logically and morally requires a consistent condemnation of abortion."
"Woe to us bishops if we do not speak clearly about the grave evil of abortion, and the consequences of any Catholic who participates in the act or publicly supports it by word or action," Olmsted added.
These three bishops are part of a growing number of prominent Catholic clerics calling for a more conscientious consideration of the Catholic Church's teachings on the worthiness to receive Holy Communion.
Those teachings have been receiving increased scrutiny in the media in light of the fact that President Joe Biden, who represents a radically pro-abortion policy platform, professes to be Catholic and regularly presents himself for Communion at Sunday Masses.
In March, Archbishop Joseph Naumann, who heads up the United States Council of Catholic Bishops' Committee on Pro-Life Activities, said that Biden "should stop defining himself as a devout Catholic, and acknowledge that his view on abortion is contrary to Catholic moral teaching."