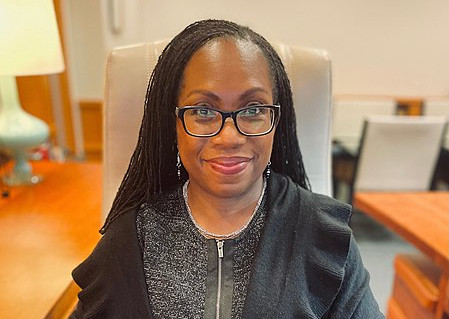 CV NEWS FEED // President Biden nominated Judge Ketanji Brown Jackson of the U.S. Court of Appeals for the District of Columbia Court to replace retiring Justice Stephen Breyer on the Supreme Court.
Jackson, 51, would be the second-youngest justice on the current court if confirmed. She was nominated to the District Court just eight months and confirmed by a 53-44 vote — with the support of three Senate Republicans. Democrats have a razor-thin majority in the Senate, with Vice President Kamala Harris able to cast a tie-breaking vote. It is expected that the Democratic majority will vote to confirm Jackson.
Carrie Severino of the Judicial Crisis Network said that Jackson was the preferred choice of the ultra-wealthy left-wing donor network known as Arabella Advisors — which spent $1.2 billion in the 2020 elections to elect Biden and congressional Democrats.
"Recently, the Arabella Advisors network has been increasingly vocal about the fact that Jackson was their preferred nominee—the one they are sure will rubber stamp their left-wing political agendas from the bench," said Severino. "Today, Joe Biden is delivering exactly who they demanded."
Pro-family activist Terry Schilling also denounced the expected pick.
"Not a huge surprise — Biden just picked the most extreme left-wing SCOTUS nominee in our nation's history. Ketanji Brown-Jackson will make Sonya Sotomayor look like Sarah Palin. She'll become the most predictable vote on the court — pro abortion, pro gender ideology, everything," said Schilling.
Brian Burch, President of CatholicVote, agreed with Schilling.
"Judge Jackson is the choice of the radical Left. By all indications, she will be a rubber stamp for Left-wing judicial activism that will continue to punish and penalize Catholic beliefs in the public square," said Burch:
Judge Jackson has been nominated because she is expected to use the Court to reward the far Left with support for policies that a majority of the country opposes. When judges become legislators, among those that stand to lose the most are Catholic hospitals, schools, charities and families.
Race was irrelevant to Joe Biden and the Left when they trashed Clarence Thomas. And the truth is that what matters more to Americans than race or gender is Judge Jackson's record and her judicial philosophy. We call on the Senate to conduct a substantive review of her background and record.