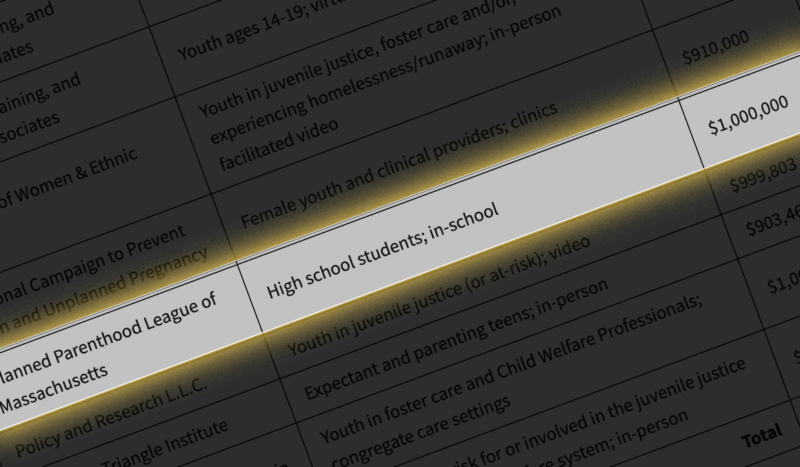 CV NEWS FEED // The Department of Health and Human Services (HHS) is giving $23 million dollars to several organizations, including the abortion provider Planned Parenthood, to solve the problem of unintentional teen pregnancy. 
HHS will be working through the Office of Population Affairs (OPA) "to foster innovation, provide new research, and expand the evidence to support and advance equity in the Teen Pregnancy Prevention (TPP) program."
The $23 million dollars will be divided and sent to organizations to help "prevent unintentional teen pregnancy and evaluate new and innovative approaches to prevent unintentional teen pregnancy," the HHS stated. These will all be five-year projects, beginning on September 15. 
The website lists 18 organizations that will be receiving funding, including the Joan and Sanford I. Weill Medical College at Cornell University, the Planned Parenthood League of Massachusetts, and the Children's Hospital of Los Angeles.
Currently, about 35% of teenage girls who become pregnant have an abortion. This number does not include chemical abortions, which are becoming more and more prominent. 
In Massachusetts, where Planned Parenthood will receive funding, abortionists can already perform abortions on children over the age of 16 without informing parents. Planned Parenthood also has a team of people who work to gain judicial bypasses and arrange for minors under the age of 16 to receive abortions in secret. In California, children of any age can go alone and receive an abortion without their parent's knowledge or consent. 
The new HHS-funded activities will target "youth in foster care, youth in juvenile justice, rural youth, expectant and parenting teens, [and] younger adolescents in middle school" – all young girls who are already in difficult situations and to whom abortions may be the most attractive.
"All the new interventions address gaps in the current evidence base and have the potential to contribute new evidence-based interventions for future implementation to scale through OPA's TPP program," said Jessica Swafford Marcella, HHS Deputy Assistant Secretary for Population Affairs. "These awards reflect the Biden-Harris administration's commitment to both sexual and reproductive health and to prioritizing health equity.