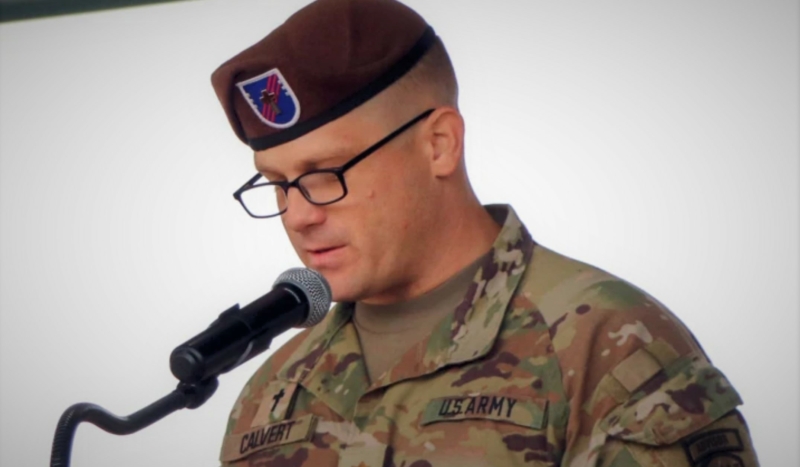 CV NEWS FEED // Lawyers have taken up the case of U.S. Army Chaplain Major Andrew Calvert after officials announced he was under investigation for comments he made in support of President Trump's transgender military policy.
"The toxic cancel culture strikes again, this time inside the U.S. Military," tweeted the First Liberty Institute, a law firm representing Calvert. "We are defending Army Chaplain Andrew Calvert, who's facing career-ending punishment by the Army for expressing his personal views and religious beliefs on his Facebook page."
Calvert has been the subject of an onslaught of hostility on social media since he commented on a news article on Facebook in January. In his comments, Calvert called human biology "reality" which the transgender movement is "rejecting." He also compared those who accept transgender ideology to "those who believe and argue for a 'flat earth' despite the overwhelming evidence to the contrary," and said that using military resources and funding to facilitate transgenderism was a "waste."
Soon after he made his comments, U.S. Army officials took action against the chaplain.
"Calvert was issued a General Officer Memorandum of Reprimand (GOMOR) on April 22 after anonymous screenshots were sent to the 3rd Forces Assistance Brigade's Facebook account of his Jan. 25 comments," according to the Christian Post. "An investigating officer from the brigade determined that he had violated a Defense Department directive and suspended him from his duties."
The Chaplain Alliance for Religious Liberty called on Army leadership to intervene on Calvert's behalf this week.
The Alliance said in a statement that they were "gravely concerned" that Calvert would be punished for his comments "regarding a news article on a possible change to the current DoD transgender policy."
When he made the comments in question, "Chaplain Calvert's statements were fully consistent with and supportive of existing DOD policy," they pointed out, and "it is far more concerning to note that his post was also consistent with his sincerely held religious beliefs – the same beliefs held by the overwhelmingly vast majority of faith groups in the United States…."
"Chaplain Calvert represents a Christian faith tradition, is a highly decorated soldier, and expressed views within his legal right to express," they argued.
"Chaplains, including Chaplain Calvert, should not have their career ruined for following and expressing the teachings of their faith," wrote Liberty McArtor of the First Liberty Institute this week. "If military chaplains are not permitted to express personal beliefs inspired by their religious convictions, how long until the military targets them for what they teach in their sermons?"
Americans "who identify as religious are the most likely to join the military," McArtor pointed out. "But right now, religious service members are being sent a clear message that they are unwanted—unless they abandon their core convictions and remain silent about their beliefs."
For his part, Calvert defended his position in his initial comments in January, which were "screen-capped" and shared widely on social media by pro-LGBT activists, some of whom expressed a desire to end his military career.
"This is not extreme in the slightest," Calvert wrote. "It's the very definition of conservative."
"The most nurturing consel I can give to someone who is under the delusion of transgenderism (gender dysphoria) is to recommend professional clinical counseling to assist in the healing process," he concluded in one comment:
To not do so, and merely to pander to make-believe social whims of the moment, is not only damaging but idiocy. Furthermore, by doing so, I am affirming his/her essential value and human dignity by my true and deeply held care for his/her wholistic wellness. So, I am not ashamed or afraid to boldly do the very job I am hired to do.
IMAGE: 3rd Security Force Assistance Brigade, via Facebook