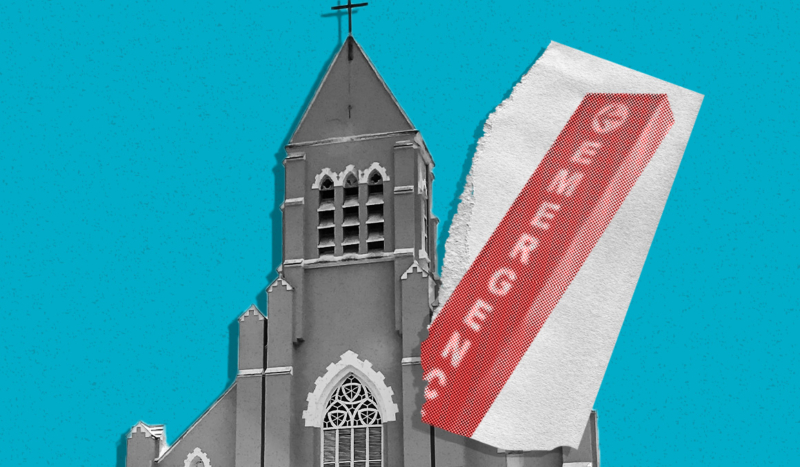 CV NEWS FEED // After 168 years of serving patients in Mobile, AL, Providence Hospital has been decommissioned and is no longer a Catholic hospital.
"We celebrated a very memorable Mass this morning," John Robb wrote on Facebook Wednesday. "After 168 consecutive years as a Catholic hospital, Providence was decommissioned ahead of [the University of South Alabama's (USA)] purchase this Sunday."
"All Catholic sacramentals will be distributed to other area Catholic institutions," Robb wrote:
For example, this beautiful crucifix behind the altar will appropriately go to the closest parish Corpus Christi. One of the several statues of His Blessed Mother will be moved to St. Ignatitus's nearby campus. Some Catholic art work such as stained glass will remain here indefinitely.
"More importantly, although Providence will no longer be a Catholic hospital, daily Communion will continue to be administered here to patients and their family members in a state of grace," Robb added:
One patient's wife from Pure Heart of Mary Parish yesterday summed up this historic transition beautifully. She told me: "As long as we can receive the Body of Christ, He will truly be present here and you can't be more Catholic than that." 

As Jesus Himself said: "wherever two or three are gathered together in my name, there I am among them (Matthew 18:30)."
"Thank you for sharing this," said a Facebook user commenting on the post. "The end of an era."
In April, it was confirmed that USA was buying Providence from Ascension for $85 million. Ascension is the largest Catholic health system in the nation and operates 142 hospitals across the country.
Becker's Hospital Review noted that this "confirmation comes after months of speculation the hospital would be sold." The deal was closed on Sunday, as expected.
WKRG, a Mobile-based affiliate of CBS, reported:
The agreement will combine USA Health and Providence Hospital and will serve the community by operating a Level I trauma center, comprehensive stroke center, burn center, Level III NICU, center for maternal-fetal medicine, cancer institute and research facilities.
"Ascension Providence has a legacy of serving the healthcare needs of the community that dates back to the mid-1800s," acknowledged President and CEO of Ascension Florida and Gulf Coast Don King. "We are pleased that this strong tradition will continue as the hospital and its related services transition to USA Health, which will allow associates and physicians to continue to serve the community through an integrated care delivery system."
"This transition will ensure that the Mobile community and surrounding regions have sustainable, quality healthcare access long into the future," King continued.
USA President Jo Bonner said at the time: "USA Health and Providence have long shared a commitment to provide compassionate care to those who need it the most, and that core value will not change."
Bonner is a former Republican member of Congress who represented Mobile and its surrounding counties from 2003 to 2013. He resigned to take a job at the University of Alabama. Subsequently, Bonner served as the Chief of Staff to Republican Alabama Gov. Kay Ivey from 2019 to 2021, after which he became President of USA.
By percentage, Alabama consistently ranks in the bottom five among U.S. states in its Catholic population. According to the Pew Research Center, only 7% of adults who live in Alabama are Catholic. 
As shown by Providence Hospital, Mobile has a rich Catholic history. The city's significant Irish-American community dates back to the 1800s, and it is the location of the state's Metropolitan Archdiocese. 
Despite Alabama's relatively low Catholic population, the state is home to several pilgrimage sites, including the Shrine of the Most Blessed Sacrament in Hanceville and the headquarters of Eternal Word Television Network (EWTN) in Irondale.