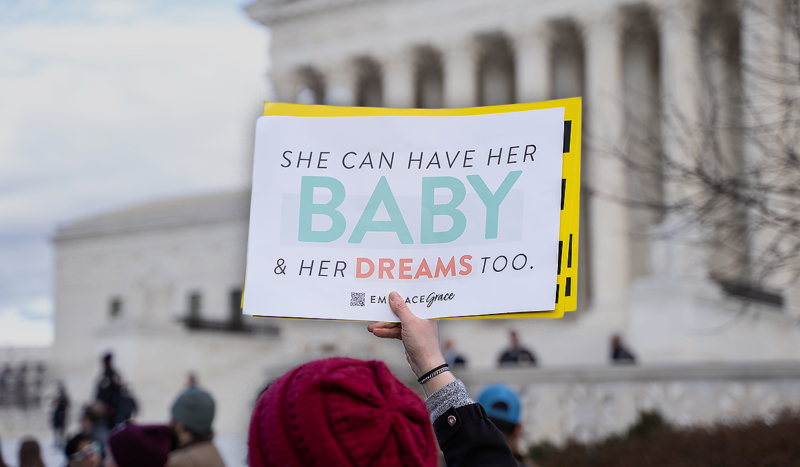 CV NEWS FEED // This Saturday is the one-year anniversary of Dobbs vs. Jackson Women's Health Organization, the landmark Supreme Court decision that overturned Roe v. Wade, and reports show that in the last year, the number of abortions has decreased significantly across much of the United States.
Disney-owned polling website FiveThirtyEight stated that "there were 24,290 fewer legal abortions between July 2022 and March 2023, compared to a pre-Dobbs baseline."
According to FiveThirtyEight, there were upticks in abortion rates in many blue states, including Colorado, Illinois, Michigan, Minnesota, Nevada, and Oregon. Since Dobbs, these states have passed laws or ballot propositions protecting or expanding access to the abortion. Notably, FiveThirtyEight's graphic shows that one of the states where the abortion rate increased the most since Dobbs was cherry-red Kansas – which has a Democratic governor and saw the defeat of the proposed pro-life "Value Them Both Amendment" in August 2022.
However, these increases "didn't make up for decreases" in states which passed pro-life laws. As of June 20, 2023, abortion at various stages of pregnancy is illegal in 14 states: Alabama, Arkansas, Idaho, Kentucky, Louisiana, Mississippi, Missouri, North Dakota, Oklahoma, South Dakota, Tennessee, Texas, West Virginia, and Wisconsin.
FiveThirtyEight laments that many women seeking abortions in these states either had to travel to blue states or allow their child to be born:
Texans making 4,000-mile round-trip journeys for abortions. Weeks-long waits for appointments at clinics across the Midwest. Desperate calls to abortion funds asking for help with procedure costs, flights and gas. One year after last summer's decision in Dobbs v. Jackson Women's Health Organization, this is the new reality of abortion in the U.S., as thousands of people are unable to obtain abortions in their home states or nearby — and tens of thousands more travel farther and farther to end their pregnancies. 
Diving deeper into the 24,290 number, the authors explain that it was calculated by subtracting the 69,285 more legal abortions in pro-abortion states from the "93,575 fewer legal abortions in states that banned or severely restricted abortion for at least one week in the nine-month period after Dobbs."
FiveThirtyEight points out that the substantial rise in legal abortion in blue states was evidence that "many people did travel and successfully obtain an abortion within the US healthcare system."
The polling site also charted the number of national abortions taking place per month in the nine months following Dobbs. Interestingly, its graph showed a mostly steady decrease from June to November 2022, followed by two "significant increases": one in December 2022 and the other in March 2023, the last month of the study.
The authors provide some possible explanations for this trend:
It's possible, of course, that the uptick in March is just a blip. But some of these national shifts make sense from a seasonal perspective. People are more likely to get pregnant late in the year, which means that abortions tend to be more common in the late winter and early spring. That could be part of the reason the numbers rose in the first three months of 2023.
The alarming tone in which the FiveThirtyEight piece was written is common among left-of-center mainstream media regarding so-called "abortion rights."
Last month, "progressive" magazine In These Times published an article entitled "What It's Like to Have an Abortion Denied by Dobbs." It detailed the story of a baby boy named Kingsley, who was born in Mississippi in January. Kingsley's mother initially sought to abort him, but his life was saved in part by Dobbs, which led to the state's pro-life "trigger ban" going into effect.
The story's header featured a picture of Kingsley's mother holding him accompanied by the tagline, "Dobbs will throw many lives into disarray."