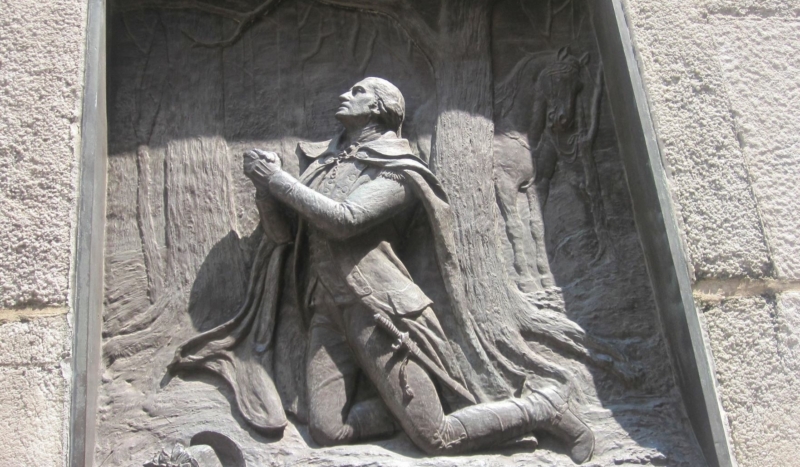 CV NEWS FEED // Most Americans call today "Presidents' Day, but according to federal law, it's actually George Washington's Birthday.
There is a part of Washington's legacy that not many are aware of, however, and it's a piece of history that American Catholics in particular should celebrate.
It's common knowledge that anti-Catholicism was unfortunately pervasive during the founding era. Some colonies and townships officially sanctioned the Catholic faith in their laws, depriving Catholics of the right to hold public office.
But despite how it sounds at first blush, the abolishment of a tradition known as "Pope Day" was not an example of anti-Catholicism. Quite the opposite!
Pope Day was a colonial American continuation of England's Guy Fawkes Day, Nov. 5, which commemorated the failed terrorist attack on the British Parlaimant in 1605 by Fawkes, a Catholic.
On this day, at least some New England Protestants would celebrate the thwarting of Catholicism, which bigots viewed as a political threat.
And so every year, French Canadian Catholics and the Catholic minority in America would watch in horror as their neighbors celebrated Pope Day by carousing, drunkenly shouting anti-Catholic slurs, and – most importantly – burning the pope in effigy!
That is until one very influential American put an end to it all.
"It was on 5 November 1775 that His Excellency, General George Washington, Commander-in-Chief of the Continental Army, issued a stern order to the Continental Troops (in no uncertain terms) that Guy Fawkes Day and the traditional burning of the pope in effigy was not to be celebrated," Catholic historian Jay Anderson explained to CatholicVote.
"As the Commander in Chief has been apprized of a design form'd for the observance of that ridiculous and childish custom of burning the Effigy of the pope," Washington wrote in a memo to his troops:
He cannot help expressing his surprise that there should be Officers and Soldiers in this army so void of common sense, as not to see the impropriety of such a step at this Juncture; at a Time when we are solliciting, and have really obtain'd, the friendship and alliance of the people of Canada, whom we ought to consider as Brethren embarked in the same Cause. The defence of the general Liberty of America….
Washington went on to argue that, given the bravery of Catholic soldiers who had thrown in their lot with the American cause, risking their lives alongside the soldiers under his command, it was extremely dishonorable for American Protestant troops to disrespect the Catholic faith.
To "be insulting their Religion, is so monstrous, as not to be suffered or excused; indeed instead of offering the most remote insult, it is our duty to address public thanks to these our Brethren, as to them we are so much indebted for every late happy Success over the common Enemy in Canada," he wrote.
"Scholars have traced the disappearance of Pope Day celebrations in the United States to this document," Anderson explains. "One historian, Paul Boller, states that 'There are no records of [Pope's Day celebrations] in America after 1775… Washington was the first to put an end to anti-Catholic demonstrations of this kind, and the example he set undoubtedly carried great weight.'"
Washington's 1775 intervention against Pope Day wasn't the only example of his respect for the Church, Anderson says, citing Washington's "frequent correspondence with John Carroll, the first Roman Catholic Bishop in the United States."
Additionally, in 1790 President Washington "expanded on his views in his famous 'Letter to the Roman Catholics.'"
"I hope ever to see America among the foremost nations in examples of justice and liberality," Washington wrote:
And I presume that your fellow-citizens will not forget the patriotic part which you took in the accomplishment of their Revolution, and the establishment of their government; or the important assistance which they received from a nation in which the Roman Catholic faith is professed. 
It's worth keeping in mind that Washington's 1775 order discouraging the anti-Catholic displays of Pope Day came well over a decade before the United States Constitution – with its First Amendment guarantee of religious freedom – was ratified.
His affection for Catholics, it seems, was genuine, from the heart, and likely played a role in ensuring that respect for the Catholic Faith would be enshrined in the American political order.
So when people call for celebrating Presidents' Day, Catholics can take a special joy in celebrating George Washington. We always cherish our freedoms, of course. But as Catholics, it's good to know that the father of our country also cherished us.