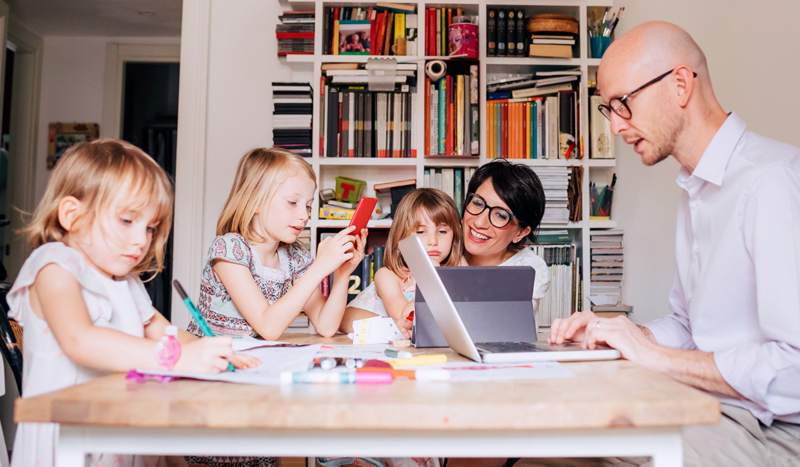 As more public school districts incorporate controversial political concepts such as critical race theory (CRT) and gender ideology into their curricula, many parents are searching for other schooling options that won't break the bank. Several states have passed school choice laws, which give the tax dollars intended for education directly back to families for them to put toward their kids' education in whatever way they prefer, including paying private school tuition, hiring tutors, or even homeschooling.
Here are six states that have recently passed school choice laws, honoring what the Catholic Church teaches is the inalienable right of parents to serve as the primary educators of their children.
---
Florida
On Monday, Gov. Ron DeSantis, R-FL, signed a sweeping new education reform bill, expanding school choice to all Florida families for the first time in the state's history. 
CatholicVote reported:
Underscoring that the new law would give Sunshine State families the option to send children to the school of their choice, the governor put pen to paper while at Christopher Columbus High School in Miami, an all-boys Catholic school run by the Marist Brothers. The law dramatically expands the eligibility criteria of the Florida Empowerment Scholarship (FES), freeing all Florida parents to send their children to a school other than one in their zoned public district. 

The FES is an education tax credit, often described as a voucher, assigned to each participating student. It was created by a law Gov. DeSantis initially signed in 2019, his first year in office.
Arkansas
On March 8, 2023, Gov. Sarah Huckabee Sanders, R-AR, signed the school choice bill, S.B. 294, nicknamed "AR Learns," into law. The governor's communications director called AR Learns, the "biggest, boldest, most conservative education reform" package and a "blueprint for the country." Huckabee Sanders herself called it a "transformational education plan, unleashing a new era of freedom, opportunity, and prosperity for all."
The new law, which will take effect on a gradual basis, creates "Education Freedom Accounts," a voucher system that gives families back 90% of the tax dollars earmarked for public schools. It also contains a provision to make Arkansas one of the few "universal school choice" states by the 2025-26 school year. It also raises teacher pay and removes CRT from the Arkansas state curriculum. AR Learns also increases state standards required for graduation, specifically in reading, and commissions over a hundred literacy coaches throughout the state to assist students. Keeping consistent with the theme of putting education over indoctrination, AR Learns prohibits classrooms of gender identity and sexual orientation prior to the fifth grade – going even further than the 2022 Florida "Parental Rights in Education Act."
Prominent school choice activist Corey DeAngelis praised Huckabee Sanders's signing of the sweeping legislation, stating, "Arkansas now funds students, not systems."
Arizona
Months before he left office, one of the last acts of term-limited then-Gov. Doug Ducey, R-AZ, was to expand school choice to all Arizona students. On July 7, 2022, the governor signed H.B. 2853 which created a universal voucher system in the state – the first of its kind in the country. The bill made all students eligible for Arizona's Empowerment Scholarship Account (ESA) program, which gives parents up to $6,400 back in tax money to spend on edcuational costs at a school of their choosing. This is a drastic change as before, Arizona ESA's were only reserved for some poor, disabled and Native American students. 
Ducey hailed his signing of the package as "a monumental moment for all of Arizona's students." He added, "Our kids will no longer be locked in underperforming schools." DeAngelis commented, "This win is the biggest school choice victory in U.S. history."
Despite a failed attempt by activists to bring a ballot measure to block the new law, it went into effect towards the end of 2022. Since taking office earlier this year, now-Gov. Katie Hobbs, D-AZ, has discussed undoing her predecessors school choice accomplishments, and returning ESA's to their former limited status. Hobbs, a self-professed Catholic, attended Catholic schools for her entire childhood.
Iowa
In January of this year, Gov. Kim Reynolds, R-IA, signed the Students First Act, making Iowa the second state in the nation, after Arizona, to enshrine universal school choice. Iowa's law sets aside a more-than $7,000 education savings account, that follows each child, and can be allocated as parents wish. Reynolds explained:
For the first time, we will fund students instead of a system, a decisive step in ensuring that every child in Iowa can receive the best education possible. Parents, not the government, can now choose the education setting best suited to their child regardless of their income or zip code. With this bill, Iowa has affirmed that educational freedom belongs to all, not just those who can afford it.
Tennessee
Back in 2019, Gov. Bill Lee, R-TN, signed legislation to create education savings accounts for eligible students, specifically those living in the state's largest cities, Memphis and Nashville. The bill narrowly passed the State House by a margin of 50-48, with a significant number of Republicans voting against it.
The program was launched in 2021, and following an unsuccessful legal challenge, it was rolled out in the summer of 2022. After the plan he championed was finally implemented, Governor Lee stated, "There was an urgent need for school choice in 2019, and finally, parents in Memphis and Nashville won't have to wait another day to choose the best educational fit for their children."
Utah
On January 30, 2023, Utah became the third universal school choice state, joining Iowa just days after it became the second. Gov. Spencer Cox, R-UT, signed H.B. 215 which hereby created the Utah Fits All Scholarship, which reserves up to $8,000 to follow thousands of students. In addition, the bill, which was sponsored by State Rep. Candice Pierucci, authorizes the establishment of "scholarship accounts..to pay for approved goods and services" on behalf of all K-12 Utah students by the 2024-25 school year.
DeAngelis remarked:
A universal school choice revolution has ignited. Utah is the second state this year to go all-in on empowering families with education freedom, and it's only January. Red states are now engaging in friendly competition to fund students, not systems. Iowa already passed universal school choice this year.