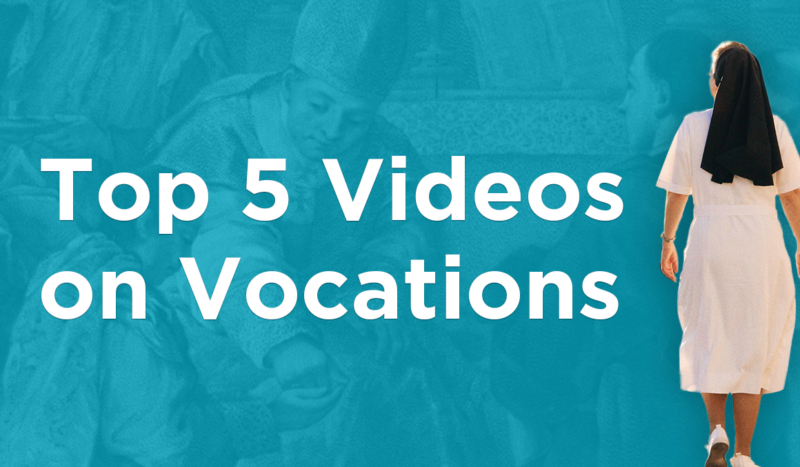 CV NEWS FEED // This vocations week, set your YouTube queue to our consecrated brothers and sisters – the priests, nuns, and religious pursuing holiness in vows of poverty, chastity, and obedience!
Here are a few of our favorites… please tell us yours in the comments!
---
Poor Clares, St. Cloud, MN
Sister John Marie didn't grow up Catholic, but she always wanted to dedicate her whole life to God. In this rare interview with a cloistered nun, she shares how she went from Lutheran seminary to the Poor Clares of the Primitive Observance
Franciscan Sisters of the Renewal
What happens when the first person you ask about religious life discourages you? Sr. Ann Kateri, CFR, shares how God kept tugging at her heart through this experience, a holy dating relationship, academic and career success until she finally said "YES" to his call with the Franciscan Sisters.
Sisters of Life (with Fr. Mark Mary of the Franciscan Friars of Renewal)
It's a two-for-one! Father Mark-Mary of the Franciscan Friars of the Renewal talks to Sr. Faustina Maria Pia, SV, about her journey to the Sisters of Life.
Christ the Bridegroom Monastery
Sr. Natalia hails from an Eastern Rite monastic community of women. She sat down with Matt Fradd on Pints with Aquinas to discuss not only her own story but also the patterns of discernment, avoidance, and finally acceptance that she sees in other young men and women seeking God's call.
Dominican Friars
Recent vocations research confirms that 80% of priests first thought about their calling as young children because of the example of older priests. This was certainly true for Fr. Augustine Reisenauer, O.P., of the Province of St. Joseph. Hear his beautiful story of a lifelong yearning (and gratitude) for God!
The Norbertines, St. Michael's Abbey
Frater Theophane of St. Michael's Abbey shares his own path to the priesthood and also discusses the spiritual thirst he sees in today's society.
BONUS!
They don't take vows of poverty, chastity, and obedience, but diocesan priests – like religious priests – sacrifice their own lives to be spiritual fathers within the geographical bounds of their "home" diocese. They are also the primary representatives of Christ for most Catholics in the United States. Here is a great interview with three young seminarians just weeks before their ordination for the Diocese of Arlington, VA.
Don't see your favorite order, priest, or nun here? Please link them in the comments below!