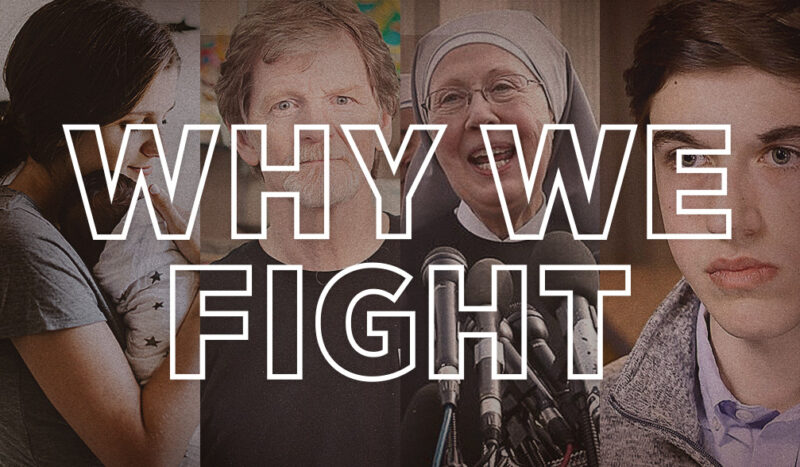 The Left has declared war on your faith.
They want to control our Catholic hospitals, charities, and schools.
They want to impose the militant LGBT agenda on your children and grandchildren.
And they want to censor and shame you for being Catholic.
The question is: What are you going to do about it?
Inspired by American saints like Katharine Drexel and John Neumann, our parents and grandparents fought and sacrificed to carve out a Catholic identity in the United States. We stand on their shoulders. They paved the way. But we also owe it to them to ensure our children and grandchildren are not robbed of their inheritance.
That's why CatholicVote fights every day for you — at the ballot box, in the courtroom, and in the halls of Congress.
We aspire each day to be your voice.
Here's how we make it happen:
EDUCATION:
The bishops remind us of our moral responsibility to vote. But it's vitally important that we have an informed conscience when we cast a ballot. CatholicVote is dedicated to ensuring that Catholics are well informedon the important issues of the day. And that means well informed on the candidates — and well informed on what the Catholic Church teaches!
That's why over 700,000 Catholics receive our mail, emails, and follow us on social media — starting with the THE LOOP published each morning. If you are not a LOOP subscriber, I cannot recommend it enough. And don't worry, it's free.
But that's not all. Just recently we launched a new venture called CVTV, which delivers quick summaries of important news events with a twist. You can check out our latest episode here.
ELECTIONS
The Catholic vote is the swing vote in the United States. That means, when a majority of Catholics unite behind a candidate, that candidate wins. We're using the latest technology to find Catholics, connect with them, register them to vote, and then get them to the polls. And we are winning.
Gone are the days when a politician could dupe Catholics with a posed Ash Wednesday photo or walking in a St. Patrick's Day parade. We carefully examine politicians and scour their backgrounds and their past affiliations. We expose the lies and applaud the heroes.
And because we are a lay-run organization, we proudly endorse (or oppose) candidates. Running for office? Want to win the Catholics? Pass our test, and we endorse you. Or snub our faith and we mobilize our members to oppose you (ahem, Hillary Clinton).
LOBBYING
What good are elections if those we elect don't deliver?
So our work continues after every election, boosting policies from protecting the unborn to helping working families. We pushed for tax reform that is creating record jobs and raising wages, while doubling the Child Tax Credit. We campaigned hard to confirm Justices Gorsuchand Kavanaugh — and over one hundred new federal judges. We've pressed lawmakers and the White House to approve critical protections for religious liberty, and for babies that survive abortion.
Just last week we continued our campaign to stop the so-called "Equality Act." This proposed law may well be the most dangerous attack on Catholics in American history.
THE COURTS
CV has lawyers too. We fund critical legal cases that Catholics must win.
For example, we helped to start the first challenge to the HHS "contraceptive mandate" on behalf of a for-profit business. We won a separate case against the government on behalf of a pro-life business owner.
And we funded a landmark pro-life case in South Dakota that requires abortion doctors to disclose to women that the procedure "…will terminate the life of a whole, separate, unique, living human being."
Yes, we won all of those cases…
Today we are helping the Sandmann family cover their litigation expenses in their quest to get justice for their son and to hold media companies like the Washington Post and CNN accountable when they spread lies and fake news.
In addition, CV regularly files amicus briefs in key cases on behalf of you — our members — to make sure the voice of Catholics is represented in the biggest cases in America today.
Are you ready for 2020?
Right now, one of our biggest priorities is building our infrastructure for the coming 2020 elections. We are committed to building the largest Catholic voter outreach program in history.
That means:

Registering 1 million new faithful and practicing Catholic voters who are pro-life and pro-family in key states;


Educating millions of Catholic voters where the candidates stand. Is Joe Biden "pro-life"? Some Catholics think so…


Personally contacting every Catholic voter in critical swing states via text, phone or by knocking on their door. Hello Pennsylvania, Wisconsin, and Michigan!


Delivering a record-breaking turnout of faithful Catholic voters to the polls.
Through it all, you can count on CatholicVote to be your voice.
From the ballot box to the courtroom, the common theme is faithful adherence to the Church's teaching — beginning with life, marriage, and religious freedom.
Thank you for standing with us.
You are making this happen.
Please keep us in your prayers.
Brian